Nursing professionals are indispensable in delivering quality patient care in the rapidly evolving healthcare field. Beyond their essential clinical expertise, nurses also possess the potential to assume leadership and management positions, driving transformative changes within healthcare organizations. Nursing leadership and management roles are critical for shaping the future of healthcare and optimizing patient outcomes.
However, stepping into a leadership or management position in nursing requires a unique set of skills, knowledge, and qualities. It demands a deep understanding of both the clinical aspects of nursing and the intricacies of managing teams, resources, and organizational dynamics. Whether you are an aspiring nurse leader, a seasoned professional looking to enhance your management skills, or simply curious about the world of nursing leadership, this guide aims to provide a comprehensive overview of the subject.
This blog will delve into the multifaceted world of nursing leadership and management.
1. Nurse Managers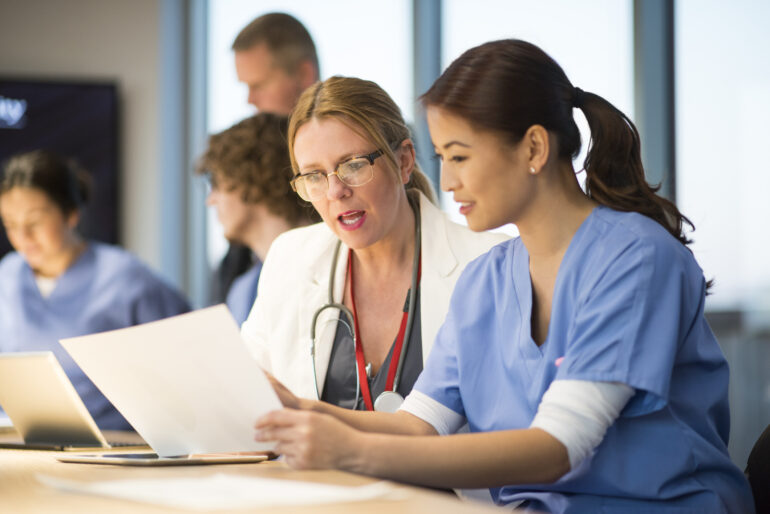 Education: Nurse managers typically hold a Bachelor of Science in Nursing (BSN) degree, which provides a comprehensive education in nursing theory, practice, and leadership skills. A BSN program covers various topics, including anatomy, physiology, pharmacology, nursing research, leadership and management principles, and healthcare policy. This educational foundation equips nurse managers with the knowledge to understand complex healthcare systems, make informed decisions, and effectively manage their units or departments.
For registered nurses (RNs) with an Associate Degree in Nursing (ADN) or a nursing diploma, BSN online programs such as an RN to BSN program are a popular pathway to earn a BSN degree. These programs are designed to accommodate the schedules of working nurses, offering flexibility and convenience through online coursework. RN to BSN programs build upon the knowledge and skills acquired through previous nursing education, providing additional coursework in community health, nursing research, leadership, and evidence-based practice. The online format allows nurses to continue working while completing their degree, making it a practical option for those aspiring to advance their careers as nurse managers.
Credentials: Nurse managers can pursue professional certifications to enhance their credentials besides a BSN degree. The Nurse Manager and Leader (CNML) credential offered by the American Organization for Nursing Leadership (AONL) is one option specifically tailored to nurse managers. This certification validates the knowledge and competencies necessary for effective nursing leadership and management.
2. Nurse Leaders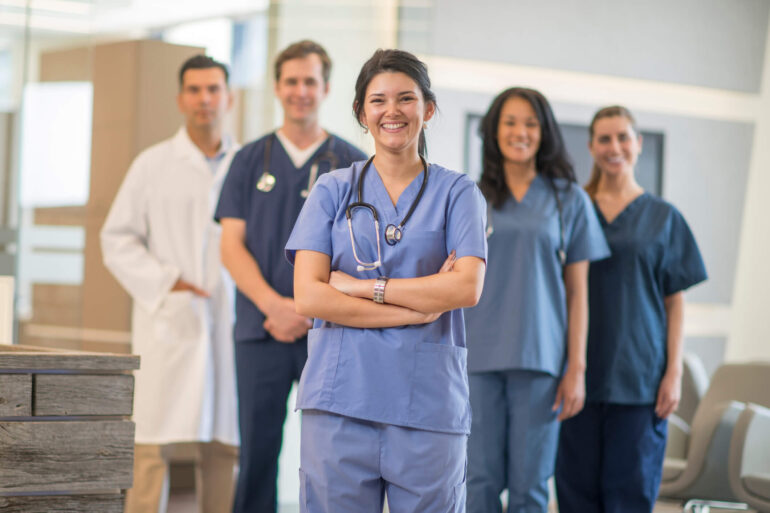 Education:
Nurse leaders pursue advanced education to gain the necessary knowledge and skills for leadership roles in healthcare. While a Bachelor of Science in Nursing (BSN) is the minimum requirement, nurse leaders often hold advanced degrees like a Master of Science in Nursing (MSN) or a Doctor of Nursing Practice (DNP).
A Master of Science in Nursing (MSN) provides in-depth knowledge of nursing theory, research, and advanced practice. MSN programs offer specialized nursing leadership, administration, or healthcare management tracks. The curriculum covers healthcare policy, organizational behavior, finance, quality improvement, and strategic planning.
A Doctor of Nursing Practice (DNP) program prepares nurse leaders for advanced practice roles. It focuses on leadership, evidence-based practice, quality improvement, and healthcare innovation. DNP programs may require students to complete a scholarly or capstone project addressing a real-world healthcare issue.
Credentials:
Nurse leaders can earn certifications to showcase their expertise and commitment. These credentials, offered by nursing organizations, boost professional credibility and career prospects. Common certifications for nurse leaders include NE-BC (Nurse Executive-Board Certified) and NEA-BC (Nurse Executive-Advanced). These certifications validate skills in nursing leadership, strategic planning, financial management, quality improvement, and healthcare policy.
3. Tasks and Roles of Nurse Managers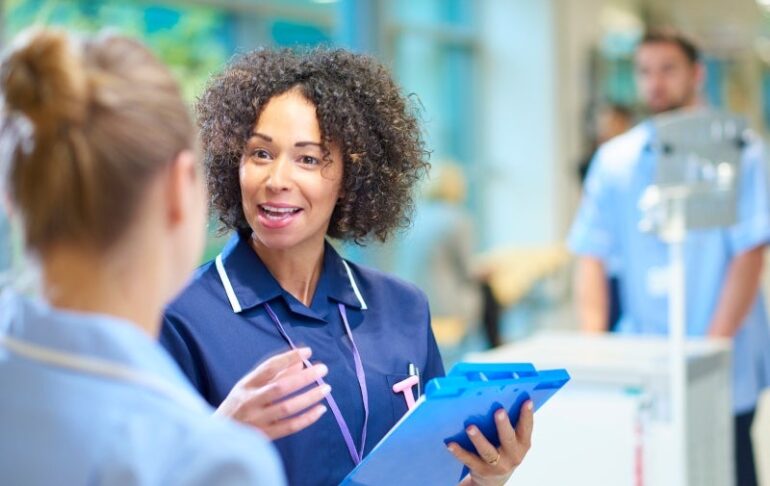 Here are some key tasks and roles of nurse managers:
Nurse managers ensure the smooth functioning of their units, addressing operational issues and adjusting workflows for efficient patient care delivery.
They supervise and train nursing staff, providing guidance and support while facilitating ongoing professional development opportunities.
Nurse managers collaborate with stakeholders to optimize patient care outcomes and work within budgetary constraints.
They handle escalated situations, liaise between patients and healthcare providers, and ensure patient satisfaction.
Nurse managers develop and manage unit budgets, allocating resources appropriately and ensuring fiscal responsibility.
They collaborate with billing and coding teams to ensure accurate documentation and coding for reimbursement purposes.
Nurse managers implement and utilize electronic health record systems, ensuring proper training and protocol adherence.
They participate in the recruitment, selection, and performance evaluation of nursing staff, providing feedback and identifying growth opportunities.
Nurse managers collaborate with healthcare leaders, participating in meetings, quality improvement initiatives, and strategic planning for optimal patient outcomes.
4. Tasks and Roles of Nurse Leaders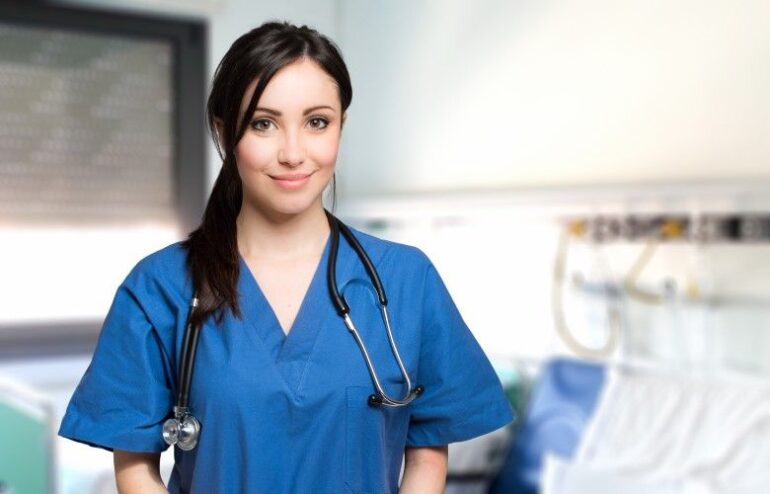 Nurse leaders continuously engage in professional development and stay abreast of current research findings, evidence-based practices, and advancements in healthcare. This knowledge enables them to make informed decisions and promote the implementation of best practices in patient care.
Nurse leaders prioritize patient safety and work to create a culture of safety within healthcare organizations. They develop and implement policies, protocols, and quality improvement initiatives that enhance patient outcomes, minimize medical errors, and reduce adverse events.
Nurse leaders collaborate with interdisciplinary teams to streamline care processes, identify areas for improvement, and implement strategies to reduce hospital stays and prevent unnecessary readmissions. They focus on care coordination, discharge planning, and patient education to facilitate smooth care transitions.
Nurse leaders are critical in healthcare cost management by optimizing resource utilization, reducing waste, and improving operational efficiency. They identify opportunities for process improvement, develop strategies to maximize productivity, and monitor financial performance.
Nurse leaders support professional development initiatives for nursing staff, ensuring they have access to ongoing education, training, and resources. They mentor and coach staff members, fostering a culture of continuous learning and empowering nurses to provide high-quality, evidence-based care.
Nurse leaders may be involved in ordering and reviewing diagnostic tests and collaborating with healthcare providers to facilitate accurate and timely patient diagnosis. They ensure that appropriate tests are ordered, results are properly interpreted, and necessary interventions are implemented.
Nurse leaders work with healthcare teams to develop comprehensive treatment plans that align with evidence-based guidelines and patient preferences. They oversee the implementation of these plans, monitor patient progress, and make adjustments as necessary to optimize care and achieve desired outcomes.
Nurse leaders supervise and manage nursing teams, ensure adequate staffing, and promote a supportive work environment. They provide guidance and support to nursing staff, address issues or concerns, and foster a culture of collaboration and professionalism.
Conclusion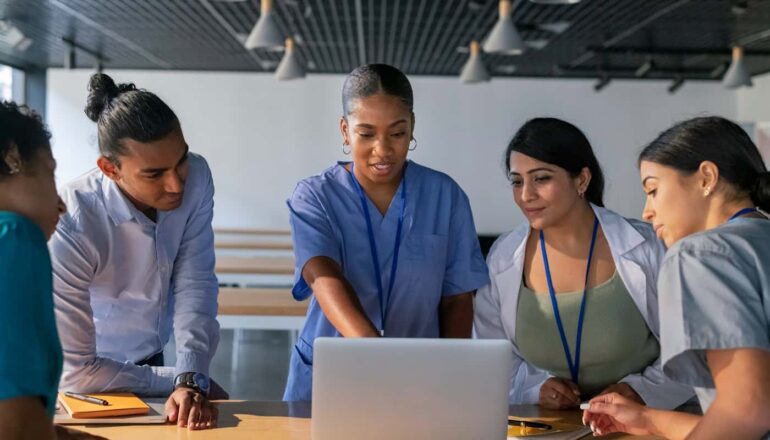 Nursing leadership and management play crucial roles in healthcare settings, ensuring high-quality patient care and fostering a positive work environment for nursing staff. Effective leadership is essential for guiding and inspiring teams, promoting collaboration, and adapting to ever-changing healthcare demands. Moreover, skilled nurse managers are adept at strategic planning, resource allocation, and decision-making, enabling them to navigate complex challenges and drive organizational success. By cultivating strong leadership and management skills, nurses can profoundly impact the healthcare industry, ultimately improving patient outcomes and shaping the future of nursing practice.