CCleaner by Piriform is an application program, that Users primarily use as a registry cleaner. It is also used to clean corrupted or undesired files in your system. CCleaner is regarded as one of the best registry cleaners out there. It is used by professionals and intermediate users alike.
Along with cleaning your registry, this powerful tool can protect your privacy, both on the World Wide Web and from unnecessary applications in your system. It can also manage your cookies efficiently and uninstall software easily.
But is CCleaner safe to use? Is it actually useful? Can it cause malware to break into your system? We will answer all your questions in this article. Let's get started!
What is CCleaner?
If you wish to download CCleaner, you can get it here.
Before we proceed to the threats and security issues revolving around CCleaner, let us look at its limitations. Even though it is one of the longest-running registry cleaners, along with being one of the most powerful ones, it has some shortcomings.
Limitations of CCleaner
Here are listed some things that CCleaner is unable to do, even though it is one of the best Registry Cleaners:
CCleaner cannot detect viruses or malware of any sort
It cannot perform Disk Defragmentation
The software also cannot recover broken files or infected files
CCleaner cannot boost up your PC's performance significantly
With these points in mind, let's take a closer look at the fourth point: CCleaner and PC performance.
Does CCleaner Enhance your PC's Performance?
In very simple terms: it does not. Piriform, the software's developers would have you believe that CCleaner enhances your PC's performance by removing unwanted keys that are leftovers from uninstalled programs and malware. All the CCleaner does is remove registry keys. This has absolutely no effect on your computer's performance, contrary to popular belief.
And it is in this area that CCleaner can be unsafe. True, it gets rid of undesirable registry keys. But if by accident the tool decides to remove a registry key that was actually relevant to an important application, it could cause problems in some application or even the OS. Microsoft does not endorse any registry cleaners or have one of its own. According to the corporation, users should not mess with the Windows Registry.
However, you may use the software if you wish to Fix Broken Registry Items or clean the registry, just without any significant effect on your computer's performance.
If you do decide to use the application though, is it safe? Let's find out.
Is CCleaner Safe or Virus?
So is CCleaner a Virus? Or it safe to install now??
About a year ago there was a hacking incident related to the CCleaner application. The application was hacked by a malware that stayed in the application for over a month through a backdoor, without anyone realizing. Millions of users'  PC data was put to risk as the malware sent details about users' IP addresses, network adapters, installed software etc. to a server.
Piriform stated that no data was compromised and they shut down the server in question. The update had been automated for those who ran the cloud version of the tool.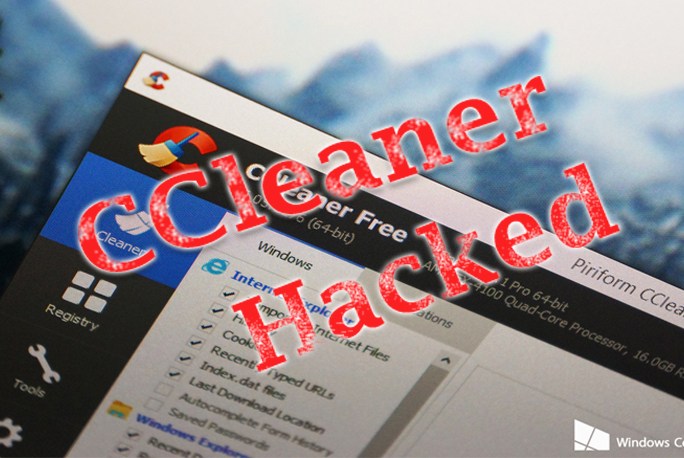 The hack has not resurfaced, but if you feel your data is too sensitive to take the risk, it is better to not have the tool. You can use other Registry Cleaners too if you wish.
So, even though CCleaner has been safe as of now, it does not do much other than removing unused registry items. Some of these are actually not supposed to be removed, and Microsoft has stated that it should stay that way. For example, a supposedly 'broken' registry could be missing the parts that make an application run. But those parts may be received once, say, a CD is input with valid credentials and that makes the program work. Thus, it is not always necessary to remove the 'Broken' Registry Items.
With time, CCleaner has gotten over the hacking issue, refined its set of rules that decide whether a certain registry is unnecessary. Users and professionals alike still approve the program at large as the best free Registry Cleaner available.
So, yes CCleaner is Safe now!! But to be honest, it isn't a program I would install on my Windows PC.
Final Take!
We hope that by reading this article you were able to get a sense of CCleaner, how it works, and its usability and safety, as per your requirements. We hope that you will be able to make an informed decision regarding CCleaner and whether it is good for your system.
If you have any further queries, you can feel free to reach out to us in the comments section below. We will try to get back to you with a relevant answer as soon as possible.
That will be all on today's article about CCleaner and Is CCleaner Safe? Keep on reading more articles for such interesting content on our website.