Thousands of organizations worldwide face cleaning issues daily because they fail to hire the right cleaning services and monitor the maintained hygiene levels. Every commercial building is used by hundreds of people every day, and failing to maintain the hygiene of such a place can lead to the risks of illness.
Everyone deserves a healthy work environment, and as an owner, it is your responsibility to keep an eye on hygiene maintenance. Recruiting and training people to perform cleaning services is a task full of hassles and wastes time and money. But what if you could cut down on these expenses and worry no more about these hassles?
It is time for you to outsource cleaning services from the cleaning agency that is experienced in providing reliable solutions to commercial settings.
Why Is There A Need For Outsourcing Cleaning Services?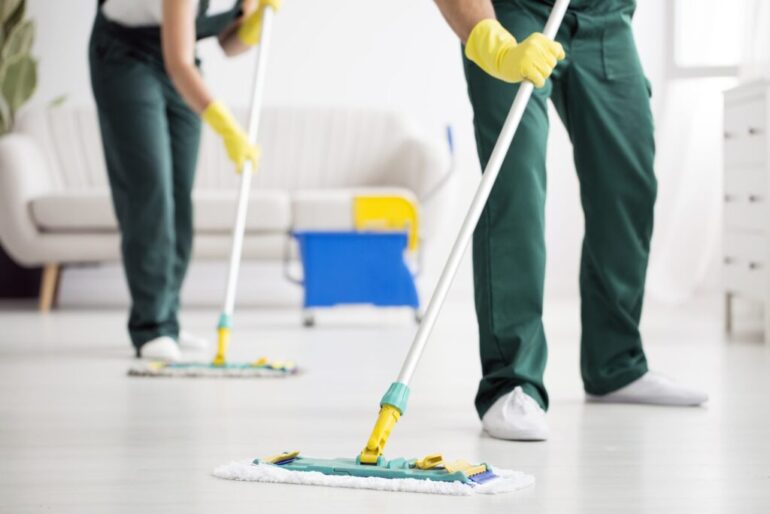 In-house cleaning services have been prevalent, but they often result in day-to-day issues and put a lot of burden on training and recruitment. The biggest headaches of in-house cleaning are hiring the right people, providing them with training, and even buying all the necessary cleaning materials. The whole process is time-consuming and expensive.
Modern organizations no longer depend on traditional in-house cleaning services; they choose the smarter ways by outsourcing them. Although outsourcing cleaning services from some of the biggest agencies may sound too expensive, these services are cost-effective and reliable.
You can let go of the responsibilities of hiring, monitoring, training, and paying the employees individually and instead get services from industry-trained professionals who are dedicated at work. When you begin to depend on outsourcing services, you get high cleaning maintenance because every job is done perfectly.
6 Reasons Why You Should Consider Outsourcing Cleaning Services
Organizations with budget issues may never consider outsourcing cleaning services because they assume they are expensive. Surprisingly, it is not that expensive to outsource such services. By hiring such services, you are not just able to keep the workspace clean and hygienic but also enjoy many other benefits. Other major reasons why you should be considering these services are:
You Get A Healthy Working Environment
As an employer, your priority should always be creating a healthy environment for your valuable employees, and health is always associated with hygiene. By seeking services from professionals, you get assured that you are never compromising on the cleanliness and hygiene of your workspace. The in-house cleaning issues that have troubled you for a long time will no longer be your headache if you leave it to professionals.
Minimizes Maintenance Responsibilities
If the cleaning services are in-house, there are a lot of responsibilities that you must take and share. The responsibilities begin with hiring candidates to educate and train them for the job roles. Providing necessary cleaning equipment also falls within your responsibility. However, when you switch to professional services, all of these are no longer your responsibilities.
Agencies send you well-trained and well-behaved professionals who perform every task perfectly and transform your workspace into a healthy and hygienic place.
Saves Your Expenses
As an owner, you always have to bear heavy expenses to stock up on cleaning equipment and other essentials. Part of your expenses also goes on employee training and salary. But when you decide to outsource, all of these expenses are cut down, and in return, you shall pay an affordable monthly or annual charge.
Professional Cleaning Staffs Are Trained And Dedicated
There is no doubt in the fact that professionals do it the best because they are trained and dedicated. A common problem often faced during in-house cleaning is the lack of workforce during an employee's absence. You have few workers employed, and their absence results in many hygiene issues.
But when you outsource such a service from an agency, you do not have to face such issues. There will always be sufficient professionals to complete the tasks dedicatedly.
Enhanced Staff Productivity
When there are too many responsibilities for you to look after, it directly impacts the staff's productivity. Surveys have shown that multitasking always results in imperfect results and increased expenses. It is impossible to focus on so many areas altogether and give the best results.
To ensure the productivity of your staff is not affected negatively and neither do you have to take up all the responsibilities, your hassles with cleaning services are taken care of by outsourcing agencies. Hiring professionals will prevent extra expenses, and as a whole, you get unquestionable quality maintenance.
Introduction Of Advanced Cleaning Methods

Did you know hiring outsourcing services can also introduce your workspace to advanced cleaning methods? Instead of spending thousands to stock up on chemicals and equipment necessary for day-to-day chores, you get major benefits from outsourcing these services because you can access exceptional services.
The industry-trained professionals use modern equipment to perform tasks, and the results are faster and better. A cleaning task such as moping the floor that took hours to be done, this modern equipment can cut this time short and give better results.
The Contracts Are Flexible
If your budget is too tight, there is not much to worry about because these contracts with professional agencies are always flexible. You can choose days and times according to your preferences, even the number of people you need. You can hire these services daily, hourly, monthly, and even yearly, binding with a contract. You also get options to pay after the services are done or the contract gets over.
Bottomline
From increasing the value of your organization by offering high maintenance services to enhancing productivity, there is a lot that an outsourcing cleaning agency can benefit your company with. Most businesses run with tight budgets and unknowingly spend thousands on in-house services.
For them, outsourcing is an excellent alternative solution not only to cut down excessive expenses but also, to take hygiene and staff productivity to the next level. However, you must be careful that your chosen contractors are experienced and reputable. Xpress Cleaning is a reputable cleaning company in Singapore that offers various cleaning services such as office cleaning (https://xpresscleaning.com.sg/services/office-cleaning/). By engaging in them, you'll not only save on your expenses but your employees will also be able to work in a clean and healthy environment.