Paintless dent removal (PDR) has become a ground-breaking method for auto body repairs. The use of traditional bodywork and painting, which are expensive and time-consuming, is optional using this technique to fix dings and dents. But, increasing productivity is necessary to advance paintless dent removal truly. Therefore having the appropriate tools at your grasp constitutes one of the most important elements for attaining this efficiency.
PDR entails expertly manipulating the dip from within out while massaging and reshaping the affected region using specialized tools. As long as the paint coating remains intact, paintless dent repair can fix various damages. Both aluminum and steel panels can be repaired with paintless dent removal. This post will examine how the PDR process might change, becoming more efficient, quick, and eventually profitable using the appropriate technologies.
What Is The Procedure For Paintless Dent Removal?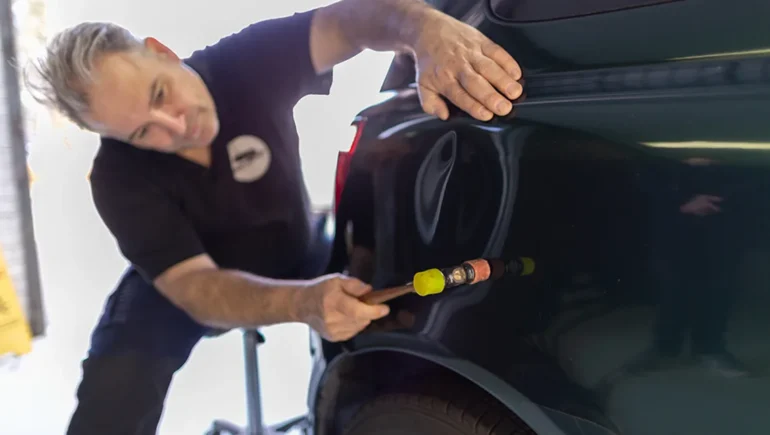 There's a significant probability that PDR can fix a severe dent in your automobile, whether a parking lot scar or a ding due to an accident. Paintless Dent Removal is a procedure utilized to fix small dents and scratches on a car's body without repainting it. With PDR, professional specialists precisely alter exact metal areas to the right height using reusable industry-grade tools.
Typically, the metal is pushed from the panel's interior. Specialists also employ metal rods and body equipment to get rid of the dents. This painless procedure keeps the original factory finish, rendering it a useful and economical procedure. PDR meticulously reshapes the metal to its original shape while preserving the vehicle's structure and strength in order while preserving the vehicle's look.
This approach is generally favored since it saves time, preserves the car's value, and avoids the requirement for color matching and painting, resulting in a better-looking vehicle.
Since the paint has to be disturbed and body filler will be required, most PDR technicians have specialized tools, hammers, picks, and equipment that make it feasible to eliminate some dents with mild creasing. However, these dents typically require repairs using the conventional repair procedure.
What Are The Various Tools Used For Paintless Dent Repair?
Paintless dent repair (PDR) uses a variety of specialized instruments to remove dents from vehicles without harming the paint. These tools are available in various sizes plus shapes and are selected to suit varied kinds and spots. Metal rods and hooks are the foundation of PDR equipment used to access and alter dents through the rear of the panel.
While glue-pulling tools utilize adhesive tabs with a pulling device to slowly pull the dip back into its place, dent lifter tools employ controlled pressure to force out dents. Specialized wedges, blending hammers and rubber mallets are also used to fine-tune the repair procedure and guarantee a perfect restoration of the car's body.
Investing in upgrading PDR tools and developing skills is just as vital as having the correct instruments to maximize paintless dent removal efficiency. Technicians can become more proficient at work and increase productivity and client satisfaction by keeping up with current methods and business developments.
It is essential for a PDR technician to have the right tool for best results in the dent removal process. It makes the work easy, efficient and time saving. A technician's comfort is improved by ergonomic equipment, which provides effective dent elimination, precision instruments that help with precise dent detection, with digital tools that simplify documentation and communication. Below are some PDR tools that maximizes efficiency in dent removal:
Tools With High Precision For Accurate Dent Detection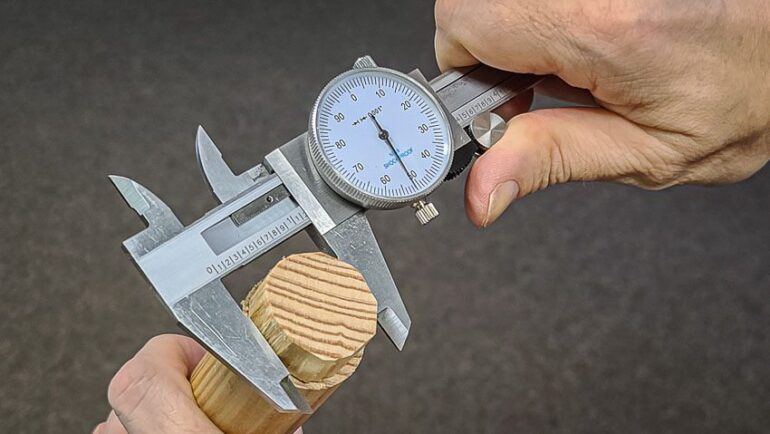 Precisely detecting and analyzing the damage is the basis of any paintless dent removal job. Technicians can identify even the smallest flaws using cutting-edge gear made exclusively for dent detection. The edges of the dented region are highlighted by high-quality reflection boards, LED lights, and line boards, enabling accurate analysis and measurements. By investing in such instruments, professionals may work more precisely on each dent while saving significant time by doing away with guesswork.
Specialized Dent Removal Tools
Once the damage has been located, having a complete set of specialized instruments is essential for dent removal. Any technician's toolkit must include basic PDR tools, including whale tails, dent rods, and door hooks. Yet, modern inventions like glue-pulling devices, which can greatly speed up the repair procedure, have been made possible by technological advances.
Without having to enter the panel's rear, these methods use pulling tabs and glue that have been carefully prepared to eliminate dents from panels gently and efficiently. These contemporary tools help professionals accomplish repairs more quickly and with higher-quality results.
Ergonomic Tools For Improved Efficiency
Paintless dent removal needs extended periods of attentive and accurate effort. The technician's body may be stressed, resulting in exhaustion and decreased output. This problem has been addressed by introducing ergonomic instruments, which feature designs that put comfort and usability first.
The technician's wrists, hands, and arms are under less stress thanks to adjustable rods, ergonomic handles, and soft-tip attachments, enabling them to work for long periods without feeling uncomfortable. Purchasing ergonomic gear will enable technicians to work with greater energy, concentration, and accuracy while maximizing productivity.
Digital Tools For Documentation And Customer Communication
Beyond the actual repair, paintless dent removal is efficient. A successful operation must prioritize both streamlining administrative duties and improving client relations. Techs may swiftly create professional reports by taking high-resolution pictures of the damage, measuring it, and annotating it with digital tools, including mobile software and application platforms.
These technologies offer visual representations of the repair procedure, estimates, plus invoicing, facilitating smooth communication with clients. Technicians may reduce paperwork, improve customer satisfaction, and save time by integrating digital technologies into their workflow.
Conclusion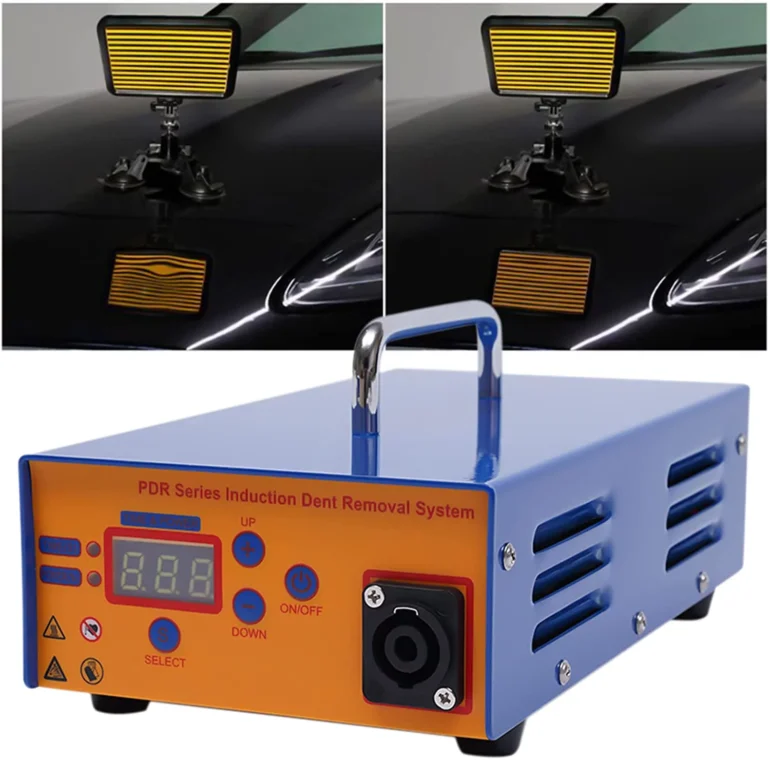 The vehicle repair industry has undergone a revolution thanks to paintless dent removal, which offers traditional techniques a quicker, more economical, and environmentally friendly replacement. Proper tools are essential for this process to run as smoothly as possible. By embracing these developments and arming themselves with the newest equipment, professionals can progress in paintless dent removal, providing outstanding results, cutting down on repair times, and eventually boosting their company's profitability.