Are you tired of the constant pulling and tugging during your daily walks with your furry friend? If so, it might be time to invest in a dog harness. Dog harnesses are not only a stylish accessory for your canine companion but also offer numerous benefits over traditional collars. In this comprehensive guide, we will explore the different types of dog harnesses available in the market, discuss the factors to consider when choosing one, and provide tips on how to train your dog to wear a harness. So, let's dive right in and find the perfect fit for your pup!
Types of Dog Harnesses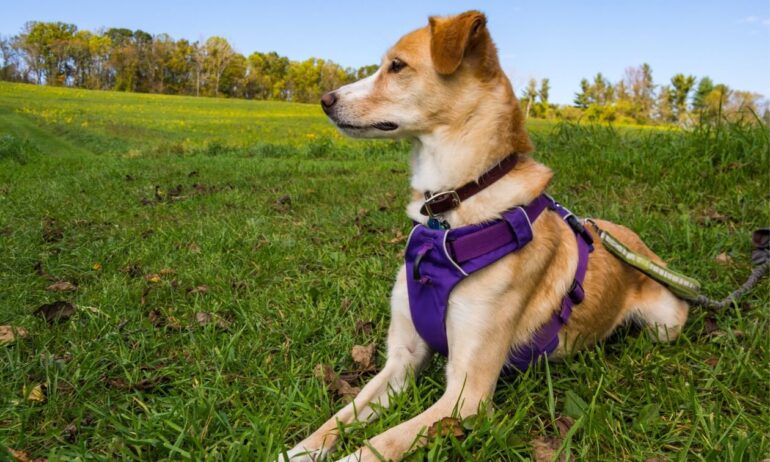 When it comes to choosing the right dog tags or dog harness, there are several options available. Each type of harness offers unique features and benefits, catering to different needs and preferences. Let's take a closer look at some popular types of dog harnesses:
Step-in harness: This type of harness is designed to be easy and convenient to put on your furry friend. With step-in harnesses, you simply lay the harness flat on the ground, have your dog step in with their front legs through the openings, and then secure it around their back.
Back-clip harness: Back-clip harnesses feature a D-ring attachment on the back, making them ideal for dogs that don't pull excessively during walks. These harnesses distribute pressure evenly across your dog's chest instead of pulling directly on their neck.
Front-clip harness: If you have a dog that tends to pull while walking, a front-clip harness might be a better option. These harnesses have a D-ring attachment on the chest strap, which helps redirect your dog's attention towards you when they pull, making it easier to control them.
Head halter: A head halter works similarly to a horse's halter in that it goes over your dog's nose and behind their ears. When your dog pulls, the halter gently guides their head in the direction you want them to go, discouraging pulling behavior.
No-pull harness: This type of harness is specifically designed for dogs that tend to pull during walks. They often feature both front and back D-ring attachments, providing extra control and helping distribute pressure evenly across your dog's body.
Vest harness: A vest harness is typically made from soft, padded materials for comfort and can be customized with patches or embroidery for identification purposes. These harnesses are ideal for small or toy breeds that may be more delicate and need extra support during walks.
Multi-functional harness: Some harnesses offer multiple functions, such as serving as a car safety restraint or providing reflective features for nighttime walks. These versatile options can be useful if you're looking for a multi-purpose solution.
Overall, the best type of dog harness for your furry friend will depend on their specific needs and behavior. Consider consulting with a professional trainer or veterinarian for personalized recommendations.
Step-in Harness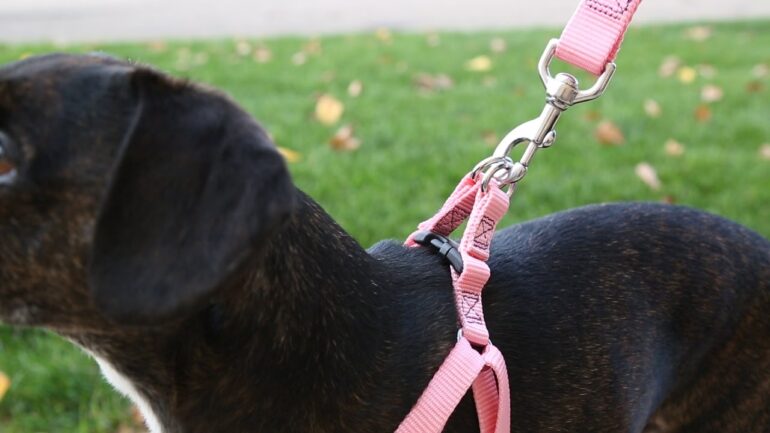 A step-in harness is a popular choice for dog owners who value convenience and ease of use. As the name suggests, this type of harness allows your dog to simply step into it, making the process of putting on and taking off the harness quick and hassle-free.
One key advantage of a step-in harness is its simplicity. With adjustable straps that go around your dog's legs and chest, it provides a secure fit without putting pressure on their neck. This can be particularly beneficial for dogs with respiratory issues or those prone to pulling on walks.
Back-clip Harness
One popular type of dog harness is the back-clip harness. This style features a D-ring on the back, to which you attach your leash. The back-clip design offers several advantages for both you and your furry friend.
The back-clip harness provides better control over your dog's movements. With the leash attached to their back, it discourages pulling behavior as any tension redirects them toward you instead of forward.
Front-clip Harness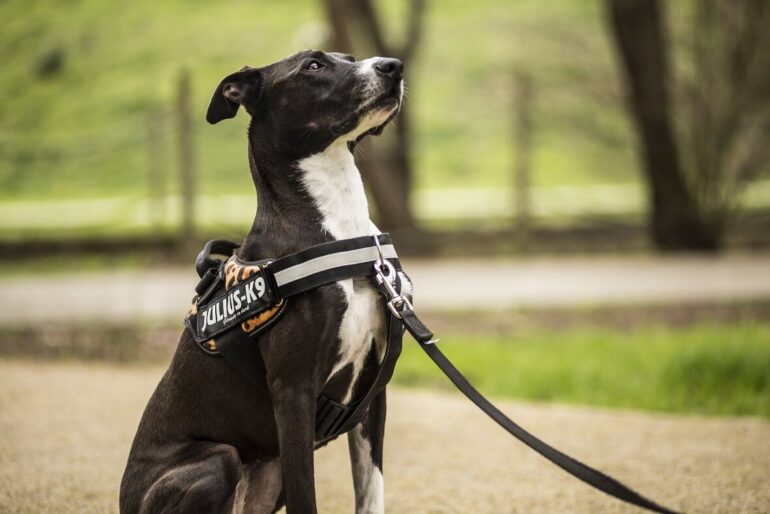 Front-clip harnesses are gaining popularity among dog owners for their unique design and functionality. As the name suggests, these harnesses have a front attachment point located on the chest area of the dog.
One of the main advantages of a is that it provides greater control over your dog's movements during walks. With the leash attached to the front clip, any pulling or lunging from your dog will result in them being redirected towards you rather than pulling you forward.
Another benefit of using a front-clip harness is that it discourages dogs from pulling on the leash since they experience discomfort if they try to do so. This can be particularly helpful when training dogs with leash manners or those prone to excitement during walks. Front-clip harnesses are also recommended for larger breeds or dogs with neck or trachea issues.
Head Halter Harness
The head halter harness is a unique type of dog harness that provides control and guidance by gently steering your dog's head in the desired direction. It consists of straps that go around the back of the head, as well as under the chin.
One key benefit of using a head halter harness is its ability to prevent pulling on the leash. When your dog tries to pull ahead, the gentle pressure applied to their head redirects their attention towards you, discouraging them from forging ahead.
Another advantage of this type of harness is its effectiveness in controlling reactive or aggressive dogs. By having control over their heads, you can more easily redirect their focus and prevent any unwanted behavior during walks or encounters with other animals or people.
Factors to Consider When Choosing a Dog Harness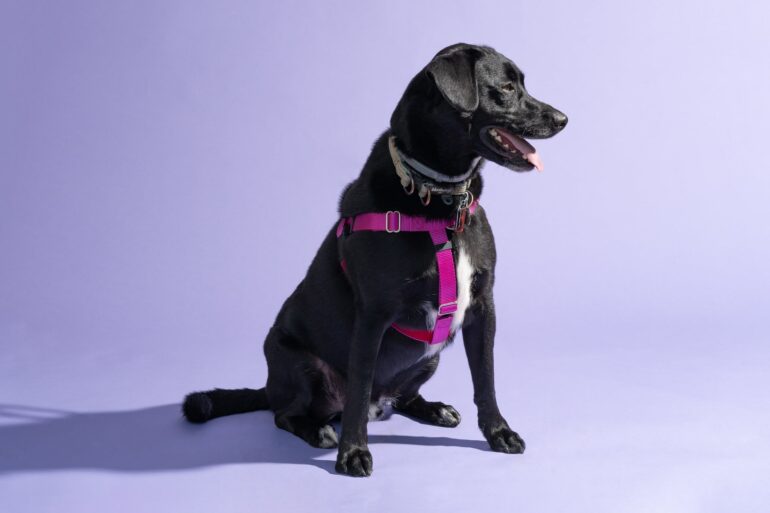 Size and Fit: One of the most important factors to consider when choosing a dog harness is ensuring the proper size and fit for your furry friend. A harness that is too tight can cause discomfort or restrict movement, while one that is too loose may not provide adequate control. Measure your dog's chest girth accurately and refer to sizing charts provided by manufacturers to select the right size.
Material and Durability: Another crucial factor is the material and durability of the harness. Look for high-quality materials that are sturdy, yet comfortable for your dog. Nylon or neoprene webbing are popular choices due to their strength and resistance to wear and tear. Additionally, check if there are any padding or cushioning features that can enhance comfort during walks or activities.
Purpose and Usage: Consider how you plan on using the harness before making a decision. Are you looking for a daily walking harness, an option for outdoor adventures, or something specifically designed for training purposes? Different types of harnesses cater to different needs, so understanding your specific requirements will help narrow down your options.
Ease of Use: Choosing a dog harness that is easy to put on and take off is essential. Some styles feature step-in designs with buckle closures while others have adjustable straps with clip fastenings. Assess what works best for you based on convenience as well as your dog's cooperation during dressing sessions.
Reflective Features: If you often walk your dog in low-light conditions or at night, consider selecting a harness with reflective elements such as strips or stitching. These features increase visibility, making it safer for both you and your pup during evening strolls.
Remember, finding the right dog harness takes time and consideration; it should be chosen based on what suits both you and your furry companion best! Take into account these factors when making your selection – size/fitting accuracy, material/durability aspects including padding, purpose/usage requirements, ease of use in terms of putting on and taking
Size and Fit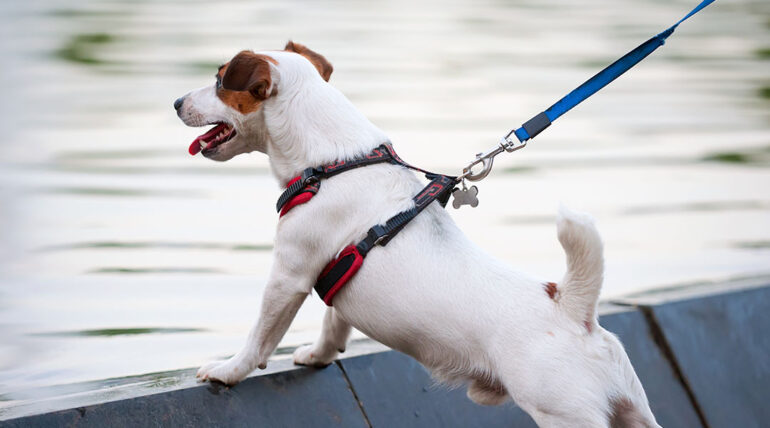 When it comes to choosing the right dog harness, one of the most important factors to consider is size and fitness. Dogs come in all shapes and sizes, so it's crucial to find a harness that fits your furry friend comfortably and securely.
You need to measure your dog's chest girth accurately. This measurement will help you determine which size harness will be the best fit for your pup. It's important not to rely solely on weight or breed guidelines when selecting a harness since individual dogs can vary greatly in body shape.
Material and Durability
When it comes to choosing the right dog harness, considering the material and durability is essential. After all, you want a harness that can withstand your furry friend's adventurous spirit and last for a long time.
One popular choice for dog harness materials is nylon. This synthetic fabric is known for its strength and durability, making it ideal for active dogs who love to explore the outdoors. Nylon harnesses are also easy to clean and maintain, which is an added bonus.
Purpose and Usage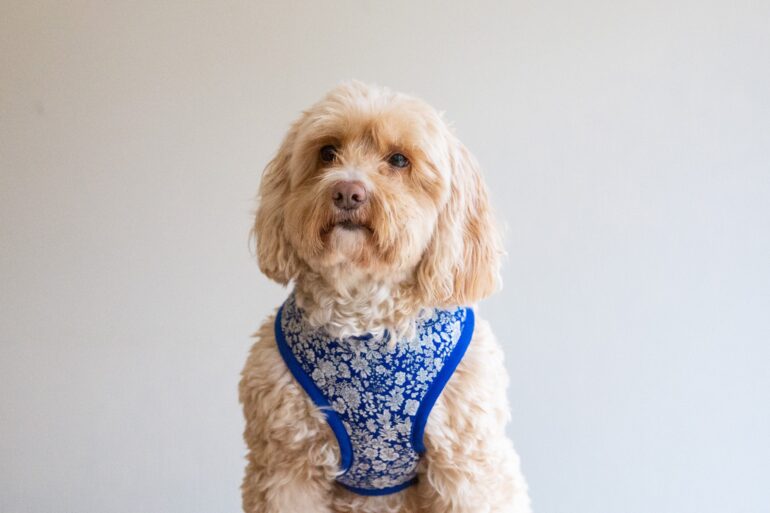 When it comes to choosing a dog harness, considering its purpose and usage is essential. Different types of harnesses are designed for specific activities or situations, so it's important to understand your needs before deciding.
If you have an active and energetic pup who loves outdoor adventures, an adventure or hiking harness might be the perfect choice. These harnesses typically feature additional padding and sturdy attachments for attaching accessories like water bottles or gear packs.
Conclusion
Choosing the right dog harness is an important decision for every pet owner. With so many options available, it can be overwhelming to find the perfect fit for your furry friend. However, by considering factors such as size and fit, material and durability, and purpose and usage, you can narrow down your choices and make an informed decision.
Remember that a well-fitting harness not only ensures your dog's comfort but also provides better control during walks or training sessions. Whether you opt for a step-in harness, back-clip harness, front-clip harness, or head halter harness depends on your dog's specific needs and behavior.
Additionally, take into account the activities in which you plan to engage with your canine companion. If you enjoy jogging or hiking together, a sturdier and more secure option may be suitable. On the other hand, if your priority is teaching proper leash manners or reducing pulling behavior during walks, a front-clip or head halter harness might be worth considering.