Dogs are more than just pets; they are loyal companions and members of our families. Just like any family member, our furry friends need to stay entertained and mentally stimulated. One way to achieve this is through the selection of the right dog toys.
However, with a plethora of options available in the market, choosing the right toys for your canine companion can be quite overwhelming.
In this comprehensive guide, we will delve into the intricacies of selecting dog toys, considering factors such as materials, durability, and, most importantly, how much fun they bring to your four-legged friend's life.
The Importance of Dog Toys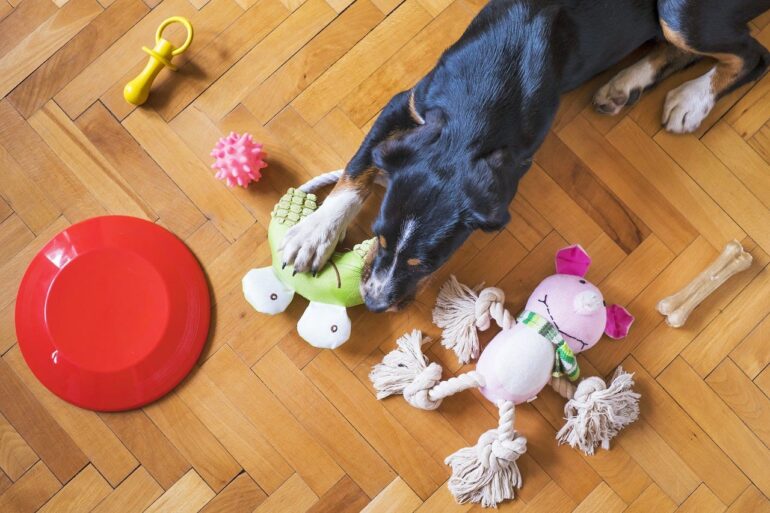 Before we dive into the nitty-gritty of choosing the perfect dog toys, let's take a moment to understand why they are essential for your dog's well-being.
Mental Stimulation
Dogs are intelligent animals that thrive on mental challenges. Interactive toys can engage their minds, preventing boredom and the potential development of destructive behaviors, such as excessive chewing or digging.
Physical Exercise
Playing with toys also provides your dog with much-needed physical exercise. It helps maintain a healthy weight and keeps their muscles and joints in good condition.
Bonding and Socialization
Toys can serve as tools for bonding between you and your dog. Engaging in playtime together helps build trust and strengthens the bond between pet and owner. Additionally, toys can facilitate socialization if your dog interacts with other dogs during playdates.
Dental Health
Certain toys, particularly those designed for chewing, can help improve your dog's dental health by reducing plaque and tartar buildup.
Now that we understand the importance of dog toys, let's explore the factors that should guide your decision when selecting the right ones.
Choosing the Right Materials
The materials used to make dog toys play a significant role in their safety, durability, and suitability for your pet. Let's break down some common materials and their pros and cons.
1. Rubber
Rubber toys are a popular choice due to their durability and versatility. They come in various shapes and sizes, often with different textures to provide additional sensory stimulation for your dog.
Pros:
Durability: Rubber toys are resilient and can withstand heavy chewing.
Bounce: Many rubber toys bounce unpredictably, adding an element of fun to fetch games.
Cleaning: They are relatively easy to clean, which is crucial for your dog's health.
Cons:
Not Edible: While rubber toys are safe for most dogs, they are not meant to be ingested. Always supervise your dog during play to prevent accidental consumption of small rubber pieces.
Size Matters: Ensure you select an appropriate size; smaller dogs should have smaller rubber toys to avoid choking hazards.
2. Plush
Plush toys are soft and cuddly, making them a favorite among many dogs. These toys often resemble animals, making them appealing to your dog's natural hunting instincts.
Pros:
Comfort: Plush toys can provide comfort and serve as a security blanket for some dogs.
Entertainment: Dogs enjoy tossing, carrying, and sometimes even cuddling with plush toys.
Squeaky Fun: Many plush toys come with squeakers, adding an extra layer of excitement for your dog.
Cons:
Durability: Plush toys are not as durable as rubber or nylon toys and can be easily torn apart by aggressive chewers.
Supervision Required: If your dog is a heavy chewer, you'll need to closely supervise playtime with plush toys to prevent ingestion of stuffing and squeakers.
3. Nylon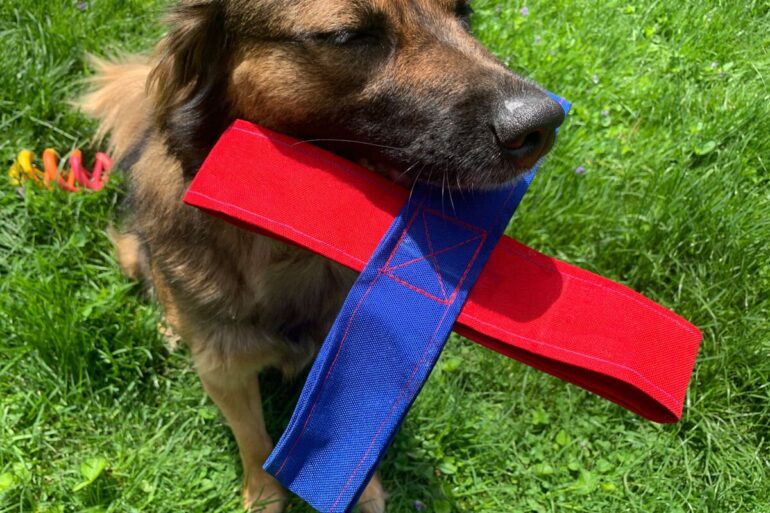 Nylon toys are known for their durability and are often designed for heavy chewers. They come in various shapes, including bones and ropes.
Pros:
Durability: Nylon toys are built to last and can withstand strong jaws.
Dental Health: Certain nylon toys are designed to help clean your dog's teeth and gums.
Variety: They come in a wide range of shapes and sizes, suitable for various play styles.
Cons:
Potential Hardness: Some nylon toys can be very hard, potentially causing dental damage if your dog bites too forcefully. Look for toys with some flexibility to avoid this issue.
4. Rope
Rope toys are excellent for interactive play between you and your dog. They are typically made from cotton or other safe materials.
Pros:
Dental Health: Rope toys can help remove plaque and promote healthy gums as your dog chews and plays.
Interactive: They are perfect for tug-of-war and fetch games, promoting bonding and physical exercise.
Cons:
Durability: Rope toys can unravel over time, and loose threads can pose a choking hazard if ingested. Always monitor the condition of your rope toys.
Not for Heavy Chewers: Dogs that aggressively chew may destroy rope toys quickly.
5. Latex
Latex toys are often designed to be colorful and whimsical. They are soft and squeezable, making them appealing to some dogs.
Pros:
Texture: The soft and squeezable nature of latex toys can provide a unique tactile experience for your dog.
Squeakers: Many latex toys come with squeakers, adding auditory stimulation to playtime.
Cons:
Durability: Latex toys are not as durable as rubber or nylon toys and can be easily punctured by sharp teeth.
Allergies: Some dogs may have latex allergies, so be cautious if your dog has a history of skin or digestive issues.
Durability: Selecting Toys That Last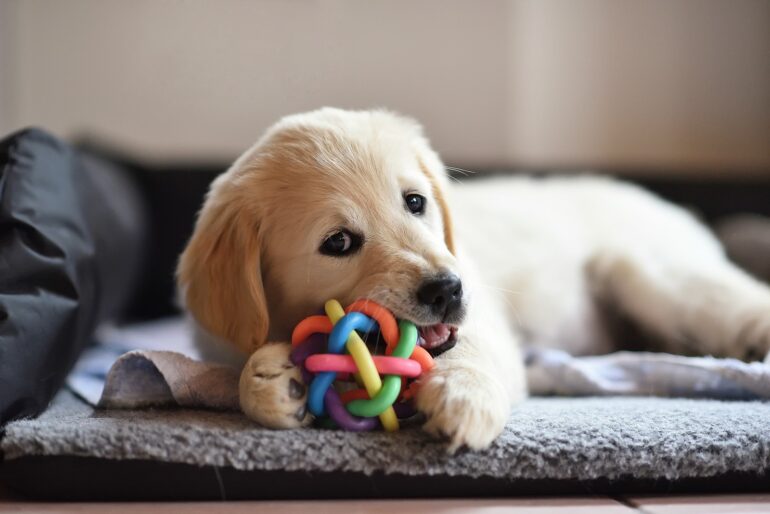 Now that we've explored the materials commonly used in dog toys, let's shift our focus to durability. Choosing toys that can withstand your dog's play style and chewing habits is crucial to ensure longevity and safety.
1. Consider Your Dog's Size and Strength
Different dogs have different play styles and levels of strength. Smaller breeds may not be as rough on their toys as larger, more powerful breeds. Be sure to select toys that match your dog's size and strength to ensure they can withstand playtime without breaking or posing a choking hazard.
2. Look for Indestructible Options
If your dog is a heavy chewer, you'll want to search for toys labeled as "indestructible" or "tough." These toys are often made from sturdy materials like heavy-duty rubber or nylon and are designed to withstand aggressive chewing.
3. Rotate Toys
Even the most durable toys will eventually show signs of wear and tear. To extend the life of your dog's toys, consider rotating them. This not only keeps your dog interested in their toys but also allows you to inspect and discard damaged ones before they become a safety hazard.
4. Supervise Playtime
No matter how durable a toy claims to be, it's always a good idea to supervise your dog during playtime. This ensures you can intervene if a toy starts to break apart or if your dog appears to be ingesting any small pieces.
Conclusion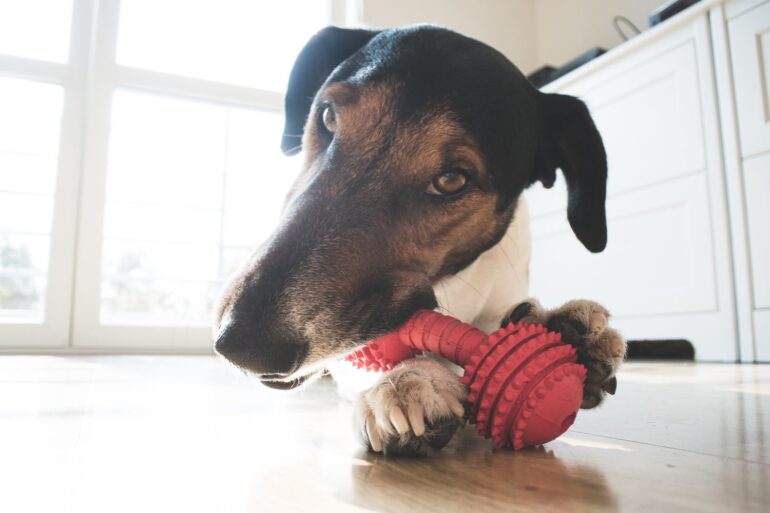 Choosing the right dog toys is a thoughtful process that considers your furry friend's size, strength, preferences, and play style. The materials, durability, and entertainment value of the toys you select play crucial roles in keeping your dog engaged, mentally stimulated, and physically active.
Remember to prioritize safety by regularly inspecting and cleaning your dog's toys and supervising playtime. With the right toys, you can ensure that your canine companion enjoys a happy and healthy life filled with tail-wagging fun.
So, go ahead, pick out some engaging toys, and watch as your dog's joy and enthusiasm brighten your days together.