The terrifying day of Halloween is closing in. All your friends have completed their preps with costumes, decorations, trick-o-treat chocolates, and whatnot. Once everything is ready, you realize that your friend's birthday falls on pumpkin day. You decide to use this chance to surprise or scare your friend with ghoulish and glamorous gifts.
If this is you, then look no further ahead. When choosing your gifts, let the age factor slip away and bring everyone back to their youth of knocking on doors for tasty treats. The festival of pumpkins is a great way to establish a love for sweet and scary things.
If your friend's birthday falls on the festival, then worry not! There are plenty of spooky but creative gift ideas that you can get for the dearest. Here are some of the 30th birthday gift ideas men born on this date.:
Halloween-Themed Jewelry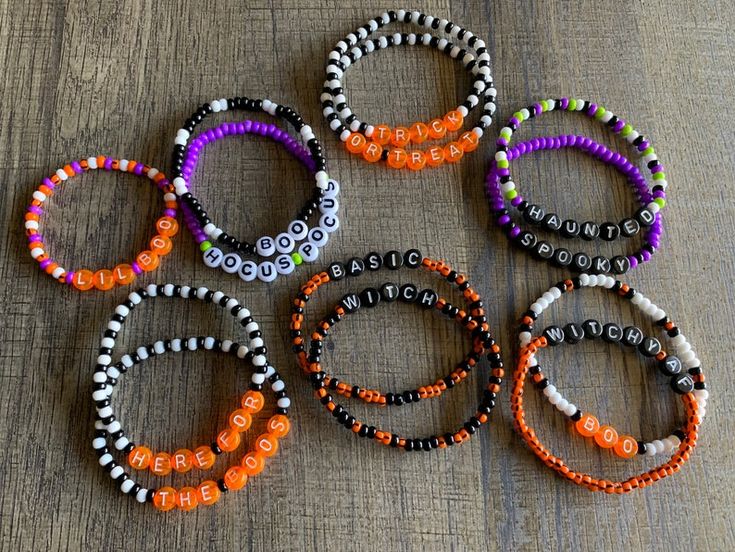 When thinking of the best gifts, one surely thinks of a quality piece of jewelry. But what if they happened to be Halloween-themed? Are you thinking of skull earrings or white spider necklaces yet? They not only cater to this day but also can be worn year-round for a gothic look! Pair them with black ripped jeans, and you are good to go.
With the creepy vintage look that looks straight from the 50s, one is bound to fall in love with them. If you're looking for fun Halloween earrings with a saucy vintage with gold enamel pumpkins, you must surely check out JubileeGiftShop and get some for yourself too! So, get them the following jewelry and make them fall in love with festival-themed accessories:
1. Halloween-Themed Earrings
Suiting both men and women, these earrings are sure to make your friend glad they were born on the festival of pumpkins. These earrings can come in many ways, from pumpkin ones to skulls and bats! Or, if your friend is not into that, get them novelty items donned with spooky artwork and cartoons. There is something about Jack-o-lanterns that draw you in and make you feel alive.
2. Spider Rings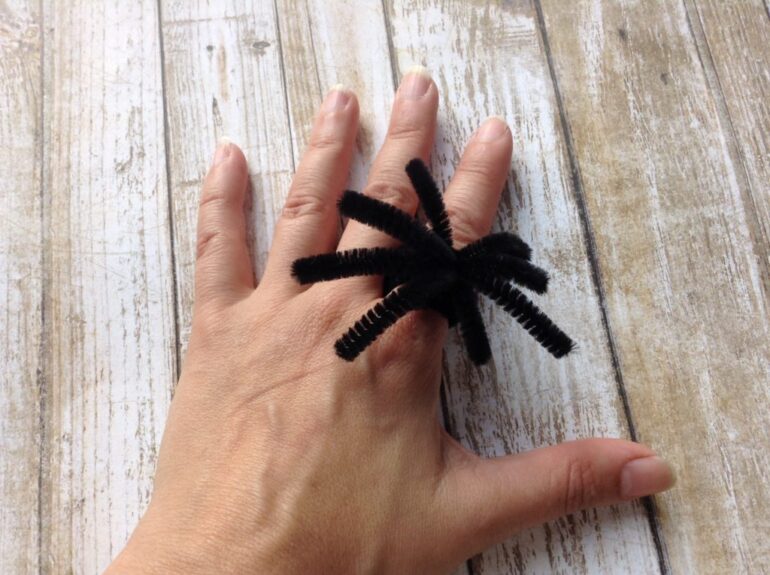 Get some spider rings that look so real that they would confuse them for a real one! These rings are bound to last longer than any other plastic ones. Spider rings are made with great attention to detail, with the base made of carefully worked metal and finish. Made with the spooky colors of green and black, they would love to make a collection out of them!
3. Halloween Necklaces
Nothing is more lovely than getting a necklace as a birthday present, but do you know what lovelier is? Getting Jack-O'-Lantern or Skull necklaces as a Halloween cum birthday present. These necklaces can glow in the dark, using sharp LEDs without heat. They come with options to adjust the blinking speed.
These skull necklaces are decorated with rich crystals from the Celtic tradition. These necklaces work for people who don't mind novelty products and want to go all out for their birthday party. Don't tell your friend about it; let's see if they find themselves in jump-scare when they find out they can glow in the dark!
Halloween Apparel
No one would be bored of the Halloween-themed apparel everyone can wear throughout October. Having clothes that give off the creepy vibe is surely exciting to possess! You can also buy a bunch of them and make it the dress code for this trick-or-treat shenanigan.
Available in a wide range of sizes and quality fabric, they are sure to sustain even till the next festival of pumpkins. You can get them different colors to suit their taste or even leave a spooky message behind.
4. Halloween Socks And Neckties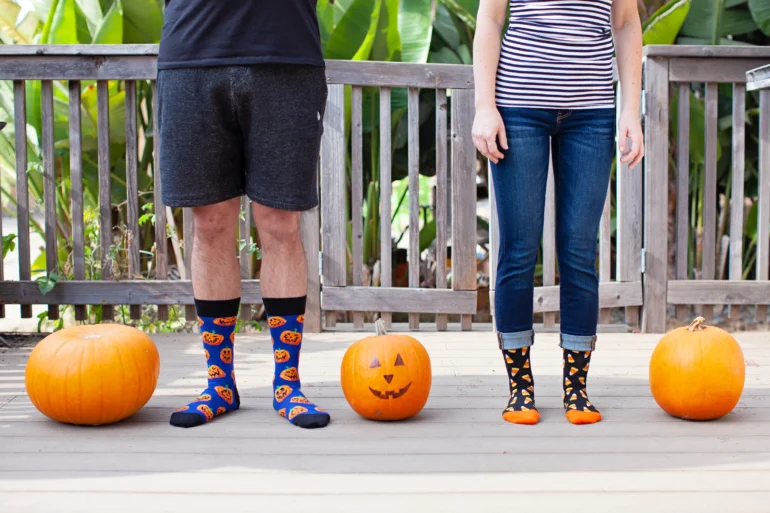 Nothing is cooler than finding someone wearing vampire-themed bat socks in the grocery store. Socks and neckties are great regardless of gender and age because these designs are versatile. Coming in a variety of structures and patterns, pumpkin socks and creepy neckties are user-friendly and can be used even on normal occasions. They can also be found in comfortable cotton wear types and are 100% antimicrobial. They have a long life span that can last you until another 15 festivals. Go ahead and fill their wardrobe with them!
Halloween Ornaments And Decorative Items
If you or your friend is not into the above fashion, then you don't need to break a sweat. Ornaments and decorations have no sizes; thus, they are the best gifts for your loved ones. So don't hesitate to get them the following items:
5.Customized Halloween Pins
Whether it's pumpkins, skulls, or ghosts with Halloween elements, you can go for customization, and you can also customize his Halloween costume image badge for him. Your friend will love the badge that you made yourself. This is the world's only gift that belongs to him alone. It also represents a souvenir of his arrival in the world. These badges often have a better quality to store for decades, with different materials and colors to choose how to make them. Badges can be used to decorate items and add color to our clothes and backpacks. Everyone will look forward to receiving an exclusive custom badge. Go customize them on gs-jj.com! Order Now
6. Scary Pumpkin Doorbell
The perfect gift for all the pumpkin lovers- a creepy pumpkin doorbell! If you want to impress your friend's family along with your friend, then this is just right. It is just a gift for your introverted friends to shoo away all the unwanted and uninvited guests and send the pumpkin vibe to the trick-or-treaters. The cool thing is they light up in the dark, creating a glowy look during the night hours.
7. Wooden Hanging Fixtures
Are you looking for Earth-friendly options to start this pumpkin festival with a bang? Then you can get this decorative piece that will surely make your friend appreciate the wow factor. Not only are they made with wood, but most of these signs are also made of copper-plated paint. These hanging fixtures are a highlight and can never be worn off or faded. However, don't mistake it's vividness for a short life span; they can last until the next pumpkin festival. You'll know when you see it hanging in their house next October.
8. Pumpkin Plushies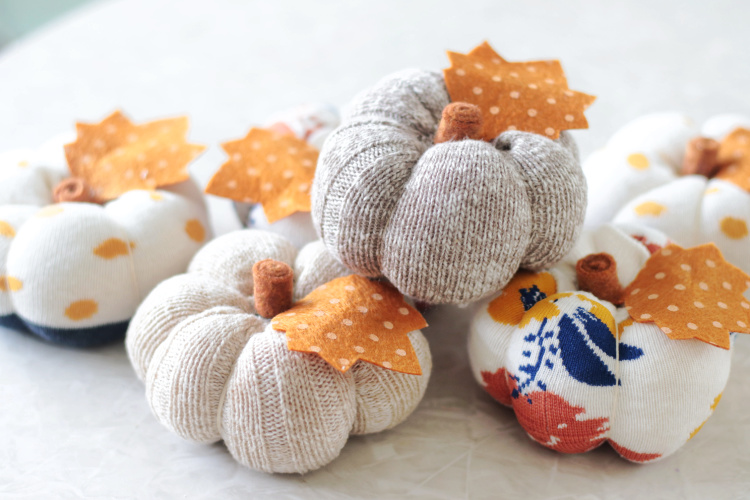 Some plushies are made for the season's spirit that no one would deny! They are extremely adorable and can be used as decorative items for their bed. Made with soft fabric and fluffy texture, they can be confused with a pillow if you ever blindfolded them. Plushies are amazing gifts, especially for the female demographic.
Halloween-themed apparel and garments
9. Pumpkin Mug
Mugs are versatile gifts that can be used on any occasion regardless of gender, age, or personality! On this pumpkin festival, consider gifting your friend a spooky ceramic mug which is sturdy and thick to penetrate the heat. You make their day every time they take a sip from the mug. You can look for personalized print options that glow up when exposed to heat, making them even more suitable for the spirit of the occasion.
10. Skull Chocolates And Chocolate Molds
Get your friend some treats in the festival of trick or treating! This is a very simple yet spooky gift for a friend with a sweet tooth. Not only are they nice edibles, but they can also be used as excellent decorative items. Make sure there are personalized options when you look for such gifts to make the treat more meaningful and close to their heart. You can also put your own hands and make skull-shaped candies and chocolates using pumpkin molds.
11. Custom Halloween Wallet For Men
Out of options for your male friends? It is a great idea to get them a customized Halloween-themed wallet for your loved ones. Their high-quality features and sections make security much easier. Choose the colors and text that would be perfect for him, and he is bound to treasure it.
12. Couples Halloween Wish Bracelet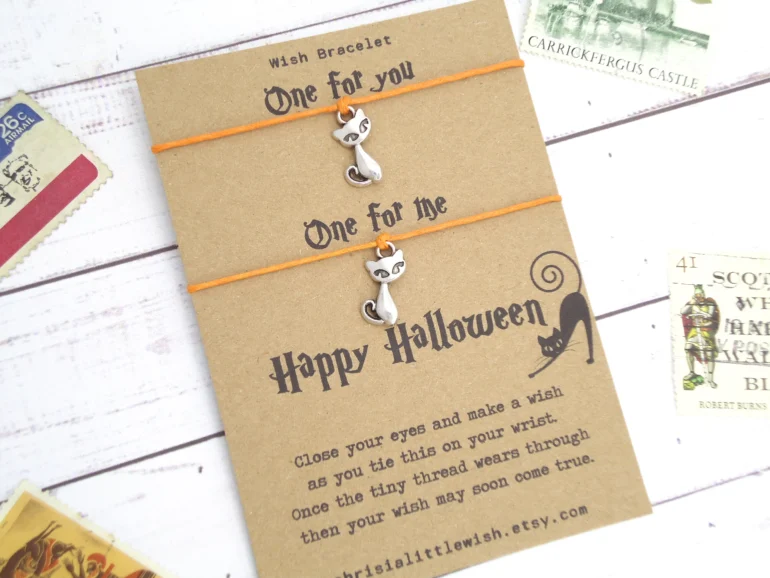 This is a deal-breaker for your soul mate. Halloween-themed matching bracelets are amazing for the spooky-lovers. What other best ways are there to show someone that you care about them than to give them matching bracelets? Pumpkin wish bracelets convey your love and best wishes with an element of spookiness.
Conclusion
Halloween gifts are not just limited to regular candles and chocolates; they go further than that. If your friend is way into spookiness and horror, getting them ghastly gifts will surely make their birthday memorable.
Following this list, you can get some cool ideas to hit two occasions with one gift- Halloween and birthday. Whether a mysterious gift box or a witch hat, these fun little gift ideas provide utility and creativity, the two most essential factors when it comes to gifting. With the element of horror, they celebrate their birthday party with lots of love.