Many people like playing poker, a timeless card game that mixes strategy, skill, and luck. Aside from the thrill of the game, poker allows you to inject some originality and fun into your gaming experience. One method is to coordinate distinct themes with colored poker chips.
This article will look at five intriguing themes that may be easily included in your poker nights by using colored chips, adding a new depth of fun for you and your buddies.
1. Purple Chips: Royal Flush Theme
Purple chips are frequently associated with wealth and monarchy. Why not capitalize on this association by including a Royal Flush theme? Purple chips can create an environment appropriate for kings and queens.
Consider decorating your playing area with regal colors like gold and deep red. Crown designs and velvet tablecloths can add to the royal atmosphere. Serve sophisticated refreshments such as champagne or sparkling grape juice to round out the atmosphere.
2. Red Chips: Valentine's Day Theme
Valentine's Day, the day of love and passion, is the ideal time to include a romantic theme in your poker game. Red chips are a fantastic choice for this sentimental occasion. Red roses, heart-shaped confetti, and candlelight can be used to decorate your gaming environment.
To set the mood, make a playlist of romantic songs. A sweet touch like heart-shaped chocolates or Valentine-themed sweets will enhance the experience.
3. Green Chips: St. Patrick's Day Theme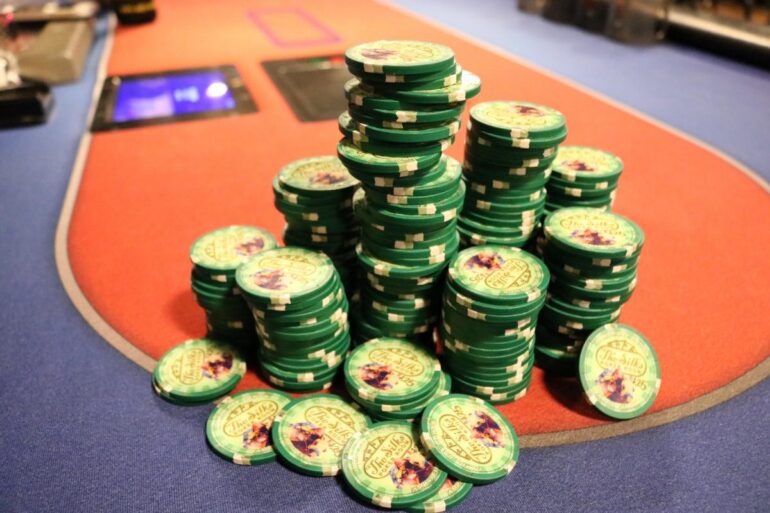 St. Patrick's Day, a joyous occasion commemorating Irish culture, provides an exciting subject for your poker game. Green chips represent luck and the lush Irish landscapes and are an excellent fit for this theme.
Decorate with shamrocks, leprechaun hats, and gold pots to create a festive environment. You may even urge attendees to dress in green or wear green accessories. Consider presenting traditional Irish foods and beverages, such as Shepherd's Pie or Guinness, to round out the experience.
4. Blue Chips: Beach Party Theme
Do you want to go to the beach? Bring the sun, sand, and waves to your poker night with a beach party motif and blue chips. To create a tropical mood, use beach-themed decorations such as seashells, beach umbrellas, and inflatable palm trees.
Play upbeat beach music in the backdrop and urge visitors to wear their favorite beachwear. Fruity beverages and seafood nibbles will transport everyone to a beachfront paradise.
5. Yellow Chips: Summer BBQ Theme
Summertime conjures images of outdoor barbecues and casual get-togethers with friends and family. Yellow chips, recalling the warmth and sunshine of the season, capture the essence of a summer BBQ.
Colorful bunting, picnic blankets, and barbecue-themed decorations can be used to decorate your game environment. Encourage guests to dress comfortably and serve traditional BBQ fare such as burgers, hot dogs, and refreshing lemonade. This theme is ideal for a laid-back, informal poker night.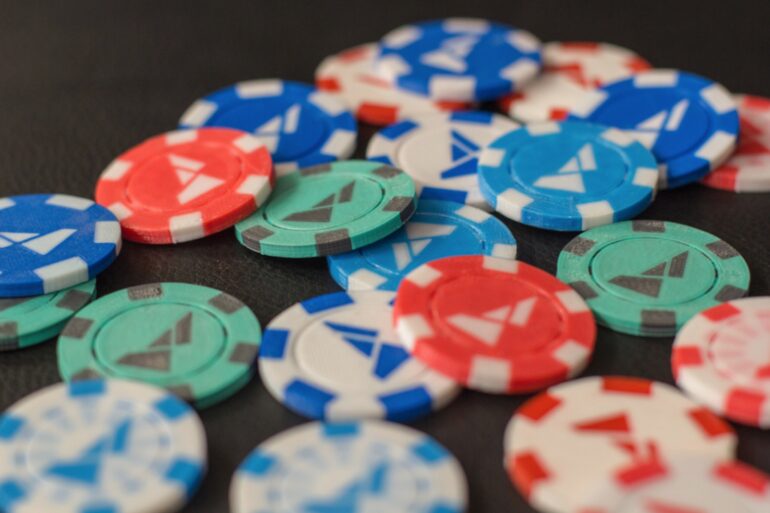 In Conclusion
Including themed aspects in your poker game can improve the entire experience and help you and your pals create lasting memories. You may add excitement and originality to your gaming nights by coordinating colored poker chips with different themes.
The choices are unlimited, from a majestic Royal Flush theme with purple chips to a bright beach party with blue chips. Feel free to experiment with alternative creative themes and other chip colors. Gather your pals, pick a theme, and let the colorful poker chips lead you into a world of fun and imagination.