Throughout history, art has been utilized as a form of communication, self-expression, group involvement, diagnosis, and conflict resolution. For countless centuries, nations and religions have employed carved idols, charms, and holy artworks and symbols in the healing process. Art therapy was established as a distinct and widely acknowledged therapeutic practice in the middle of the 20th century. Art therapy as a profession emerged concurrently and independently in the United States and Europe.
What is Art Therapy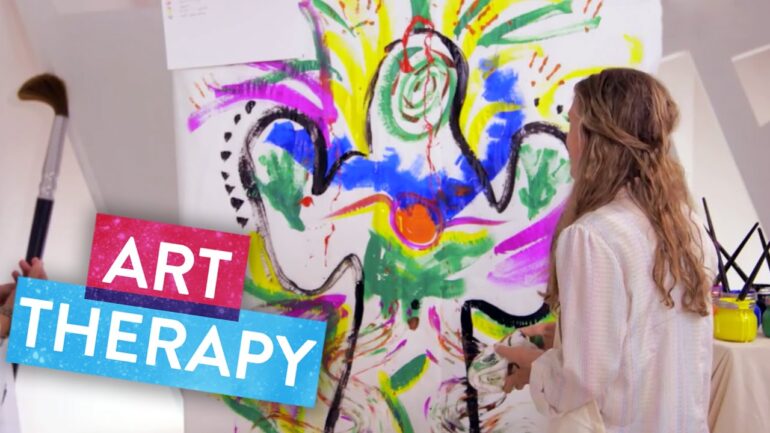 Art therapy uses creative skills such as drawing, painting, collage, coloring, and sculpting to help individuals express themselves creatively and investigate the psychological and emotional overtones of their artwork. With the assistance of a trained art therapist, clients may analyze the nonverbal messages, symbols, and metaphors frequently found in various art forms, which should lead to a greater understanding of their emotions and behaviors, allowing them to resolve more fundamental issues.
Participants in art therapy use art to convey their experiences, to describe how they have been affected, and to support their well-being and any social, emotional, and mental health requirements.
The purpose of art therapy is to use the creative process to assist individuals in exploring self-expression and, by doing so, discovering new methods to obtain personal insight and create new coping abilities.
People utilize the production or enjoyment of art to explore their emotions, improve self-awareness, deal with stress, enhance self-esteem, and hone their social skills.
When adversity impacts our life, it can have a negative effect on our well-being, but it may be not easy to articulate this feeling. Therefore, art therapists are frequently able to deal with individuals who have been denied access to verbal therapy. Art therapy ensures that no one is left behind in this way.
What Art Therapy Can Do for You
Self-expression and expression of feelings
Your work may become a means of exploring and expressing thoughts and emotions that are difficult or unclear to describe via speech alone. Creating and discussing art with a therapist might help you better understand your passionate yet muddled emotions. In addition, it allows you to express "negative" feelings, such as rage, despair, loss, and emotional anguish, that we all experience from time to time.
As such, art can also preserve a special memory if you have no time for art therapy. Get yourself quality artwork that you can appreciate as time goes by. Check out Memorialize Art if you're interested.
Have you ever noticed how music or an activity such as painting may help you unwind after a hard day? Because it is quite soothing. If you consult with a trained art therapist, they may help you comprehend the emotions that flow into your artwork and assist you in working through and resolving difficulties. Additionally, studies have demonstrated that coloring, even as an adult, has enormous advantages. In the adult world, coloring, sketching, painting, and performing music are extremely prohibited. Discover how liberating it is to let your creativity flow when you deviate from this social convention.
Brain connections are improved by creating visual art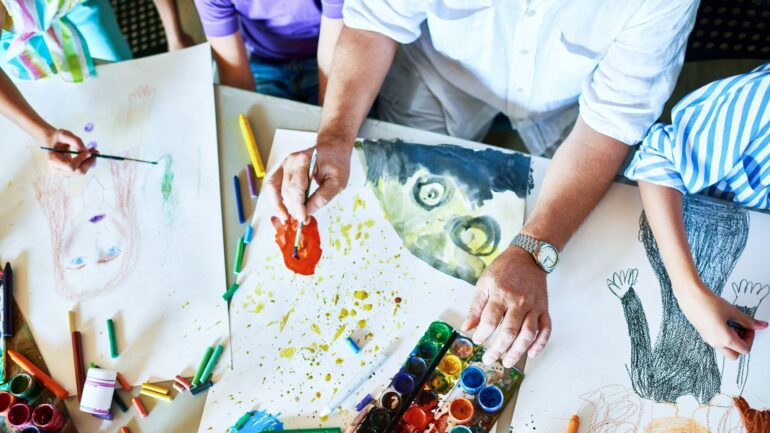 Creating visual art helps strengthen connections in the brain's default mode network.
This system is connected with the state of the brain during wakeful rest, such as daydreaming. However, it is also active while we are concentrating on internal thoughts or future goals.
Scientists have previously discovered that people's claims of being "moved" by a work of art are associated with activity in the default mode network. While this research is in its infancy, it may imply that the art that individuals have a strong emotional connection to, including the art they make, maybe the consequence of "a certain 'harmony' between the exterior world and our internal picture of the self."
Art boosts self-esteem
As a youngster, the highest compliment was having your artwork placed on the refrigerator door. It enhances your sense of accomplishment and self-esteem. Today, putting your most recent work of art on the wall can provide the same effect. Dopamine is increased by the creative process. Dopamine is excellent for motivation because it increases drive, attention, and concentration, allowing you to plan ahead to achieve your objectives and resist urges. Crafting activities (photography, woodworking, knitting, do-it-yourself house repair, etc.) increase dopamine, protect the brain from aging and prevent depression.
Does Art Therapy Work for Everyone?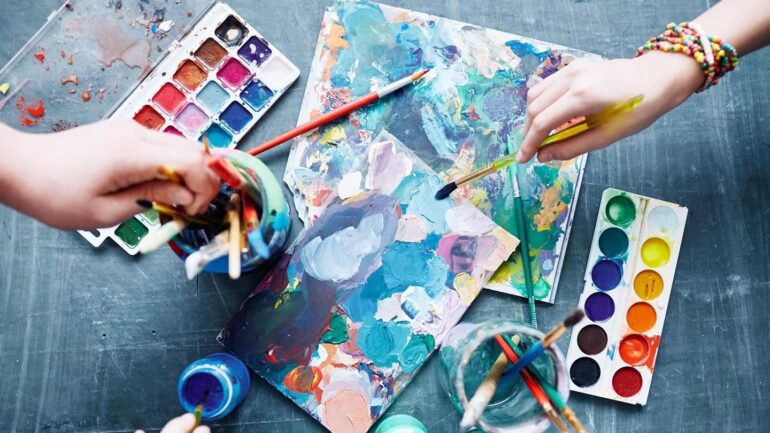 Art therapy is recommended for everyone who feels overwhelmed or harassed by the chaotic environment in which we live. Creating art can allow you to calm down and examine any problems you may be experiencing. Art therapy promotes the mental health of those struggling with addictions, anxiety, attention difficulties, grief and loss, dementia, depression, eating disorders, physical disease, trauma, and a wide variety of interpersonal problems.
Additional conditions that art therapy may be used to treat include:
Psychological symptoms associated with other medical issues
Post-traumatic stress disorder (PTSD)
Psychosocial issues
Stress
Substance use disorder
Aging-related issues
Anxiety
Cancer
Depression
Eating disorders
Emotional difficulties
Family or relationship problems
Medical conditions
Art Therapy is Not Art Class
You need not "fear" expressing yourself artistically. It may initially appear strange and unnatural because the individual is not accustomed to communicating through the arts. One of the most rewarding aspects can be the creative process. With the assistance of an art therapist, you should feel gradual, if not immediately, at ease with this novel form of expression. The objective is not necessarily to create an artistic masterpiece.