Self-service kiosks have become increasingly popular in various industries to enhance customer experience and streamline operations. These kiosks allow customers to independently access services or products, reducing wait times and increasing efficiency.
Businesses implementing self service kiosks can benefit from improved customer satisfaction, reduced labor costs, and increased revenue. Read details!
What Is A Self-Service Kiosk?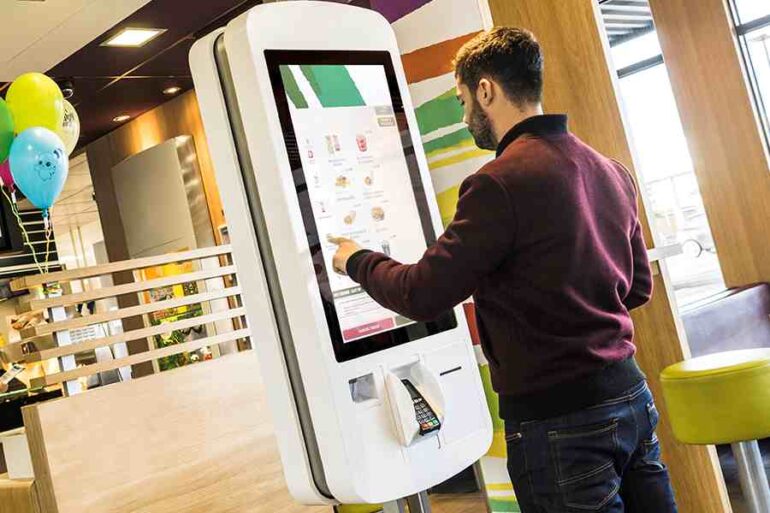 An interactive tablet or touchscreen computer called a self-service kiosk enables a consumer to access information or services without speaking to a live person.
A company can scale operations more rapidly and effectively while cutting expenses by implementing self-service kiosks.While employees can concentrate on other tasks that add more value to customers or profit from face-to-face interaction, customers can complete self-service tasks independently without waiting for staff assistance.
How Do Self-Service Kiosks Work?
Interactive self-service kiosks need hardware and software to work together.
A kiosk has a touchscreen computer or, increasingly, a tablet in a secure cage to prevent tampering, damage, or theft.
iPads are the most popular kiosk tablets due to their low cost, ease of use, and constant quality. However, Android and Windows tablets like the Microsoft Surface line are also used for various purposes.
Functionality may require peripherals like thermal printers and card readers.
Kiosk software locks devices to one app or program. Kiosk interfaces are usually web pages in a kiosk browser like Kiosk Pro for iOS/iPad.
Going for a "turn-key" solution that combines hardware and software is tempting, but you're confined to one provider's options for both.
Sourcing kiosk software and hardware separately lets you choose the best option for your project.
The Dos Of Implementing Self-Service Kiosks
To choose the best kiosk design and features, conduct an in-depth study.
Establish the kiosk's aims and make sure they complement the company's objectives.
Recognize their clients' wants to customize the kiosk experience.
Employee support for managing kiosk operations is trained.
Before going live, test the kiosk to ensure it works properly and is easy to use.
The Don'ts Of Implementing Self-Service Kiosks
When implementing self-service kiosks, businesses should also be aware of the typical pitfalls and avoid the following errors:
Plan and prepare properly before rushing the implementation process.
Remember customer support and help since it may result in irritation and unhappiness.
Consider data analytics and feedback, as they can offer insightful information for enhancing kiosk performance.
Take security precautions to safeguard user data and shield against online dangers.
Remember maintenance and upkeep; doing so could result in technical problems and downtime.
6 Benefits Of Self-Service Kiosk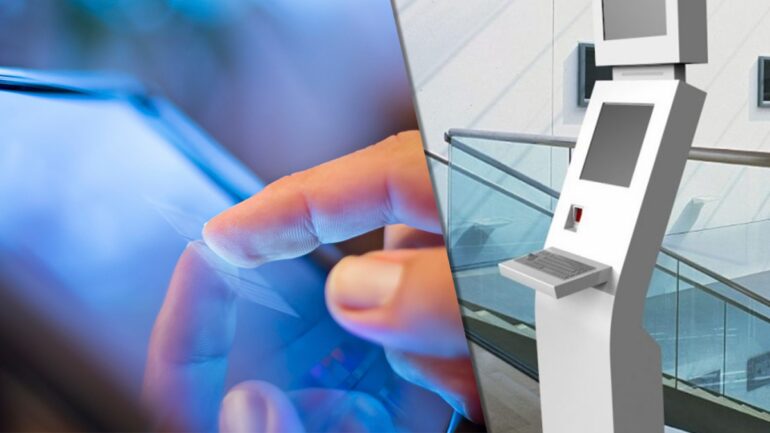 Implementing self-service kiosks in businesses can offer numerous benefits, including:
Improved customer satisfaction and experience by reducing wait times and offering more convenience.
 Cost savings by reducing labor costs and minimizing errors.
Increased revenue generation by offering upselling opportunities and promoting special offers.
Competitive advantage by providing a unique and modern customer experience.
Data analytics and reporting can provide valuable insights for improving operations and increasing revenue.
Contactless solutions have become increasingly important during the COVID-19 pandemic.
7 Challenges Of Self-Service Kiosks
Although self-service kiosks have many advantages, businesses may encounter several difficulties when implementing them, including:
Technical problems, like hardware or software failures, can cause downtime and angry consumers.
 Problems integrating with current systems may require more resources and knowledge.
 Security issues, including hacking and data leaks, can harm a company's finances and reputation.
Upkeep and maintenance, which can demand more time and resources.
 User blunders or confusion can cause annoyance and a bad customer experience.
 Up-front expenditures for installing and buying the kiosks, which for some companies can be a big investment.
 Employee or consumer resistance to change, who may favor conventional techniques or be unwilling to utilize new technology.
Industry-Specific Considerations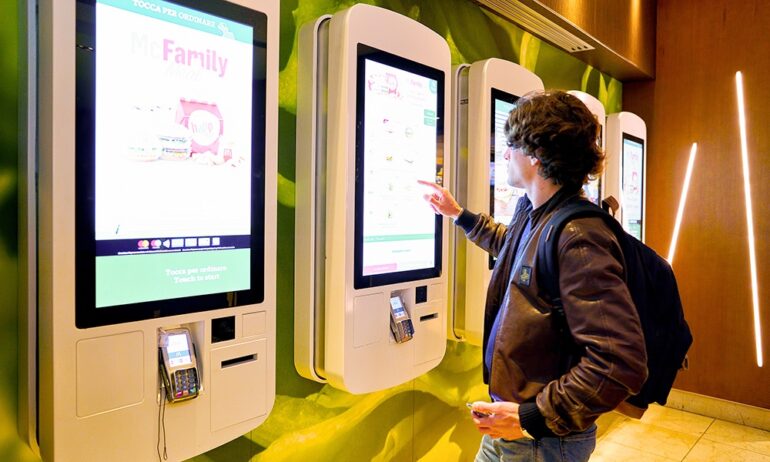 The self-service kiosk equipment can be quite helpful in different industries namely healthcare, retail, fooding, finance and so on. Want to know how? Read below-
Self-Service Kiosks In Retail
Self-service kiosks can make it easier and faster for customers to check out.
Retail companies can use kiosks for product information displays and inventory management.
Kiosks can offer insightful data analytics and customer information for enhancing business operations and sales.
Self-Service Kiosks In Healthcare
Self-service kiosks can provide a quicker patient check-in process, reducing wait times and enhancing patient satisfaction.
Healthcare professionals can use kiosks as self-assessment tools and patient education resources.
Kiosks can also enhance data management and gathering, enabling providers to monitor patient development and health better.
Self-Service Kiosks In Food Service
Self-service kiosks help shorten wait times and speed up the ordering procedure for customers.
Kiosks can encourage upselling opportunities and provide customization options for orders.
To provide a good client experience, businesses must ensure the kiosks are clean and easy to use.
Self-Service Kiosks In Financial
Self-service kiosks can provide financial services 24 hours a day, 7 days a week and shorten customer wait times.
Kiosks can also increase security and privacy for sensitive transactions like withdrawals and account information.
However, companies need to ensure the kiosks are easy to use and have the right security measures.
Do Kiosks Replace Workers?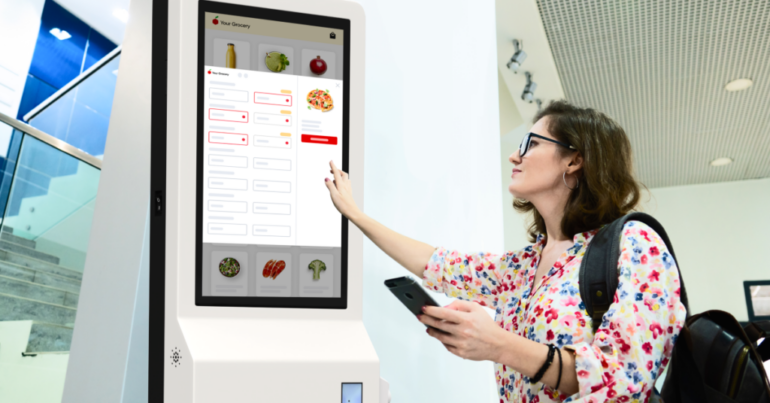 Self-service kiosks are not meant to replace personnel completely; they are meant to improve the user experience and expedite processes. While ordering and checking in can be handled by kiosks, employees' human touch and skill must be retained. Many organizations find that kiosks allow employees to concentrate on more difficult and worthwhile jobs.
Conclusion
Self-service kiosks are widely adopted by various industries to improve customer experience and streamline operations, allowing users to self-serve, reduce wait times, and increase efficiency. This leads to enhanced customer satisfaction, reduced labor expenses, and increased income. Businesses should carefully assess kiosk designs and functionalities before implementation, keeping in mind possible drawbacks such as technical issues, security concerns, maintenance, user errors, up-front costs, and resistance to change among employees and customers.
These kiosks provide numerous benefits like customer satisfaction, efficiency, cost savings, competitive edge, data analytics, and contactless solutions. Ensuring industry-specific kiosks can maximize customer service, operations, and sales while addressing potential challenges.