Light-emitting diode headlights or LEDs transport the energy-emitting photons that produce light using semiconductors. In comparison to other types of lights, they are more energy-efficient and have a brightness range of 9,000 to 10,000 lumens.
LED headlights frequently have bulbs with diodes, heat sinks, and locking tabs. In addition, they can last up to 45,000 hours and produce less heat. The popularity and use of these lights are increasing as a result of their benefits.
Top LED Headlight Bulb You Can Acquire
Check out the following LED headlight bulbs that are some of the best choices in the present market.
1. VLAND D2S/H7/9005 LED Headlight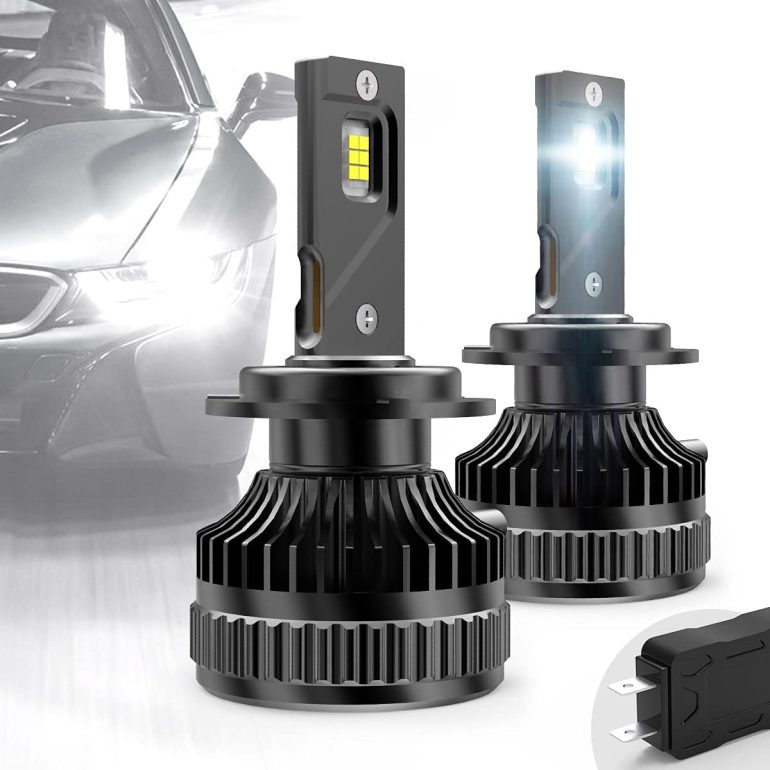 The VLAND headlight bulbs retain a color temperature of 6000k and can deliver bright and intense illumination, which enhances overall visibility. They feature high-end precise geometry, which helps to project light onto the ground clearly. In addition, installation is quite simple and can be done quickly.
The dimensions of each light are 20.5 × 13.2 × 5.8 cm and weigh about 0.3 kg. You can acquire them in different models, including LED-D2S, LED-H7, LED-9005, and H4. They are compatible with cars, SUVs, and trucks. If you are interested in these, you can learn more here.
2. Aukee LED Headlights
Each pair of these 50-watt bulbs produces 10,000 lumens. Bright, cool white is produced by the 6000K headlights. It comes with an inaudible high-speed cooling fan that removes heat from the LED chips. A metal connector that shuts the H7 bulb into the housing is also part of the configuration.
These lamps have the highest waterproof grade of IP68, which means they can tolerate prolonged submersion under pressure and are storm-resistant. As they are made from sturdy and high-quality substances, they work for a long time.
3. AUXITO 9008 H13 LED Headlights
With the improved heat dissipation of the AUXITO headlight bulbs, they have a minimum of 30,000 hours of lifespan. It is made possible by the cooling fans and incorporated aluminum heat sink. In any setting, these bulbs deliver a crisp beam pattern in terms of performance.
In front of the truck, the low beams will make an amazing pattern. Compared to halogen bulbs, this model is 300 percent brighter. The single bulb functions properly continuously over time because dual-beam lights can serve as both low and high beams.
4. Cougar Motor LED Headlights
These headlights on the Cougar Motor can produce up to 12,000 lumens, which is a 200 percent increase in brightness over the traditional halogen headlights. In order to guarantee that they can run for more than 50,000 hours, it has an aluminum housing and a 10,000 RPM TurboCool fan.
Additionally, each bulb has a 3-year warranty and comes with an IP67 waterproof rating. They have an excellent beam pattern without any black spots or hazy light, and they operate at a cool white 6,000K temperature. Each bulb has a 30-watt rating, contains Cree LED chips, and comes in the popular H11 shape. Installation is relatively easy.
5. Sealight LED Headlights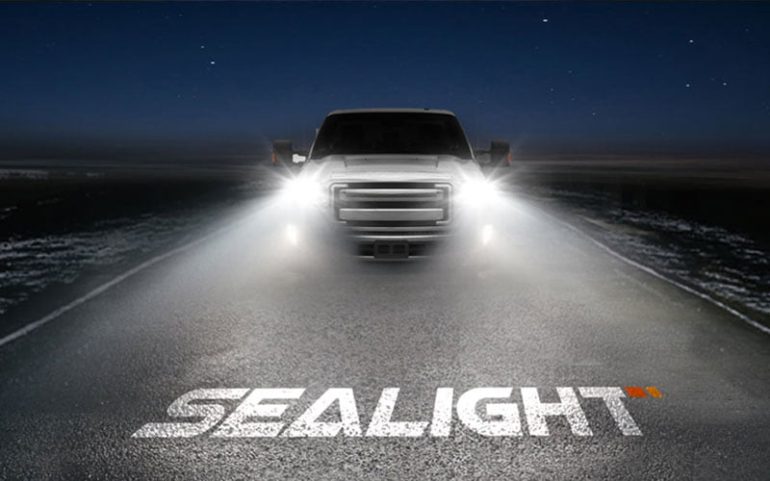 These headlights come with a 6000K color temperature and a high output of 13,000 lumens per pair. It falls under the category of day white light and provides superior visibility at night than the blue spectrum. It provides exceptional protection against dust and water ingress and has an IP67 waterproof rating. The lifespan of each bulb is 30,000 hours.
6. Hikari UltraFocus H4 9003 LED Bulbs
With these headlights, it is easy for vehicle drivers to see clearly at night because of the 6,000k color temperature and extremely focused beam pattern. The beam pattern is excellent, providing impressive long-range visibility.
They are among the brightest available, as each pair produces 18,000 lumens. These lights are highly powerful and bright, but they have a 50,000-hour lifespan. You would not blind other drivers since the beam pattern allows for an intense horizontal cutoff.
7. Beamtech LED Headlight Bulbs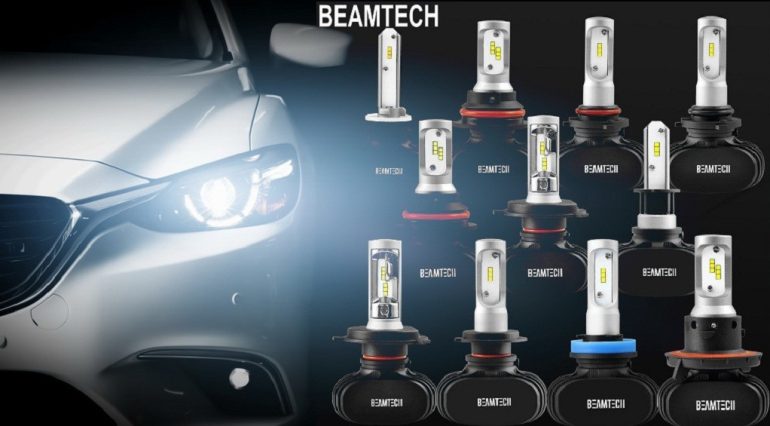 With an expected lifespan of over 30,000 hours or over 3.5 years of continuous usage, Beamtech's bulbs are more reasonably priced. Although they lack a fan, they have an aluminum body for better heat dissipation. They feature an IP65 rating and show resistance to water and dust.
Things To Consider Before Purchasing LED Headlight Bulbs
Here, in this section, you can learn more about the vital aspects you have to consider before acquiring the best LED headlight bulbs.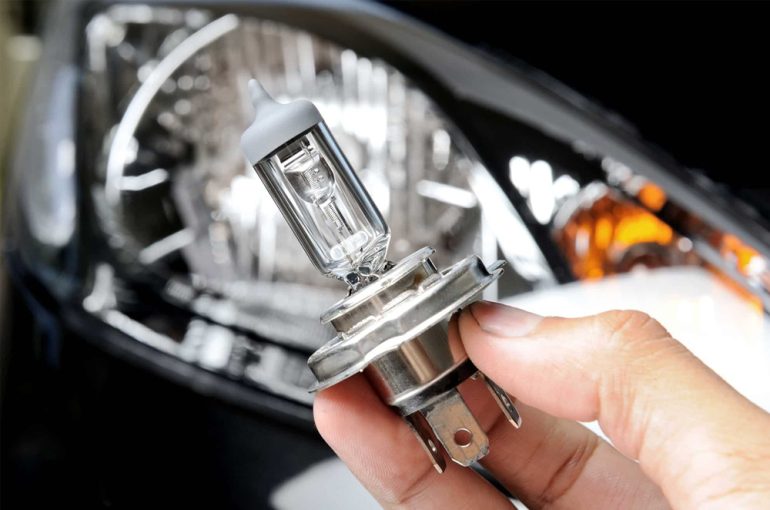 There are different types of LED headlight bulbs, and the fundamental distinction among them is how many chips they require to operate. Make sure to select the best option from Single Beam, Dual Beam, Fog Light, and Daytime Running Light based on your needs (DRL).
Keep in mind that not every headlight is compatible with all kinds of cars. Therefore, it is essential to check the part number on the factory-installed headlights or those linked to a particular vehicle type. This way, you can ensure to acquire the ideal model.
Color Temperature And Lumens
The measurement of color temperature, which expresses how warm or cool the light is in kelvins, is also very significant. The brightness and clarity of objects at night will depend on the color of the light. The majority of LED lights have a color temperature between 6,000 and 6,500 kelvins. A bulb with a high lumen count will be ideal if you wish to acquire a bright light to enhance visibility at night.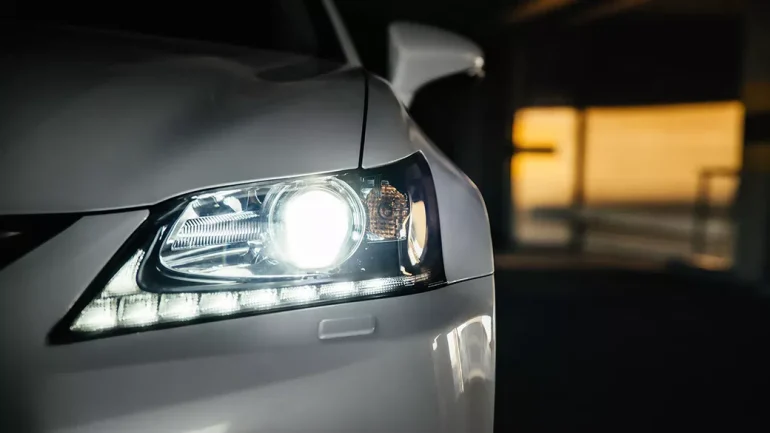 Low-wattage LED lights that put out a lot of lumens are the most energy-efficient lights. They are utilizing the majority of their energy to generate light rather than heat. An LED headlight bulb's lifespan can be between 30,000 and 50,000 hours. If the lightbulb has a heat sink or a fan, that can further extend its longevity. Both can improve heat dissipation and lessen the likelihood that the bulb will overheat and burn out.
Bottom Line
We have listed the top LED headlights you can find in the market. Alongside, we have discussed the factors you should take into account before buying them. Hence, based on your requirements and the vehicle model, pick the ideal LED headlight bulbs.