In the hustle and bustle of modern life, finding moments of tranquility can be a challenge. However, with indoor fountains, you can transform your living space into a serene oasis that offers a peaceful escape from the daily grind. These beautiful water features not only add a touch of elegance to your home but also provide numerous physical and psychological benefits. In this article, we will explore the many advantages of indoor fountains and provide helpful tips on incorporating them into your living space.
Looking to add a fountain to your indoor space? Check out indoor fountain here by Soothing Company.
The Allure of Indoor Fountains
Indoor fountains have been admired for centuries for their mesmerizing beauty and soothing qualities. The gentle sound of flowing water creates a calming ambiance, helping to reduce stress and anxiety. Whether you choose a small tabletop fountain or a grand floor-standing one, the presence of water in your living space can evoke a sense of tranquility that washes away the worries of the day.
Health and Wellness Benefits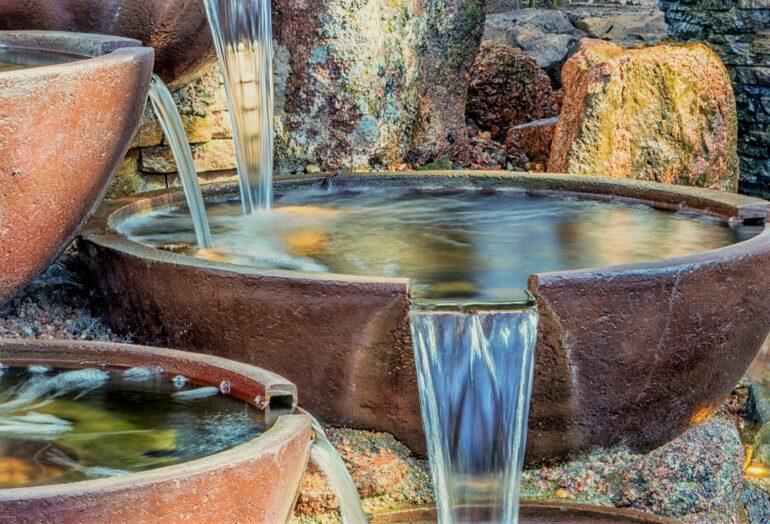 Apart from their aesthetic appeal, indoor fountains offer a range of health and wellness benefits that can enhance your overall well-being.
Improved Air Quality
Indoor fountains act as natural humidifiers, releasing moisture into the air. This can be especially beneficial in dry climates or during the colder months when indoor heating systems can lead to dry air and respiratory discomfort. The added humidity from the fountain can alleviate dry skin, irritated nasal passages, and even reduce the risk of respiratory infections.
Stress Reduction
The sound of flowing water has a therapeutic effect on the mind, helping to reduce stress and promote relaxation. Studies have shown that listening to the gentle sound of water can lower cortisol levels, the hormone associated with stress. Incorporating an indoor fountain into your living space can create a peaceful atmosphere that aids in stress reduction and fosters a sense of calm.
Improved Sleep Quality
For those who struggle with sleep issues, indoor fountains can be a valuable addition to the bedroom. The soothing sounds of water can mask disruptive noises, creating a more peaceful environment for restful sleep. Additionally, the relaxation induced by the fountain can help calm a racing mind and lull you into a more restful slumber.
Enhanced Focus and Productivity
Indoor fountains are not just beneficial for relaxation; they can also boost productivity and focus. The calming effect of the fountain can help reduce distractions and promote a more focused mindset. Having a fountain in your home office or study area can create a conducive environment for concentration and productivity.
Choosing the Right Indoor Fountain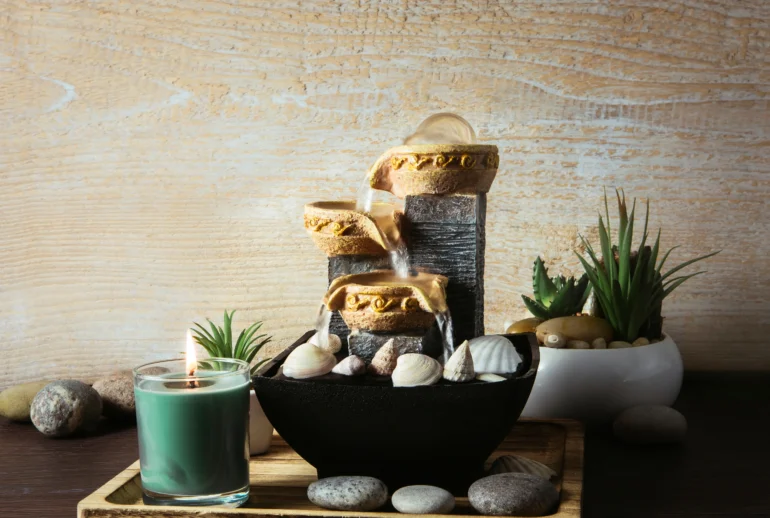 Selecting the perfect indoor fountain for your living space is essential to achieve the desired ambiance. Consider the following factors when making your decision:
Size and Space
Determine the available space in your home for the fountain. If you have limited space, a compact tabletop or wall-mounted fountain might be more suitable. For larger areas, floor-standing or freestanding fountains can make a bold statement.
Style and Aesthetics
Indoor fountains come in various styles and designs, ranging from contemporary to traditional. Choose a fountain that complements your existing decor and enhances the overall aesthetics of your living space.
Material
Fountains can be made from various materials, including stone, resin, ceramic, and metal. Each material has its unique charm, so consider the visual appeal and durability when selecting the fountain.
Maintenance
Consider the maintenance requirements of the fountain. Some fountains might need more frequent cleaning or refilling, while others are designed to be low-maintenance. Opt for a fountain that aligns with your lifestyle and available time for upkeep.
Incorporating Indoor Fountains into Your Living Space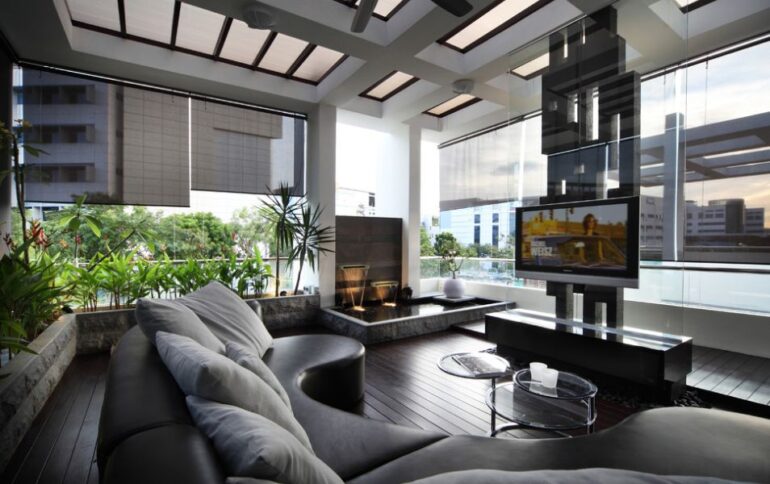 Once you've chosen the perfect indoor fountain, it's time to integrate it into your living space. Here are some creative ways to do so:
Focal Point in the Living Room
Place a floor-standing fountain near the entrance or at the center of your living room to create an impressive focal point. The sound of cascading water will immediately draw attention and set the tone for a calming environment.
Tranquil Corner in the Bedroom
Transform a quiet corner of your bedroom into a peaceful retreat with a tabletop fountain. The soft sound of water will add a soothing touch to your personal space, promoting relaxation and better sleep.
Serenity in the Home Office
Enhance the productivity and ambiance of your home office with a small desktop fountain. The gentle gurgling of water can provide a refreshing break during intense work sessions.
Nature-Inspired Decor
Embrace the beauty of nature by incorporating a nature-themed fountain into your living space. Opt for designs featuring leaves, flowers, or wildlife to create a connection with the great relaxing outdoors.
Maintenance and Care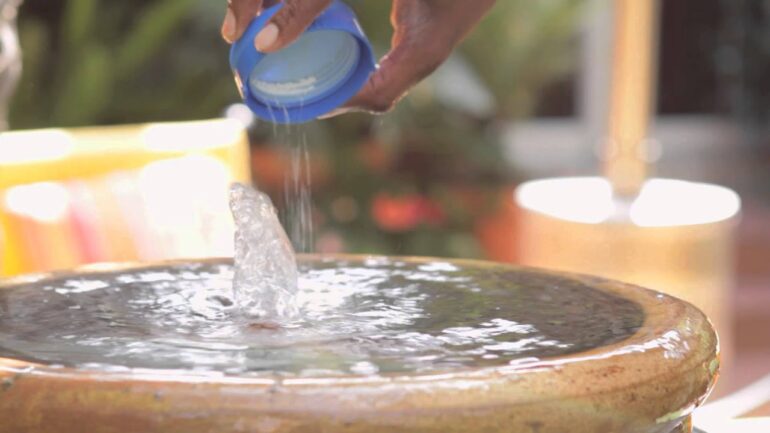 To ensure your indoor fountain continues to be a source of tranquility, regular maintenance is essential. Follow these simple maintenance tips:
Cleaning
Clean your fountain regularly to prevent the buildup of algae or mineral deposits. Use a non-toxic cleaning solution and a soft brush to scrub the fountain gently. Rinse thoroughly to avoid residue.
Water Quality
Use distilled or filtered water to prevent mineral deposits from forming. Avoid using tap water that may contain impurities that could clog the fountain's pump or create unsightly stains.
Pump Maintenance
Check the fountain's pump regularly to ensure it's functioning correctly. Clean the pump and remove any debris that might be affecting its performance.
Seasonal Considerations
If you live in an area with freezing temperatures, it's crucial to winterize your indoor fountain before the cold sets in. Drain the water and store the fountain in a safe location to protect it from freezing and potential damage.
Embrace the Soothing Symphony of Indoor Fountains and Unleash Tranquility in Your Home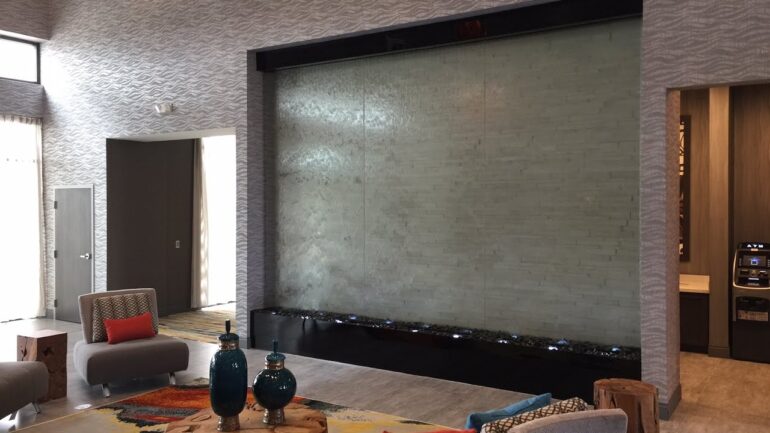 Indoor fountains offer more than just aesthetic appeal; they provide a myriad of physical and psychological benefits. By incorporating a fountain into your living space, you can create a serene oasis where stress melts away, and tranquility prevails. With the right selection and proper maintenance, your indoor fountain will become a cherished feature of your home, enhancing your well-being and elevating the overall ambiance of your living space. Embrace the allure of indoor fountains and embark on a journey towards a more serene and peaceful lifestyle.