In this post, I will explain how to fix There was a problem resetting your PC error on your Windows 10 or 8. This error may occur when you try to reset your Windows 10 to its default state. I will cover the basic information related to this topic, and also provide you methods to resolve the issue.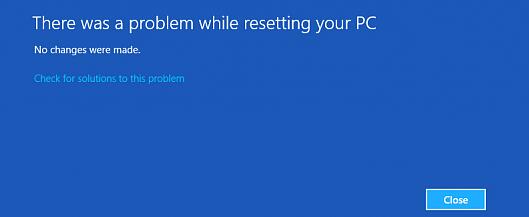 What is There was a problem resetting your PC error on Windows 10
Whenever something doesn't go right while booting system, Windows first runs into Automatic Repair wizard and tries to fix the issues automatically. However, if it fails, you have to Refresh or Reset the system. The situation gets really annoying when the Refresh or Reset failure or stuck issue will happen with dreaded error messages.
If you try to attempt for Refresh, the following error message will appear: "There was a problem refreshing your PC. No changes were made."

And if you're going to use Reset feature, the following error message will appear: "There was a problem resetting your PC." 

Microsoft officials have admitted that it is due to a bug in Windows 10 and have provided these conditions under which Windows may experience this issue. Here are the following conditions:
Your PC came with Windows 10 pre-installed and was not an upgrade from Windows 7 or Windows 8.1.
The PC manufacturer enabled compression to reduce the disk space required for preinstalled applications.
You created a USB recovery drive using the "Create a recovery drive" feature in Windows 10.
You booted the PC to the USB recovery drive and selected, Troubleshoot > Reset this PC > Remove everything.
Diagnosis & Causes
There are no messages in the Event Viewer related to this error. Though the process does leave behind some nice key information for us. When you enable viewing hidden folders, or run dir c:\ /a:sh,  you'll be able to see a $SysReset folder created on the root of your OS Drive. This folder has some log files which may help, specifically,C:\$SysReset\Logs\Setupact.log read this file to see what the issue is.
The error most commonly points to either a missing or unsupported version of the recovery image. There may be some other causes like compatibility issues or malware. However, you should not worry about the cause and directly move to the solutions now.
How to Fix There was a problem resetting your PC error
Here are the 3 tried and working methods to counter the "There was a problem resetting your PC" error within few minutes. You don't need any special skills to apply these methods. Just follow the step-wise guide that I have mentioned below every method properly.
1. Use Command Prompt
Checking system files using Command Prompt is a good option to fix this dreaded error. Follow these steps in order to do so:
Step-1: Firstly click the Power button from Start menu. Then while holding the Shift key, click Restart.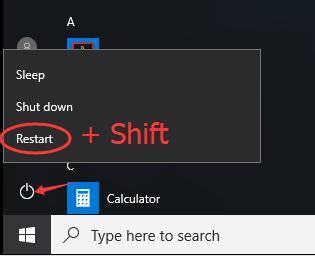 Step-2: Now follow this path: Click Troubleshoot > Advanced options > Command Prompt.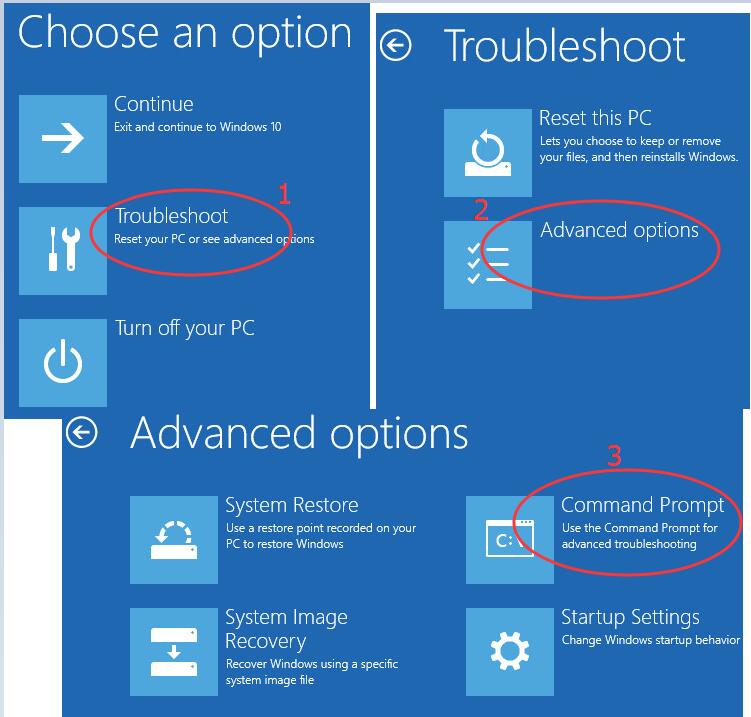 Step-3: Then select your administrator account and enter the password (if you have set one before). Afterwards, click on Continue to proceed.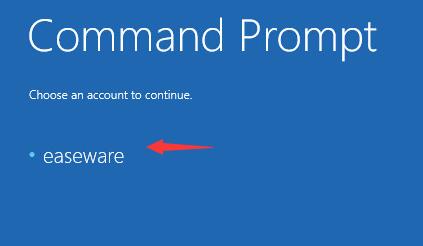 Step-4: Once the Command Prompt window opens up, type the following commands in the window and hit Enter after each command:
cd %windir%\system32\config
ren system system.001
ren software software.001

Step-5: After doing this, close the command prompt window. You will be taken back to boot options page. Just click on Continue to boot into your Windows 10.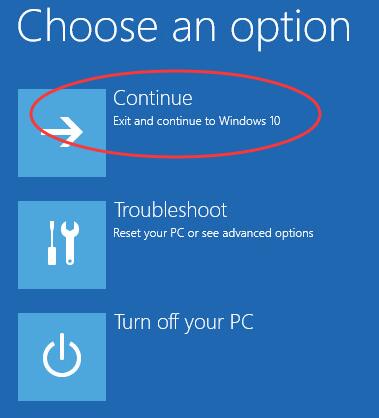 Step-6: Try resetting your PC now.
You will be able to reset your PC now without any difficulty. However, if the problem still persists, move down to the next method.
2. Use Recovery USB
If Command Prompt fails to fix the error, you can use Recovery USB to recover your computer. Follow these steps in order to do so:
Step-1: Firstly, insert an empty USB Flash drive(16GB or 32GB recommended) into your PC.
Step-2: Now type recovery drive in the search bar from Start menu. Then click on Create a recovery drive from the list of results. Click Yes when User Account Control prompts.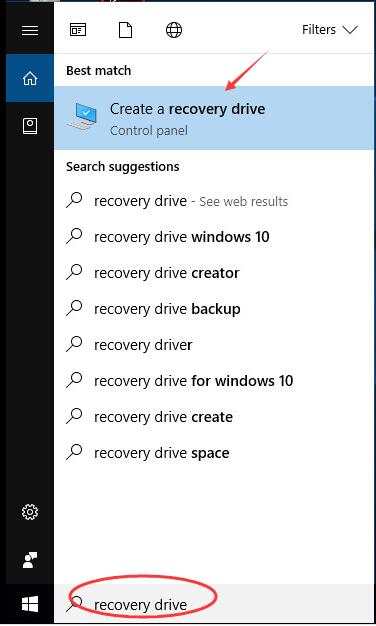 Step-3: Recovering your PC from a drive will remove all the present files and apps, so you should select to tick on Back up system files to the recovery drive in this step to back up your data. Afterwards, click Next.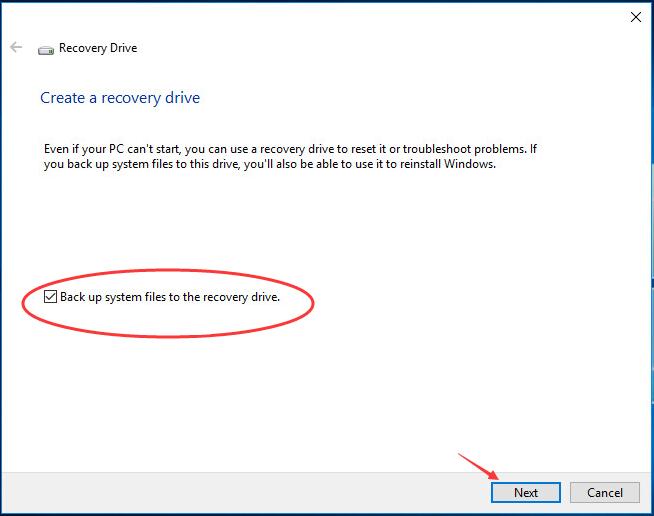 Step-4: Now select your USB drive and click Next.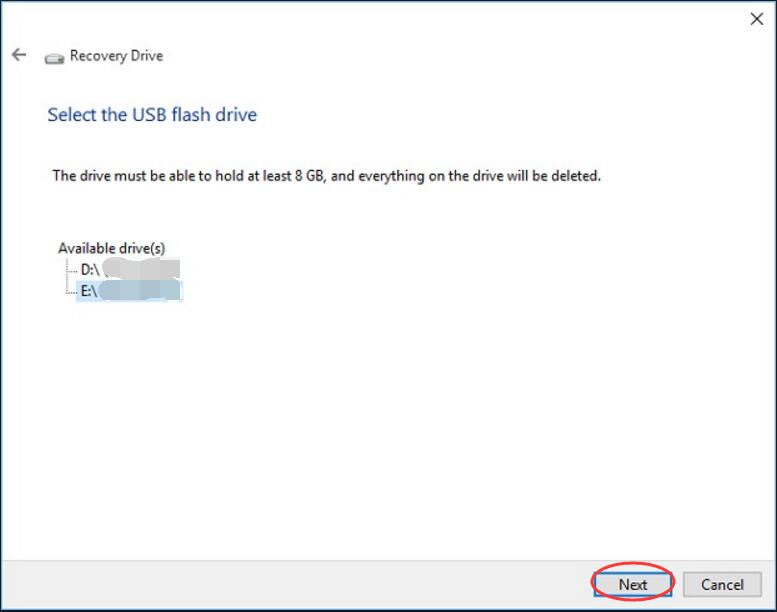 Step-5: Then click Create to make a recovery drive. Once the process is complete, click Finish.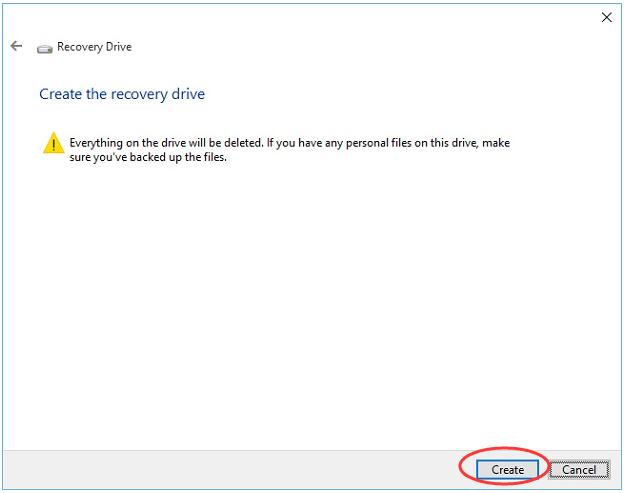 Step-6: Afterwards, reboot your Windows 10. Press the specific key, like F12 or any other key your PC suggests to enter into the boot options page. Continue with choosing to boot from your USB recovery drive.
Step-7: Finally, click Recovery from a drive and then follow the instructions appearing on your screen.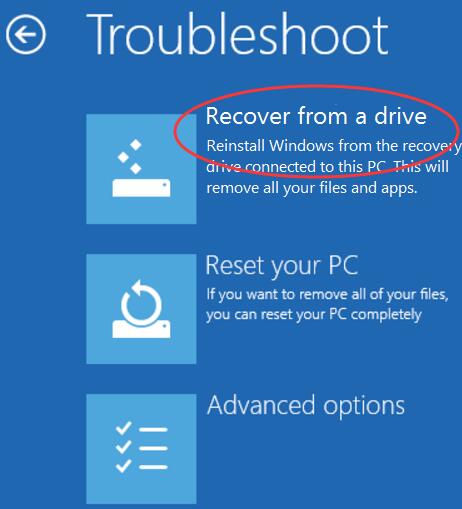 3. Clean Install Windows
If nothing worked out for you yet, you should just consider doing a clean installation of Windows. Follow these steps in order to do so:
Step-1: Insert the Windows installation media device and start your PC.
Step-2: Now press the key to boot from the installation media (USB or DVD) and format the drive. Then reinstall your windows by following the instructions appearing on the screen.
This method shall surely fix There was a problem resetting your PC windows 10 error from your PC.
Conclusion
"There was a problem resetting your PC" has become a severe error these days. These were the 3 best methods to fix the issue. There are some other methods that might work like using DISM, SFC, System Restore, etc. You can also visit the official Microsoft thread related to this topic. For any queries, suggestion or doubts regarding this topic, feel free to comment down in the Comments section below. Hope I helped you to find the cure for the suffering of your computer.