The windows registry is one of the most crucial parts of it, as the OS will always refer to the registry to get the keys and values related to certain programs and applications, and their functioning. Messing with the registry items can result in them getting corrupted or broken. This article will help you clean and fix Broken Registry Items in Windows 10, 8 and 7.
Let's do some fixing!
How to Clean and Fix Broken Registry Items
There are various methods that can help you repair a corrupted registry item. We will be going through all of them. It's worth noting that you can probably edit the registry yourself, however, you need to be sure what you are doing or else you can cause problems in the OS. That is why a lot of sources recommend using registry cleaners to do the job for you.
Let's look at the steps to follow to fix Broken Registry items:
Fix Broken Registry without using of Registry Cleaners
1. Fix Broken Registry Items using System Restore
System Restore is a neat feature that can revert your system's registry back to a certain restore point. Windows creates restoration points automatically when some significant changes are made to the system, such as installing new software etc. At any point in time, the user needs to have System Restore enabled to use it, where Windows creates restore points and the user can create them automatically too.
To Fix your Broken Registry Items:
Search for system restore in the Windows search bar, and open the System Protection Tab in System Properties.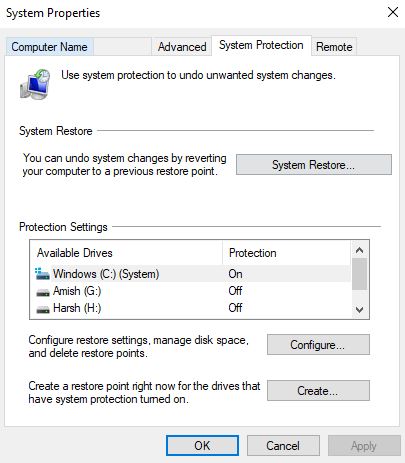 After clicking on System Restore, select the most recent restore point available. You will have the date and time stamp of the restore point, along with a brief description of why it was created and type.
Windows would select the most recent restore point. Click on Show more Restore points to select other Restore Points.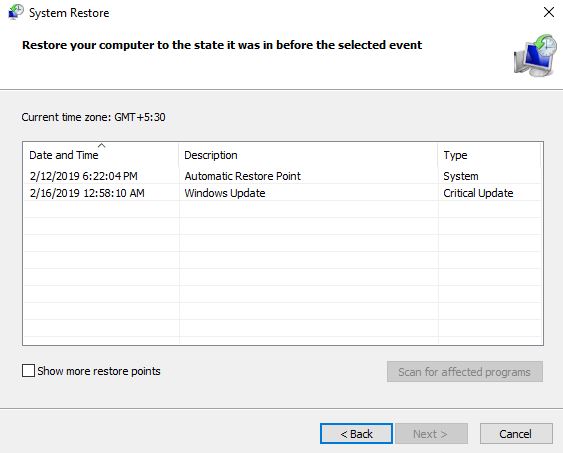 Click Scan for affected programs to view all the programs that will be affected by this restore i.e. the programs that will get deleted or that won't work properly. All your personal data will be safe. After that, Click Next.
Check the details and click Finish. The System Restore will start which involve rebooting your pc.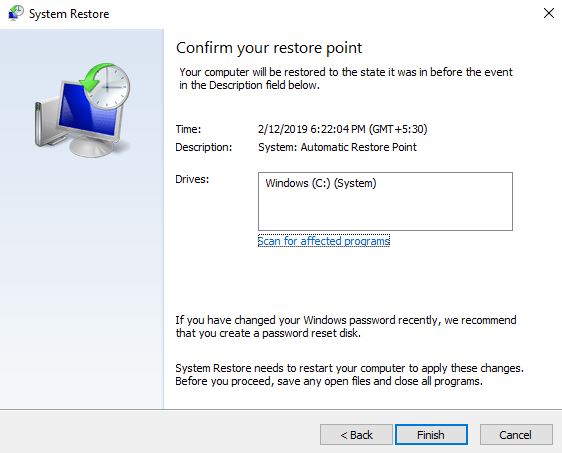 Your System is now restored to a point where the registries were not corrupted. Enjoy!
2. Fix Broken Registry Items using Automatic Repair
Automatic Repair is an extremely convenient feature in Microsoft Windows' newer versions that can help you fix your Broken Registry Items and repair everything wrong with the keys in your registry. To use Automatic Repair to fix a Broken Registry follow these steps:
Open Settings
Go to Recovery under Update & Security
There you will find an option Advanced Startup 
Click On Restart Now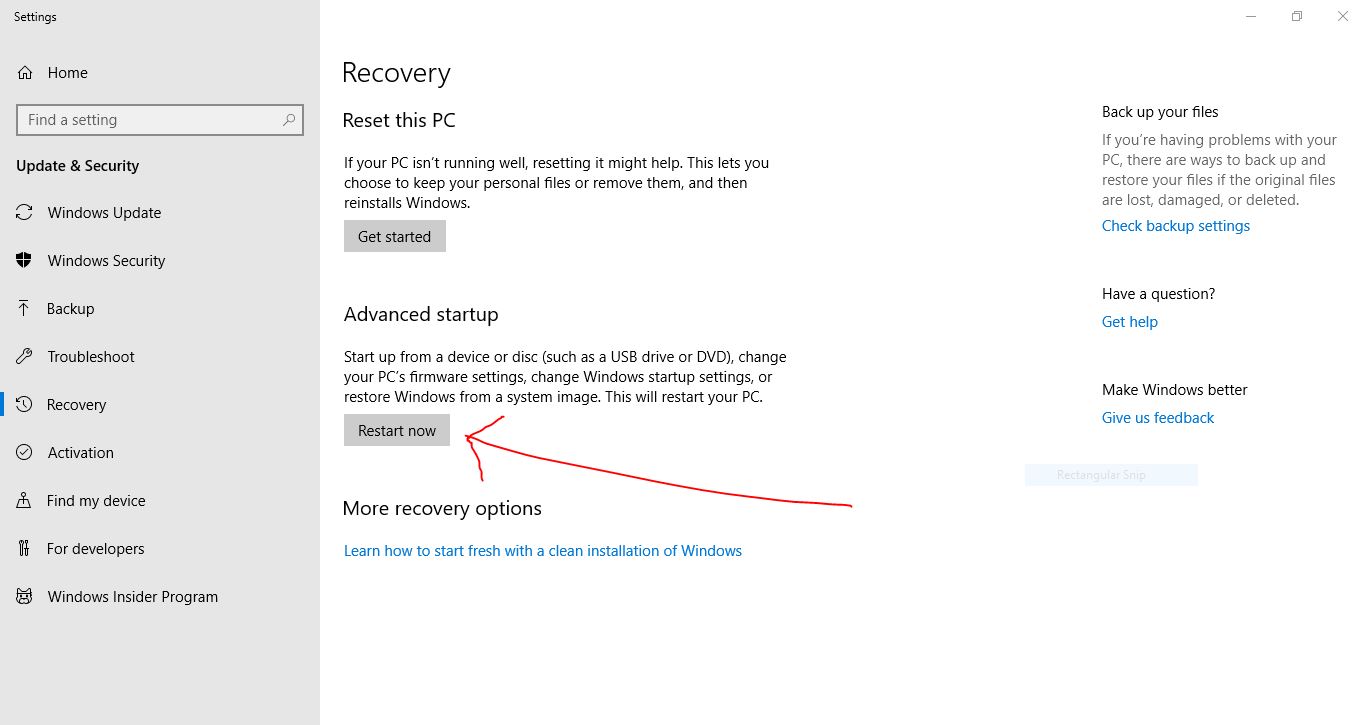 Wait a little while, and then you'll get several options. Choose Troubleshoot.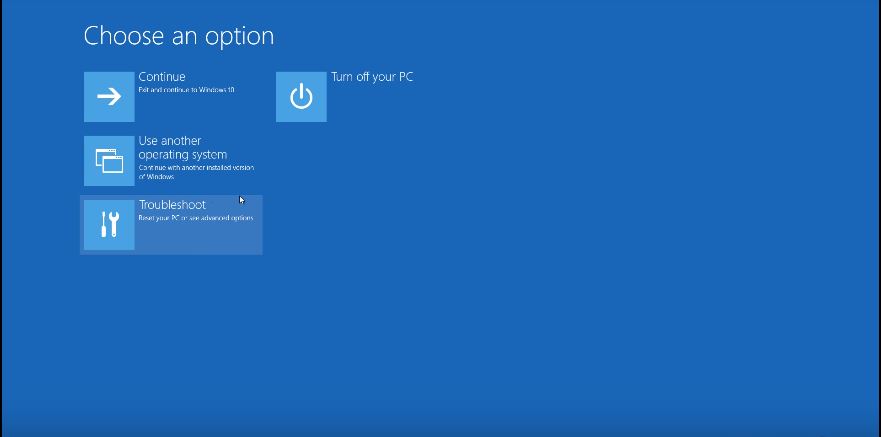 Click Advanced Options, and then select Automatic Repair/ Start-up Repair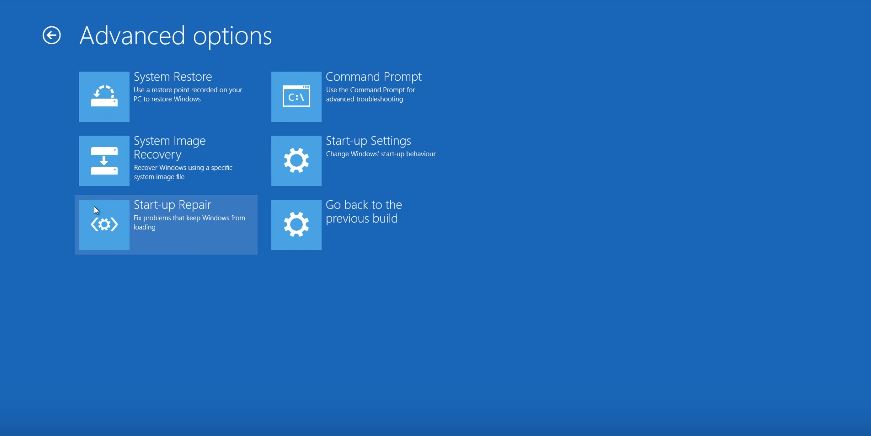 You will be prompted to choose an account. Choose the appropriate account and enter a password (if exists)
Click Continue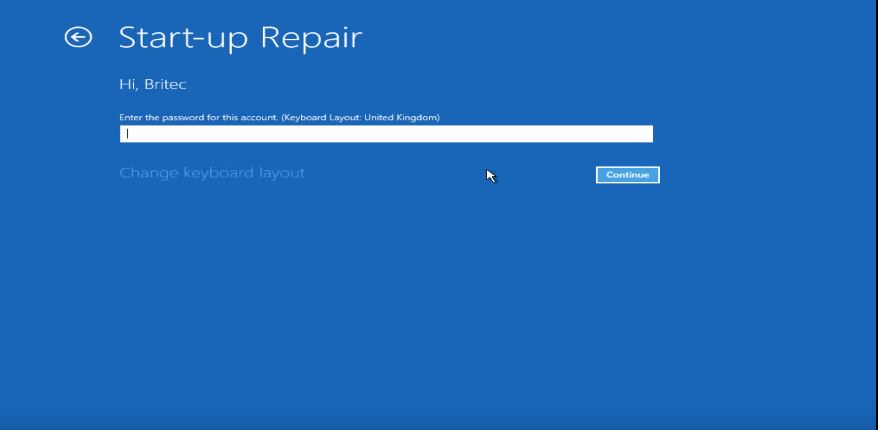 The Automatic repair will start diagnosing your PC and try to fix the Broken Registry Items as best as possible.
In this way, your Broken or Corrupted Registry Items can be repaired.
3. Fix Broken Registry Items by Resetting your Windows System
Windows provides you with a reset feature that will reset your PC, your personal files and data will not be affected (Windows 10). This process can fix Broken Registry Items. It will basically reinstall Windows on your PC. Let's check out the steps to do it:
Open Settings
Under Update & Security, find Recovery
Under Recovery, there will be Reset this PC
Click on Getting Started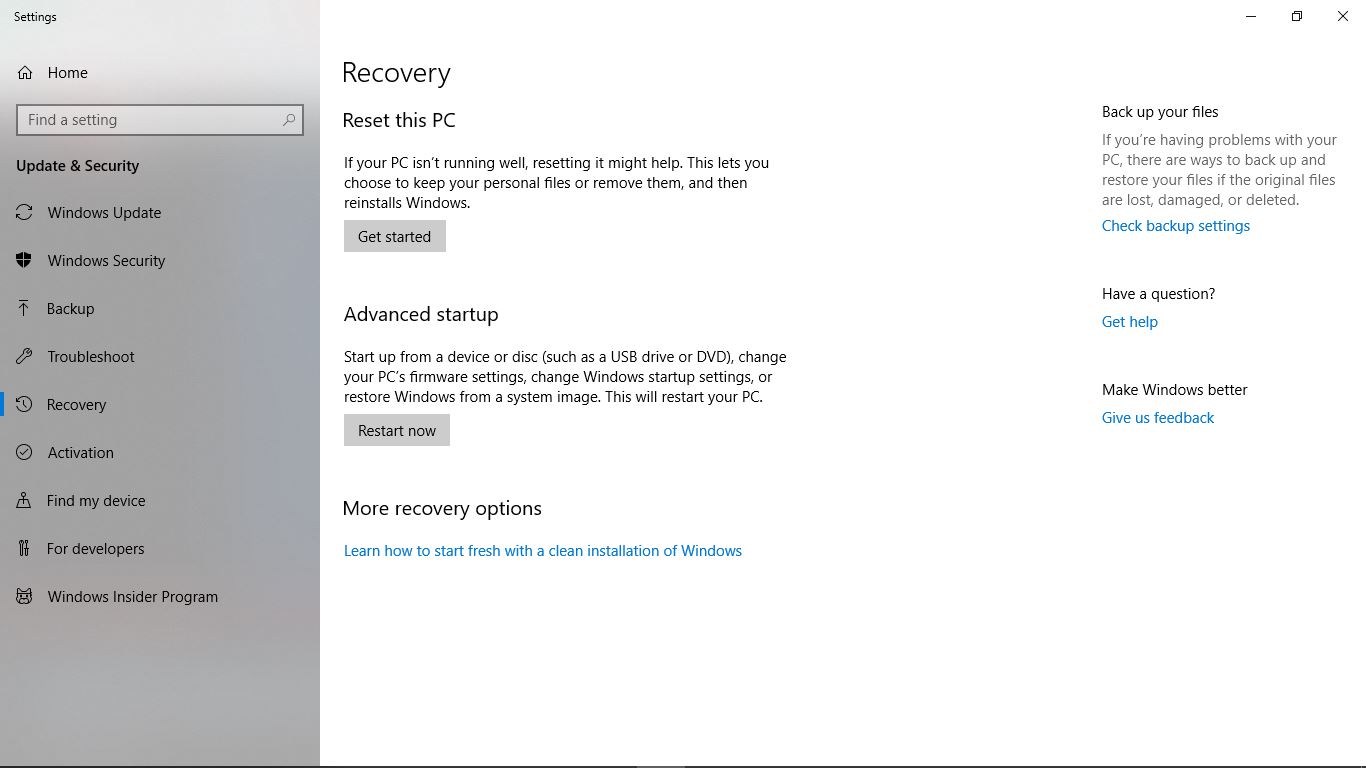 You will be prompted to choose an option, Keep My Files or Remove Everything. If you don't want to lose your personal files, click on Keep My Files.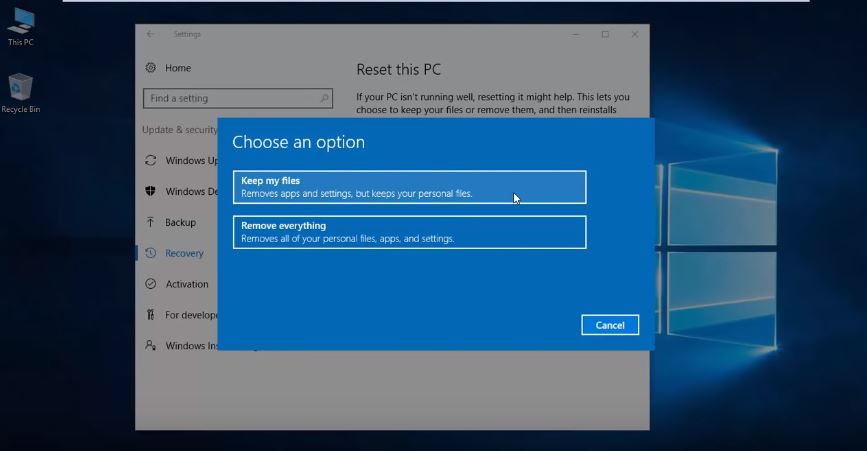 After this, you can proceed to Reset your PC.
Once it is done, your registries should be repaired. Thus we can use Reset Windows to fix Broken or Corrupted Registry Items, among other things.
4. Fix Broken Registry Items by Using the DISM command
You can also fix your Broken Registry by using DISM Command.
Press the Start button
In the search bar, type cmd
Right click on Command Prompt and select Run as Administrator
Run this in the Command Prompt:
DISM /Online /Cleanup-Image /ScanHealth

The Scanning will take place.
Your Broken Registry should get fixed.
How to Fix Broken Registry Using Registry Cleaners
There are a lot of registry cleaners available online that can reduce your workload, and instead of modifying the system yourself. This way, you don't have to worry about what to edit and change in the registry- the third party application will do it all for you.
Let's look at some popular and effective registry cleaners available:
1. CCleaner Registry Cleaner
Some might argue, for good reason, that this Registry Cleaner is the best one out there and probably the best option to Fix Broken Registry Files. With a smooth interface that gives you an easy insight about the types of files and programs, this tool can be used to save your current registry files too before you proceed for registry cleaning.
For most purposes, the free version is more than enough to fix your registry. But if it doesn't and you require more, you can get Paid version for $19.95. The paid version comes with features like Real-time Junk Monitoring, Browser Cleanup on closing, etc.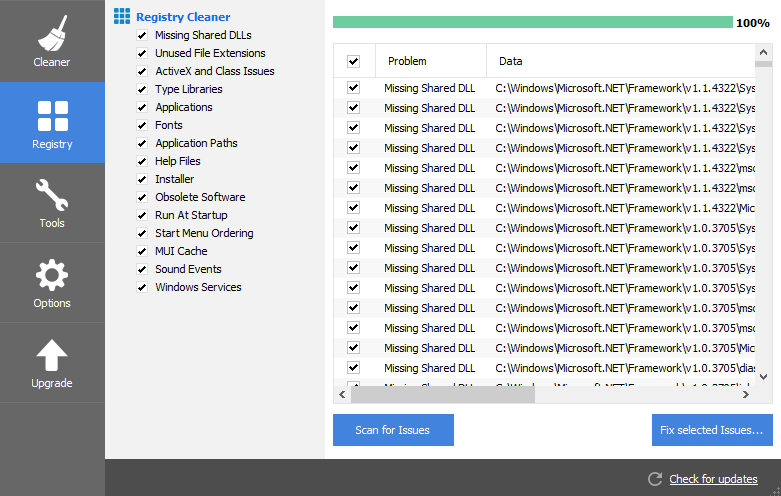 Also Read: Is CCleaner Safe to Use?
2. Glarysoft Registry Repair
This is an amazing registry repair tool that can enhance your PC's performance along with fixing your corrupted registries. Registry Scan starts immediately, and it will provide you with a list of all the errbors that it discovers. You can also have the option of backing up your registry. The Pro version of this tool expands to more useful features like Spyware Security, File Cleaner, Disk Repair etc.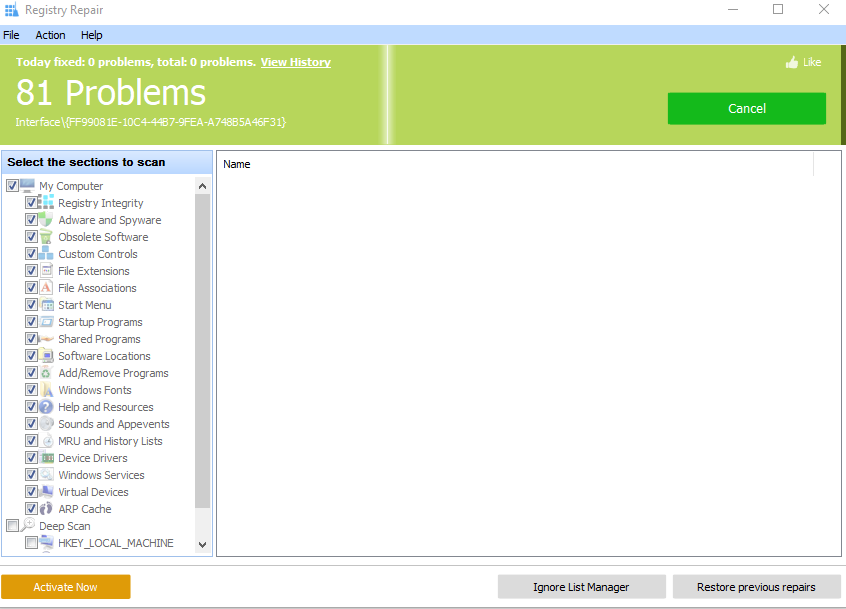 3. Auslogics Registry Cleaner
This is another great Registry Cleaner that has an aesthetic interface. It backs up your registry by default for convenience. All the information about the registries, the ones that will be deleted or modified, the keys that you can change, will be provided by this application that makes it easier for your registry to be cleaned. It is also one of the highly recommended Registry Cleaners out there, and should very well Fix your corrupted Registry Items.
Final Take!
We hope that by the various methods described to you, and the Registry Cleaners enlisted, you were able to find the best possible solution to fixing your Broken Registry Items. If however, you have any further queries about any of the methods or the cleaners, you can drop us a comment down below and we will respond back to you with a relevant answer.