Moissanite rings have been steadily gaining popularity as affordable alternatives to traditional diamond rings. With its stunning brilliance and unique properties, moissanite offers an attractive option for those seeking beauty and elegance without breaking the bank. But have you ever wondered how these exquisite gemstones are created? In this blog post, we will take a captivating journey through the process of transforming raw materials into dazzling moissanite rings that adorn fingers worldwide.
Origin of Moissanite: Discovery and Early Use in Scientific Research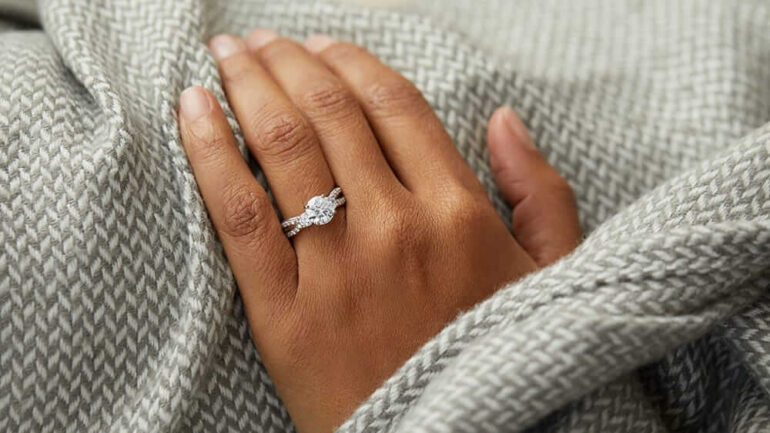 Moissanite's fascinating journey began with its discovery by the renowned chemist Dr. Henri Moissan in the late 19th century. While examining samples from a meteor crater in Arizona, Dr. Moissan stumbled upon sparkling crystals that he initially mistook for diamonds. However, further analysis revealed that these crystals were not diamonds but an entirely new mineral.
Early Use in Scientific Research
Following its discovery, it quickly captured the attention of the scientific community. Dr. Moissan recognized the mineral's unique properties, including its exceptional hardness and brilliance. These characteristics made it an ideal material for use in scientific experiments and research.
Scientists utilized it in various fields, including optics, electronics, and material science. Its remarkable ability to withstand high temperatures and resist corrosion made it invaluable for applications such as high-power electronics and as a substitute for diamonds in industrial tools.
Its rarity, coupled with its exceptional properties, led to its high value in scientific research during the early years. However, due to its limited natural occurrence, moissanite remained a relatively obscure mineral.
Composition and Properties: Silicon Carbide's Unique Characteristics and Brilliance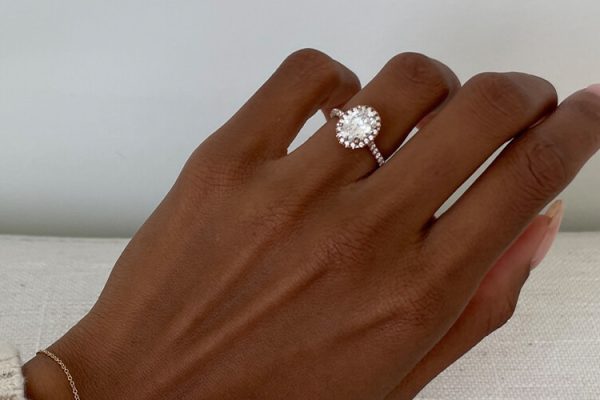 At the core of moissanite's allure lies its composition of silicon carbide, a compound known for its exceptional hardness and brilliance. Moissanite's refractive index surpasses that of diamonds, resulting in superior light dispersion and fiery flashes of color. Its hardness makes it highly resistant to scratching and ensures long-lasting beauty. These remarkable properties, combined with their affordability, make moissanite an irresistible choice for those seeking a captivating sparkle without the high price tag.
The Process of Creating Synthetic Gemstones
Today, most gemstones are created through a meticulously controlled process in a laboratory setting. By replicating the natural conditions under which moissanite forms deep within the Earth, scientists have perfected the art of growing these exquisite gemstones. The result is a sustainable and ethical alternative to traditional mining practices, with no compromise on the gemstone's quality or beauty.
Crystal Growth: Utilizing High-Pressure, High-Temperature Techniques for Moissanite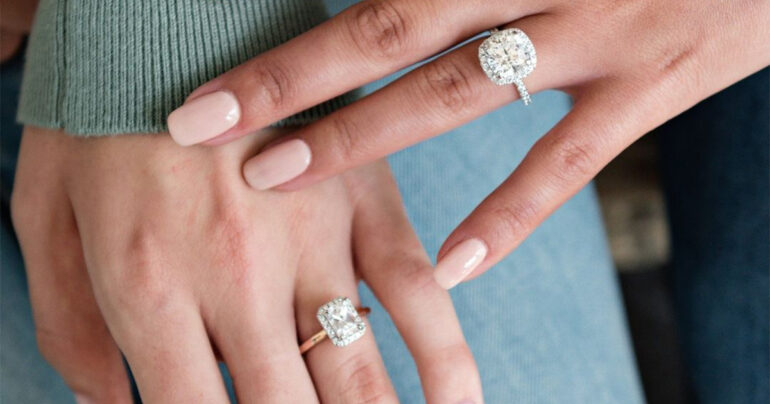 The process of creating begins with a seed crystal, which serves as the foundation for the growth of a larger crystal. The seed crystal is typically a small piece of either natural moissanite or synthetic silicon carbide. It provides the structure and lattice upon which the new crystal will form.
High-Pressure, High-Temperature (HPHT) Techniques
To facilitate growth, scientists employ high-pressure, high-temperature (HPHT) techniques. These techniques replicate the natural conditions under which forms deep within the Earth.
The process involves placing the seed crystal in a high-pressure container, along with a mixture of silicon and carbon. The container is subjected to extreme pressure and temperature, typically reaching levels of several thousand atmospheres and temperatures over 2000 degrees Celsius.
Bonding Atoms and Crystal Growth
Under intense pressure and temperature, the silicon and carbon atoms begin to bond and arrange themselves into a crystal lattice structure. Over time, the crystal grows, layer by layer, as the atoms continue to bond and align.
This growth process requires precise control of pressure, temperature, and other factors to ensure the formation of high-quality crystals. The duration of the growth process can vary depending on the desired size and quality of the final gemstone.
Slow Cooling and Annealing
After the crystal reaches the desired size, it undergoes a slow cooling process to stabilize its structure. This gradual cooling helps prevent stress and cracks within the crystal. Following the cooling process, annealing is often performed to further enhance the crystal's clarity and stability.
Cutting and Shaping
Once the Moissanite vs Diamond have reached the desired size, they undergo a meticulous cutting and shaping process. Skilled artisans carefully evaluate each crystal, taking into account its unique characteristics, such as color and clarity. Using precision tools and techniques, they transform these raw crystals into brilliant gemstones that will eventually grace the settings of stunning rings.
Grading and Quality Control: Ensuring Consistency and Brilliance in Moissanite Rings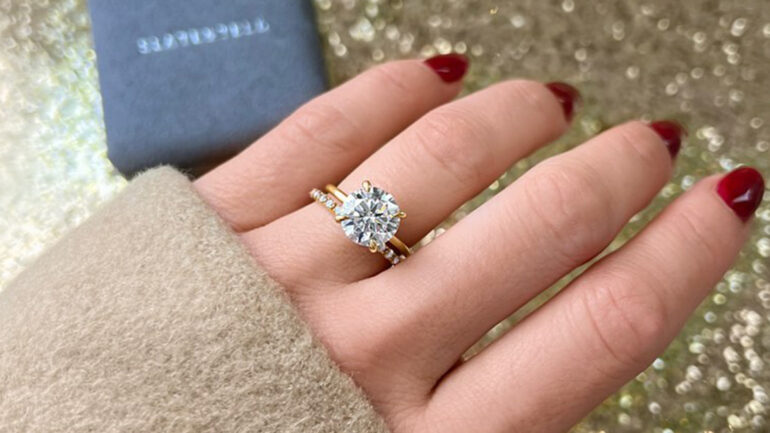 To maintain consistency and ensure the highest standards of quality, they undergo a rigorous grading process. Gemological experts evaluate various factors, including color, clarity, and cut, to assign a grade to each stone. This grading system helps jewelers and consumers make informed choices when selecting them, ensuring that every piece exudes the desired brilliance and beauty.
Color Enhancement: Treatment Methods to Achieve Desired Hues in Moissanite
While moissanite is naturally colorless, advancements in technology have allowed for the introduction of color enhancements. Through careful treatment methods, gemologists can alter the color of moissanite to achieve a spectrum of desired hues. From vibrant blues and greens to soft pinks and yellows, these treatments expand the creative possibilities for jewelry designers and offer a wider range of options for those seeking personalized moissanite rings.
Setting and Design: Crafting Intricate Settings to Showcase Moissanite's Beauty
The allure extends beyond its remarkable brilliance. Jewelry designers and artisans skillfully craft intricate settings that beautifully showcase the gemstone's unique qualities. From classic solitaires to elaborate halo designs, rings offer endless possibilities for expressing individual style and taste. The versatility allows for stunning creations that cater to diverse preferences and provide an exquisite centerpiece for any occasion.
Environmental Benefits: Exploring the Sustainability of Moissanite Production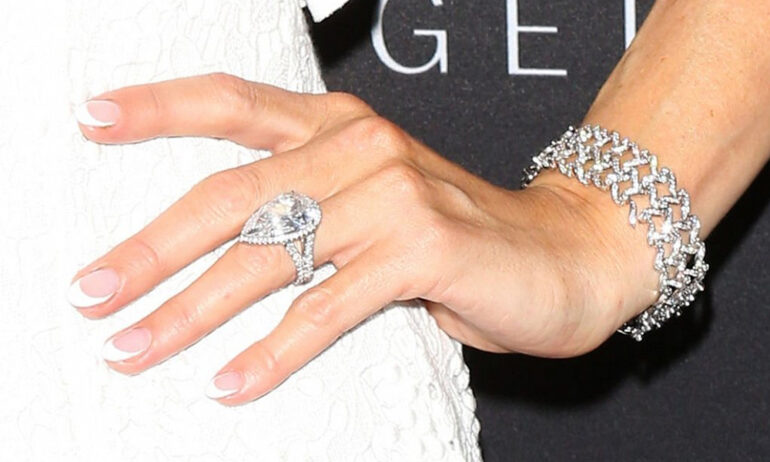 One of the significant advantages lies in their environmental sustainability. Unlike traditional diamond mining, the lab-grown production process minimizes the environmental impact associated with mining practices. It reduces the need for extensive excavation, conserves natural resources, and eliminates concerns regarding ethical sourcing. Choosing rings is a conscientious choice that combines beauty with environmental responsibility.
Conclusion: Moissanite Rings Offering Beauty, Affordability, and Ethical Choices
In conclusion, the journey from lab to finger is a captivating process that merges scientific innovation and artistic craftsmanship. Through the meticulous growth, cutting, and grading processes, they emerge as dazzling alternatives to traditional diamond rings. With their unique properties, affordability, and ethical production methods, moissanite rings offer a compelling choice for those seeking beauty, elegance, and peace of mind. Embrace the brilliance of moissanite and adorn your finger with a gemstone that shines as brightly as your spirit.