Are you tired of the same old ab workouts like crunches and planks? If you want to mix things up and take your core training to the next level, it's time to explore kettlebell standing ab exercises. These exercises are dynamic, challenging, and highly effective for toning abs.
In the fitness world, a strong core is like the foundation of a sturdy house. While traditional ab exercises have their place, kettlebell standing ab exercises bring a fresh perspective to your workout routine. They target your abdominal muscles and engage multiple muscle groups simultaneously, enhancing your balance, stability, and overall functional strength.
In this article, we'll explore the numerous benefits of kettlebell ab workout standing. We'll highlight why these exercises should be at the forefront of your core development routine. We'll dive into their unique advantages, comprehensively understanding how these workouts can transform your fitness regimen and help you achieve your fitness goals.
Why Standing Ab Exercises Are Great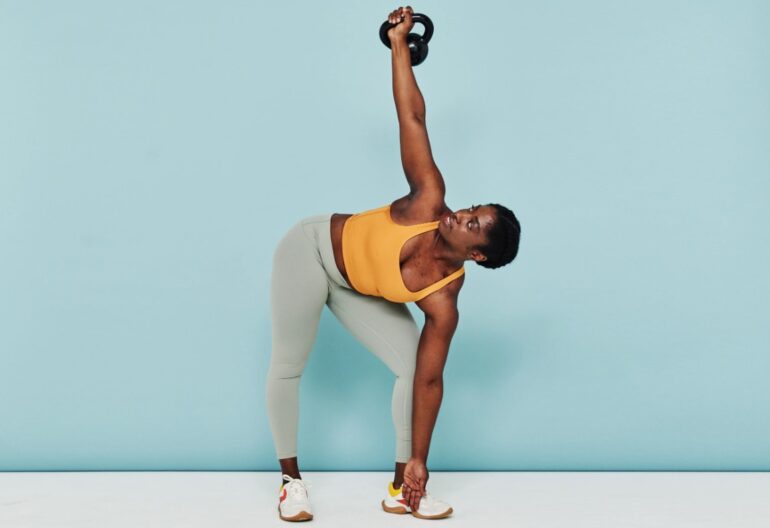 Standing ab exercises have unique advantages compared to the usual ab workouts on the floor. These exercises don't just focus on your abs; they engage various muscle groups and offer practical fitness benefits. Here's why you should mix in standing ab exercises:
Better Functional Strength
Standing ab exercises mimic real-life movements like lifting, twisting, and reaching. They work your core to improve overall strength and performance in daily activities.
Improved Balance and Stability
When you do standing ab exercises, your body works harder to stay steady compared to activities where you're lying down. This helps strengthen the stabilizing muscles in your core, making you more balanced and reducing the risk of falls and injuries.
Engage Multiple Muscles
Standing ab exercises often involve movements that target both your core and your legs, glutes, and upper body. This comprehensive technique provides a full-body workout, allowing you to burn more calories and increase functional strength.
Burn More Calories
Because standing ab exercises activate more muscles, they tend to burn more calories than traditional ab exercises. This can significantly help lose weight or maintain a healthy body composition.
Less Strain on Your Neck and Back
Traditional ab exercises like sit-ups and crunches can strain your neck and lower back, causing discomfort or injury for some people. Standing ab exercises stress these areas less while effectively targeting your core.
Versatility
You can easily add standing ab exercises to various fitness routines, whether strength training, cardio workouts, or even yoga or Pilates. They offer flexibility in how and when you use them in your activities.
Improved Coordination
Many standing ab exercises involve movements in different directions, challenging your coordination and motor skills. This can lead to better athleticism and agility overall.
Time-Saving
Standing ab exercises often require less setup and can be done quickly, making them great for people with busy schedules or who want to add a new dimension to their existing workouts.
Injury Prevention
By boosting core strength and stability, standing ab exercises can lower the risk of injuries, especially in sports or activities that involve sudden direction changes or rotations.
Core Definition
Consistently including standing ab exercises in your fitness routine can help sculpt and define your abs, giving you a more toned midsection.
Overview of Kettlebell Standing Ab Exercises
Let's delve into some practical kettlebell exercises that target your abdominal muscles. Picture yourself with a kettlebell, a weighted ball with a handle, and let's explore these exercises:
Kettlebell Russian Twists
Get started by bending your knees and sitting on the floor. Hold the kettlebell close to your chest with both hands. Slightly lean back, lift your feet off the ground and balance on your sit bones. Now, twist your torso to the left, bringing the kettlebell to the outside of your left hip. Return to the center and then turn to the right. Repeat this rotation exercise.
Kettlebell Windmills
Stand with your feet wider than your shoulders and hold a kettlebell overhead in your right hand. Keep your left arm extended to the side. Gaze at the kettlebell and hinge at your hips, lowering your torso to the left while keeping your legs straight. Return to the starting position and repeat on the other side.
Kettlebell Halos
Hold the kettlebell close to your chest with both hands. Stand with your feet shoulder-width apart. Now, move the kettlebell around your head in a circular motion, keeping it close to your body. Remember to change directions after a set number of repetitions.
Kettlebell Woodchoppers
Keep your feet hip-width apart as you stand with the kettlebell in both hands. Start with the kettlebell on one side of your body at hip level, then swing it diagonally across your body and above your opposite shoulder. Engage your core and hips as you perform this movement. Repeat this swinging motion on both sides.
Kettlebell Suitcase Carries
Hold a kettlebell in one hand at your side, keeping your shoulders down and your chest upright. Begin walking forward while maintaining a solid core and good posture. After a certain distance or time, switch the kettlebell to your other hand and continue walking.
Kettlebell Side Bends
Hold the kettlebell in one hand with your arm fully extended at your side. Stand with your feet hip-width apart. Slowly bend your body to the side you're holding the kettlebell while keeping your back straight. Return to an upright position and then repeat on both sides.
These kettlebell standing ab exercises provide a comprehensive workout for your core, targeting different areas of your abdominal muscles and engaging other muscle groups for stability and balance.
Conclusion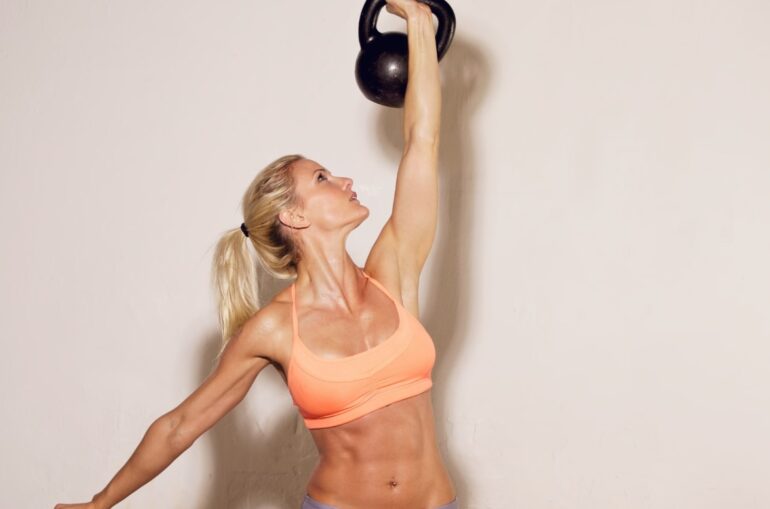 Doing standing ab exercises is good for you. They strengthen your muscles, help you stay balanced, and reduce the chance of getting hurt. Plus, they can help you burn calories and make your belly look better. You don't have to be a sports star to benefit from them – they suit everyone!
If you do these exercises correctly and regularly, they can make your workouts even better. So, why try these standing ones instead of doing the same old ab exercises? They'll make your core super strong and help you stay healthy. Put on your good workout clothes and head out there!
Don't be afraid to try something new and challenging – you might discover how strong and fit you can become.