When it gets too cold outside, the routine of taking your pets out for a walk gets disturbed. With everything freezing outside, taking your pets out for a walk becomes too dangerous. Even if you have covered them with jackets and boots, it may still be risky; your dog can catch a cold or, in the worst case, be affected by hypothermia and, even worse, frostbites.
Winters are long, and it is understandable that your dog is getting bored at home, waiting eagerly to step out, have a lovely walk and play time in their favorite spot.
But, before taking your dog out on a walk, you need to know more about the temperatures they are comfortable with and the measures you should take before stepping out on a snowy day. You wouldn't want your furry friend to catch a cold and fall sick; hence, it is better to know what is right and what you should avoid.
The Effects Of Cold Weather On Dogs
Not all dogs are the same; some have heavy and thick fur coats to protect them from harsh winters like Siberian Huskies; they are unbothered by the snow and extreme temperatures because they are born with thick fur coating.
Similarly, there are dogs with thin fur coats, such as Pugs, Dalmatians, Labradors and many more, who badly need jackets and sweaters to keep them warm. There are also snowsuits for dogs available online these days.
Dog breeds that are not easy with winters can face many problems if not provided with a cozy environment to live in. When it gets too cold, your dog may face many health issues rather than shivering and feeling lazy. Some severe other problems they can face include:
Discomfort In Joints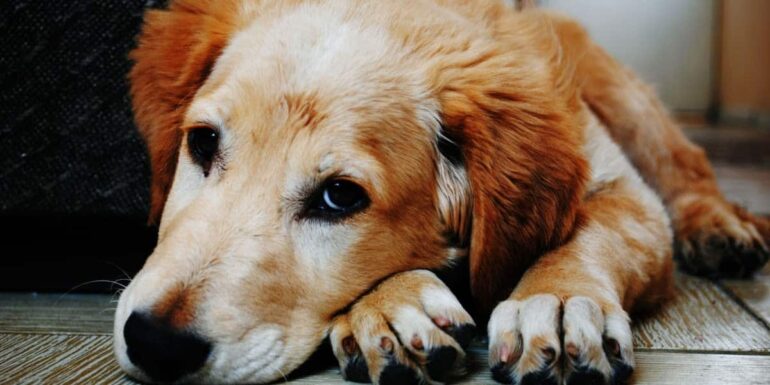 When it snows outside for days, and you cannot help but lock your dogs indoors, they become inactive. When suddenly, the playful routine of an active dog is disturbed, it usually makes their joints stiff and causes much discomfort. They may also be affected by joint pain.
When the lively routine of an active dog is suddenly disrupted by joint stiffness and pain, it's essential to consider the best joint supplements for dogs. These supplements are specially formulated to provide relief and support for dogs suffering from joint discomfort.
The best way to avoid this issue is to engage your dogs in many playful activities while indoors. You can indulge them in routine exercises or engage them with toys that will make them active. Being active will also help them in staying warm and increase their metabolism.
Skin Irritation
When winter arrives, you never fail to take care of your skin. You switch to heavy moisturizers that help your skin get rid of dryness, cracks and itches. Similarly, when the temperature is too low outside, your dog will also feel irritation on its skin; with rapid itching, there can be bleeding and injuries and, worse, infections. To avoid that, you must help your furry friend stay hydrated and opt for dog lotions to keep their skin moisturized.
Risk Of Frostbite And Hypothermia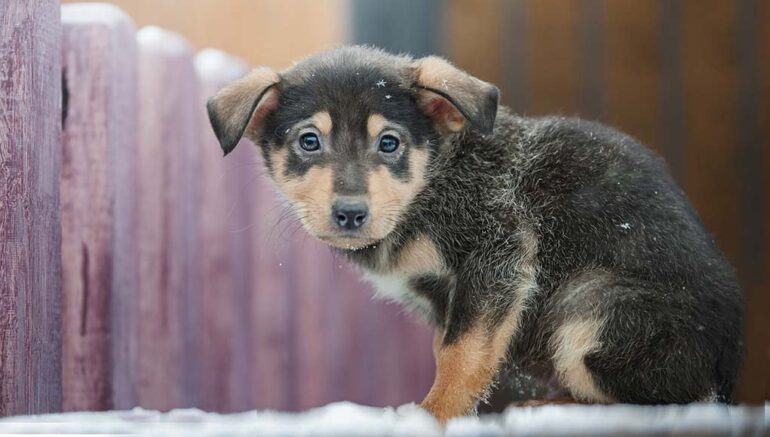 Know that, just like humans, dogs are very prone to frostbite and hypothermia. If you take them out for a walk without protection, the snow trapped on their paws or furs can cause severe frostbite. And taking them out in freezing weather for too long can cause hypothermia. Make sure to cover their paws and body with warmer clothes to avoid such threats.
How Cold Is Too Cold?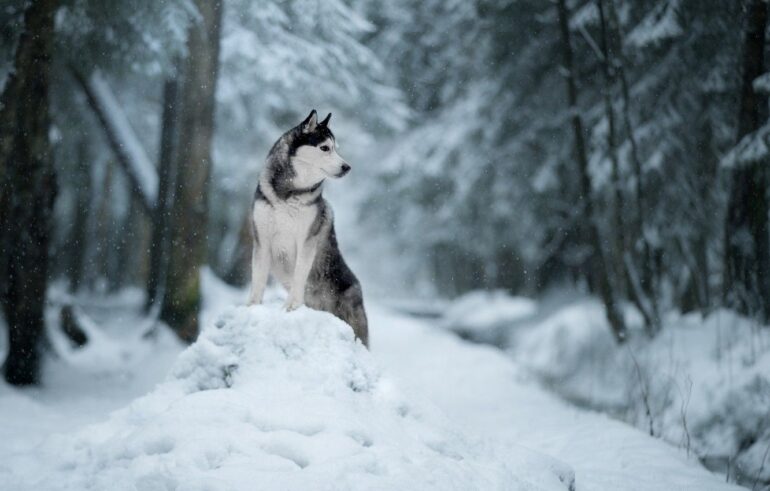 This is undoubtedly the most common question asked by pet owners. It is hard to say how cold is too cold for your dog because every dog breed has different tolerance levels for heat and cold. For instance, Siberian Huskies are born to be in freezing temperature conditions and comfortable in temperatures even below the freezing point, up to -75°F (-60°C). Similarly, they cannot withstand hot and humid temperatures. You can say, Siberian Huskies are indeed an exception among all breeds of dogs.
On average, experts suggest that a dog should never be taken out for a walk when the temperatures are below 32° F (0° C). However, some even suggest that you can take your furry friend outdoors up to 14°F (-10°C) with all the protection. However, the choice is all yours because Vets would never suggest keeping your dogs outside in freezing temperatures for prolonged hours. For small-breed dogs, extreme temperatures can prove to be deadly.
Winter Safety Tips To Keep In Mind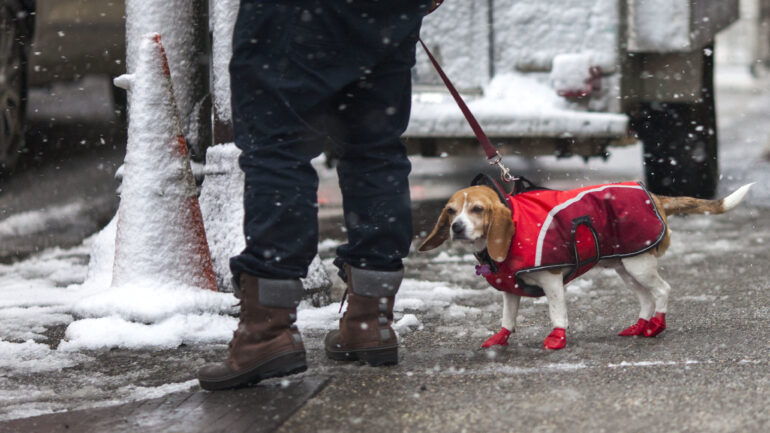 If the sun is shining after days and you feel it is the perfect day to finally step out with your furry friend for a lovely walk, there are still some safety tips you need to consider. This will ensure your dog is free from catching a cold and falling sick.
If the roads are covered with snow, getting your dogs pairs of snow boots specially designed for their paws is best. If not, after getting back home, you must clean their paws dry.
You must not forget to cover them with jackets and pajamas to help them stay warm.
Keep them on a leash to avoid your dog getting wet on melting snow and risking hypothermia.
Refrain from taking your dog to the groomer for a haircut or a shave, even if they need it badly. Trimming or shaving will fail to tarp the body heat and make your dog sick.
Do not skip their bath routines even if it is freezing outside. Ignoring baths for a long time increases the danger of bacteria formation trapped in their fur and gives rise to infections. You must also look for ticks.
Keep them away from fireplaces and room heaters. Take necessary precautions.
Provide them with warm water to make sure they are hydrated.
Final Thoughts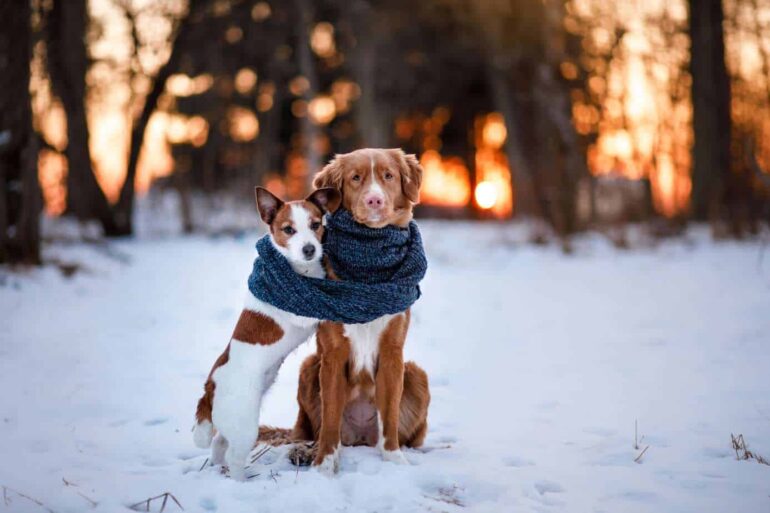 Unless it is a bright sunny day outside, it becomes risky to take your dog outside for a walk. Even bright sunny days are not safe because it causes snow to melt and your dog getting drenched in ice-cold water is the last thing you want. If the temperatures are bearable, you must cover your dog in warm clothes or an adorable snowsuit and step out. After all, your dog loves to play with snow as much as you do.