Ever wondered what is the difference between a Proxy and a VPN? What do you use to surf online? And do you know which one is the best for you? Find out everything in this VPN vs Proxy comparison article.
Data breaches and hacks of major companies are now happening on a nearly daily basis. In 2017, cybercriminals stole the personal information of 145 million people from Equifax. The same year, the Wannacry attack hit over 300,000 machines around the world affecting nearly every industry including shutting down vital hospital equipment. For this reason, data security is more important than ever. VPN or virtual private networks and proxies offer higher levels of safety. However, they are not the same thing.
VPN vs Proxy Guide
This short guide will explain the difference VPN and proxy and how you can best protect yourself online.

What's a Proxy?
A proxy offers much less security than a VPN. Think of it as an intermediary between your computer and the internet. You access a server which then connects to the website you are trying to access. As a result, it will appear as if your online activities have a different origin.
It is essential to know that the only real privacy you gain from a proxy is that it hides your IP address. There are no other security or encryption features. All you're doing is switching your IP address for one based somewhere else.
This has its benefits for accessing geo-restricted content on platforms like YouTube, Google, or other things that may be locked down. It's beneficial in gaining access to websites that may be censored in your country or regionally specific content.
Types of Proxies
The three main types of proxies are public proxies, web proxies, and SOCKs proxies.
Public proxies are mainly used to get around website restriction.
Web proxies are a little more versatile and allow you to connect directly within your web browser, but oftentimes have trouble with Flash and JavaScript content.
SOCKS is a useful extension of HTTP proxies and can regulate more diverse traffic such as torrenting.
However, do note that proxies only run on the application level, not system-wide. So while you might have a web browser with a proxy enabled, other background applications are still processed normally. Besides, since there's no security involved, anybody can access and monitor traffic through the proxy connection.
Proxy Pros
Public proxies are free
A simple step to bypass web restrictions
Access geo-restricted web content
Offer slightly more privacy for daily web browsing
Cons
Most proxy servers don't offer encryption, so data is vulnerable
You don't know who owns the proxy server and its possible for the owner to spy on your private information
Many large websites block proxy servers, so they don't last very long.
Connections to a public proxy are often unstable making streaming challenging.
What is a VPN (Virtual Private Network)?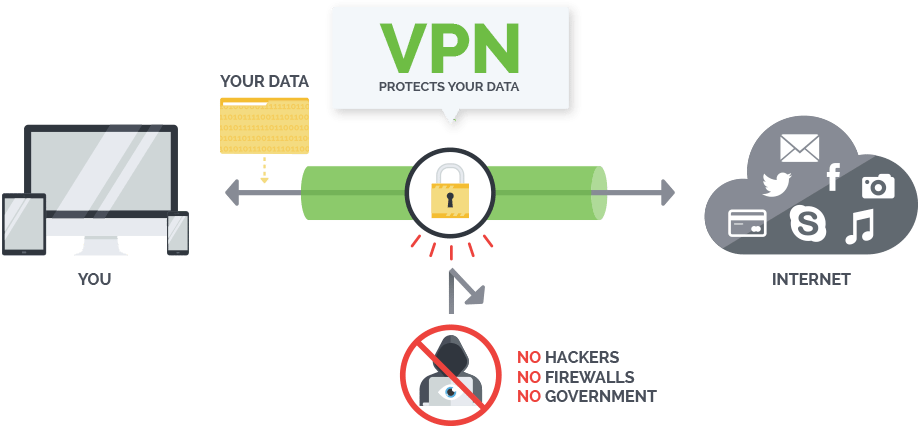 Like proxies, VPNs conceal your IP address to make it appear from a remote location. That's the only similarity, however. Unlike proxies, they function on your operation system (OS), and not the application level. This means every network connection on your machine will pass through including your web browser, email client, online games, and even background Windows Update/Mac OS processes.
One of the top tier providers may be found here: https://nordvpn.com/download/windows/
In addition, the entire process is heavily encrypted making it the ideal choice for when privacy and security is your ultimate concern. When you use a VPN, nobody can access the data transmitted between the VPN server and your computer. It's beneficial in situations when you are using public Wi-Fi or traveling in a foreign country, and you're worried about the privacy of your information.
The drawback to using a VPN is that you generally have to sacrifice network speed unless you use a paid service. You also need to know that not all VPNs are the same. Ensure you have a quality provider by looking into the credentials of the company because although your ISP and hackers won't be able to see your information, the VPN server will.
Pros of VPNs
If you choose the right provider, you can be sure your privacy is secure.
High levels of encryption will also protect your connection
Your IP address will be anonymous online
You can access geo-restricted content
There are additional security benefits such as a private DNS, NAT firewalls and other features.
Can use across different devices including desktops, tablets, and smartphones.
Cons of VPN
Running a VPN slows your network connection
You have to pay for quality VPNs
Certain VPNs also use RAM and processing power.
So Which Is Better in this VPN vs Proxy battle?
VPNs and Proxies serve different purposes. If you are in need of a quick, additional layer of security or want to access geo-restricted content, then a proxy is a good option. However, for your total network safety, proxies are not a good overall choice.
Instead, you'll want to invest in a quality VPN. They offer higher levels of security across your entire computing experience. Not only that, if you go for a paid-tier service, you really won't have to sacrifice much on data speeds while you significantly increase your security or anonymity online.
The bottom line is that in today's age of growing digital threats, you need to take steps to protect against data breaches and the best way to do that is to use a VPN.