Skype is one famous app that lets you make video and con calls without any trouble. It's horrifying when you log in to Skype and find that there is a problem connecting to Skype. If you have come across this problem then it seems you have landed on the right page. "Unable to Connect to Skype" error in Windows 10 has troubled Windows users for many users feel that Windows is the sole OS for PC.
You might have heard that Microsoft has taken over the Skype that comes pre-installed on your Windows PC. From then errors like "Sorry we couldn't connect to Skype" or "Skype can't connect" pops up on the screen when you are about to start Skype. During boot of Windows, Skype starts itself and it is then not possible to stop it from starting up automatically. You even do not find in the Startup folder.
So if you are facing connection problems with Skype then this article is a complete guide on how to fix "Unable to Connect to Skype" Error in Windows 10. Sit back and relax for these solutions are guaranteed to look back for such issues.
Causes of "Unable to Connect Skype" Error
Before we jump to the solutions on how to get rid of the "Skype not connecting" error let's go through the basics of what are the causes of connection error.
Also, make sure you are using the updated version of the Skype and along with that all the hardware and software are updated.
Now coming to the issues that can be resolved are –
Make sure to enter correct username and password
If you are unable to open the sites like www.skype.com or www.microsoft.com then the problem would be with an Internet connection
It is important to check the Heartbeat blog of Skype. If something is wrong the message will pop up. For this have the patience for Skype technicians will solve it on their own.
Sometimes due to some unusual activities noticed on your account it may happen that Skype account is temporally suspended or restricted.
FYI, Skype can no longer be logged in via Facebook. So if you are using Facebook to log in to Skype then its time you make a new account.
Once you are done with reassuring these ways but still facing the Skype Connecting Error then head to some permanent solutions.
How to Fix "Unable to Connect to Skype" Error?
Now since you are aware of the causes that lead to the error saying Skype couldn't connect, it will be easy for you to perform the methods to fix the issue.
Check Skype Heartbeat to fix Cannot Connect to Skype Error
If your Skype suddenly goes down, then in most cases the problem does not come from your side. It could be Skype side problem that you can check by:
Step 1- Open Skype app on PC. Then click Help and tap Heartbeat option.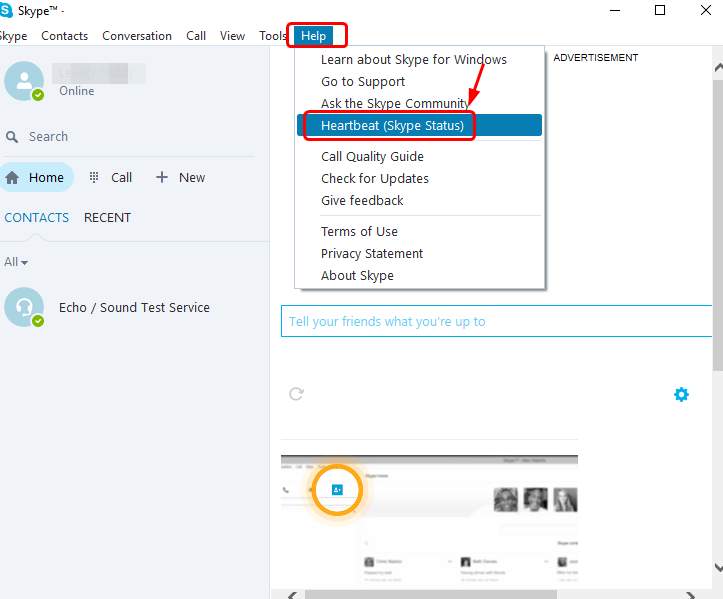 Step 2- The new web page will open and you will see Skype's system status. If something has gone wrong with Skype, you'll see the message here.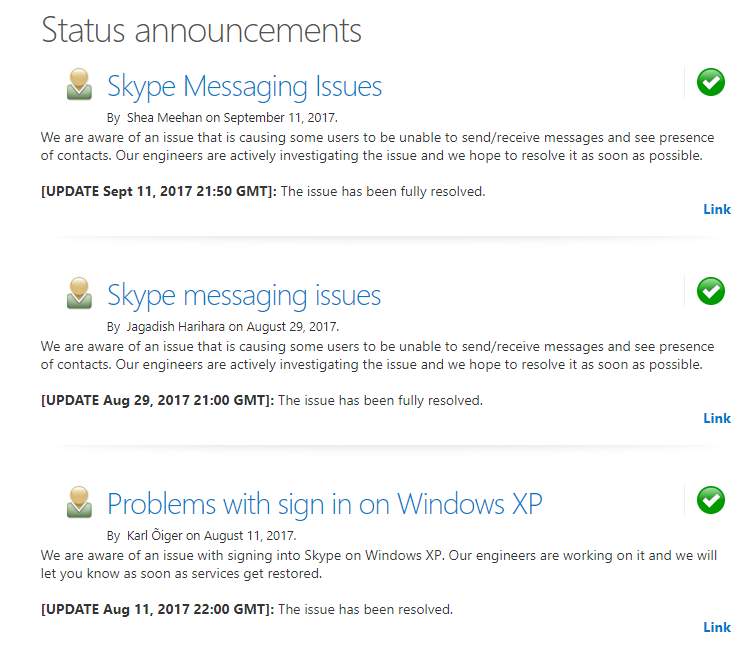 Step 3- If the message concerning connection problem appears, all you have to do is wait for Skype technicians to solve it on their end.
If this is not an issue then you can follow the next method.
Check Firewall Settings to fix Skype Connection Issue
If you are using Skype for the first time you will receive a message in which it will ask you to allow the application access. If in case you have clicked NO then you have to configure your firewall to allow Skype to fix the problem. Follow the steps to make settings to your Firewall-
Step 1- Firstly your Skype should not be running.
Step 2- Now open firewall. Then check the system tray to open it.
Step 3- The list of applications being installed on the computer maintained by the firewall will get listed. Locate the Skype on that list.
Step 4- Here you need to compose the Skype entry, so as to allow Skype to connect to the internet. Now Save the changes made.
Step 5- Restart Skype. Then sign in with your credentials.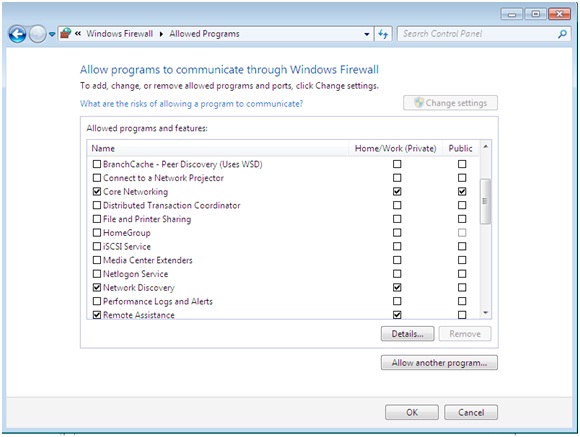 By following the above-mentioned steps, you can solve the connection issue. But if you are still facing the error then do not worry, for you can try another method.
Upgrade Skype to the latest version
If there is no message on Skype Heartbeat, then you need to upgrade your Skype. To do so follow the instructions-
Step 1- Open Skype. Click Help and then Check for updates.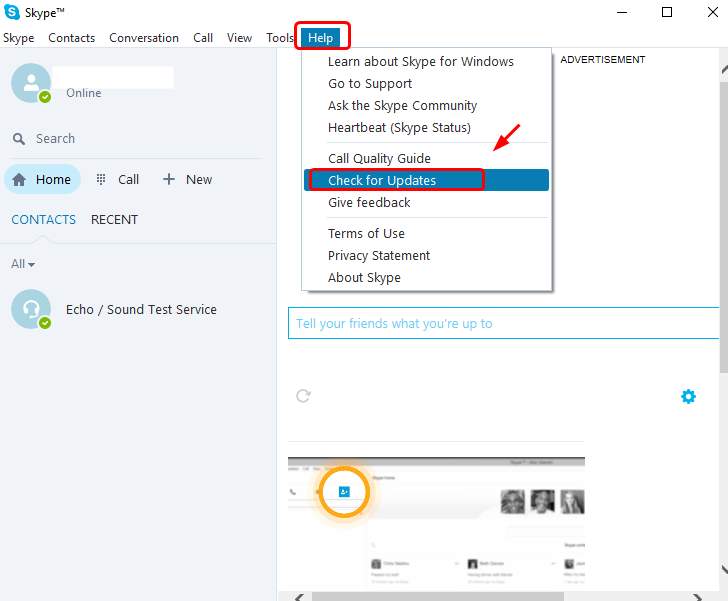 Step 2- Click Update Classic Skype or Try the new Skype as per your need.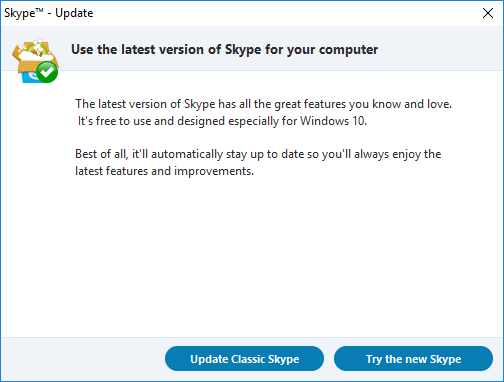 Step 4- Visit the official website of the Skype to get its latest version for your Windows 10 PC.
Check for Windows Updates
Outdated Windows may also cause the "Unable to Connect Skype" error. To fix this patch the follow the given steps-
Step 1- Using the keyboard, press the Windows logo key and I simultaneously.
Step 2- Click on Update & security. Now click on Check for Updates.
Step 3- Wait for Windows till it searches for latest updates and downloads available updates for you.
Step 4- You will need to restart your PC to save the latest update.
Now go back to Skype and sign in to see if your problem is fixed on not.
Refresh Network Settings
The last method that you can resort to fix Skype not Connecting issue is by refreshing the network settings. The poor Skype connection can be due to overloading your bandwidth with downloading files. So refresh network settings to get rid of this error.
Step 1- Using the keyboard, press Windows key and X at the same time. Then click Command Prompt (Admin).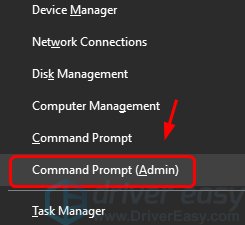 Step 2- When prompted to give administrator permission, click on Yes.
Step 3- Type the following given commands. Make sure you type all commands correctly. Then press the Enter key on your keyboard after each command.
ipconfig /release;
ipconfig /renew;
netsh winsock reset;
netsh int ip reset;
ipconfig /flushdns;
ipconfig /registerdns;
netsh int tcp set heuristics disabled;
netsh int tcp set global autotuninglevel=disabled;
netsh int tcp set global rss=enabled;
netsh int tcp show global;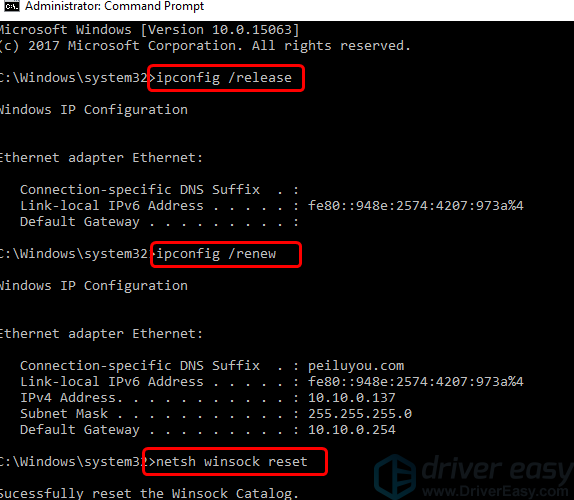 Step 4- Restart your device once you complete the process.
You will see that there is no longer a connection problem while accessing Skype.
Well, these were some of the best methods that will help you get rid of the "Unable to Connect Skype" error. Try any of them and then you can easily access Skype for making and receiving calls and exchanging messages.