Windows users never get to rid of these weird alpha-numeric codes at almost smaller to smallest changes in Windows. These codes are frustrating and are basically a jargon for almost everyone working on them. The user gets no idea of why the code is occurring and intriguing with the processes of PC and one's mind as well. Similarly, the 0x8007000d Error code is one of them which appears while activating Windows and here we are back again to fix it.
In this article, you will find ways to fix 0x8007000d Error in Windows 10, 8 and 7.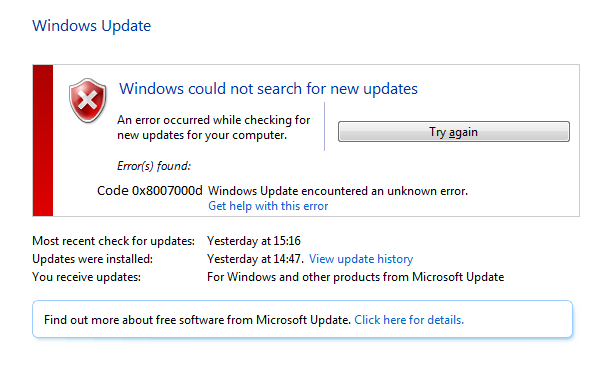 While you are trying to activate/update your Windows it might generate the following errors:
Windows Could not search for new Updates. An error occurred while checking for new updates on your computer.
Error(s) found: Code 0x8007000d Windows update encountered an unknown error.
or
The data is invalid.
Error code 8007000d.
What is 0x8007000d Error code?
The Hexadecimal numeric error code 0x8007000D is a general error code raised by Windows and other Windows compatible software and driver manufacturers. This code is used by the seller to identify the error caused. There can be more parameters related to 0x8007000D error code along with a technical description.
But what does the code signify? the code is basically a memory address at which the instruction was executing at the time of the error.
What Causes code 0x8007000d?
Almost every Windows issue can be related to some files going corrupt or missing leading to hinder any natural process thus causing the error. In this case, the error is due to windows system files damage because of Windows files going missing or corrupt because of which Windows update or activation can't progress.
This error can be a result of the following reasons :
Improper installation
Incomplete uninstallation
Improper deletion of applications or hardware
Windows incorrectly shutdown
Malware or virus attack
How to Fix Error Code 0x8007000D while activating Windows
Here are some of our top researched and handpicked solutions of  to fix 0x8007000D error that comes while activating, Upgrading or Updating Windows. 
Solution 1: Use Microsoft Fixit to Fix 0x8007000D
While searching for the issue you might come across a Microsoft page result. The page and so as Microsoft recommends you to try a Microsoft Fixit support which may suggest a few fixes to the issues pertaining to the terrible 0x8007000D code so that you can easily activate windows without getting any more errors.
Along with  0x8007000D error, it has the potential to fix other updates and activation issues. Just click here to go directly to the page. 
Solution 2: Run System File Checker
The SFC command is a utility provided by Windows to check and repair the corruption in the system files.  The command is run to check and repair system files by replacing damaged system entries with a clean undamaged cached copy of the same files. To run System File Checker:
In Cortana search, type cmd. From the search results list, right-click over the Command Prompt and choose Run as Administrator. This will launch the Command prompt as an admin.
After the launch of the command prompt Black Window, type in the following commands in the console and remember to press enter after each command:

Sfc /scannow
sfc /scannow /offbootdir=c:\ /offwindir=c:\windows

Consequently, after completion of the above process, restart your Computer.
This will automatically repair your system files and fix the error Code 0x8007000D.
Solution 3: Chkdsk command to Fix  0x8007000D Issue
Similar to the SFC command in solution 1, CHKDSK is another utility command available in the Windows so as to check and fix the bad sectors in one's hard drive. To run CHKDSK:
Hit Windows + X then select Command Prompt(Admin)/Windows Powershell (Admin) from the pop-up menu.
Now in the command prompt console type the following command to execute chkdsk:

"chkdsk /r c:" and press Enter.
ProTip: The same for other drives can be executed & checked by replacing the letter "c" with drive indexes assigned with their letters.

After Completion of the above process, Restart your PC for changes to take effect.
This will troubleshoot your errors reciting in the HDD to fix 0x8007000D error code.
Solution 4: Delete the Software distribution folder
The Software Distribution folder recites in the Windows directory and is used as a storage for temporary files which may be needed to install Windows Update maintained by WUAgent.
First of all, press Ctrl+Shift+Esc Keys to launch Task Manager.
Switch to Services tab in Task Manager Window.
Find and Right-click over the Windows Update Service and select Stop.
Next, navigate to the Windows\SoftwareDistribution folder and delete all of its contents within the Software distribution folder. Alternatively, you can rename the folder to SoftwareDistributionOld.
Restart the Windows Update Service.
Finally, Try to activate the windows again.
Deleting Software redistribution folder works a lot of times as reported by users to solve 0x8007000D activation error.
Solution 5: Run DISM
After employing the above three fixes, if you are still facing the activation issues from Windows you should go for repairing the DISM (Deployment Image Servicing and Management). To Repair it:
Follow Step 1 of Solution 3.
In Step 2 of Solution 3, instead of the chkdsk command, type the following:
Dism /Online /Cleanup-Image /RestoreHealth
Wait for the Deployment Image Servicing and Management to repair successfully.
This will repair the DISM and fix your problems pertaining to the Error code 0x8007000D activation issue.
Conclusion
In conclusion, don't worry if you are unable to solve this error. Just use the comments section to raise a query. This error is not that harmful and is a very common one and you will definitely get it fixed using one or the other solution mentioned above.