With the rise of new technology, electrical systems have assumed a pivotal role in our everyday lives. Consequently, the demand for practical safety standards has surged. Properly maintaining these standards is paramount, as it ensures the safeguarding of both individuals and infrastructure. To guarantee well-being and protection, nothing is more critical.
It's important to acknowledge that regulations in this field are ever-changing, making it crucial to stay up-to-date. Therefore, ensuring compliance with all current requirements before commencing any electrical work is wise. By prioritizing preventive measures, we can provide the highest level of safety possible.
This blog post comprehensively covers all aspects related to arc flash analysis. Continue reading the article below to learn more.
Understanding an Arc Flash
An arc flash analysis, or arc flash risk assessment, is a thorough evaluation of a workplace facility conducted by an electrical safety expert and an overview of the necessary additional protections for a specific electrical system. By conducting this comprehensive assessment, we can enhance workplace safety and minimize the risks associated with arc flash incidents.
Importance of Conducting Arc Flash
An electrical arc flash study is vital as it provides crucial information about the incident energy in electrical components that personnel might encounter. They are critical in maintaining a safe work environment, particularly in industries heavily dependent on electrical systems.
It is recommended to review these studies every five years or whenever modifications to the facility are made, as they can impact the study's findings.
The Process of an Arc Flash
An arc flash analysis involves several phases. In an existing facility, the process starts with collecting data. A short circuit study and a coordination study follow this. Finally, the arc flash assessment is conducted. Typically, the initial step entails creating a computer model of the power system using commercially available software.
The study can be executed efficiently and effectively by breaking down the process into these distinct phases.
Critical Elements of an Arc Flash
An arc flash study should encompass various crucial components, including a thorough short circuit analysis, a comprehensive protective device coordination study, a concise settings table, and a meticulous arc flash incident energy analysis.
The arc flash risk assessment serves to identify the presence and precise location of potential hazards. It further provides valuable recommendations about Personal Protective Equipment (PPE), delineates boundaries for limited and restricted areas, and suggests additional safety measures to be implemented.
In Conclusion – What is an electrical arc flash?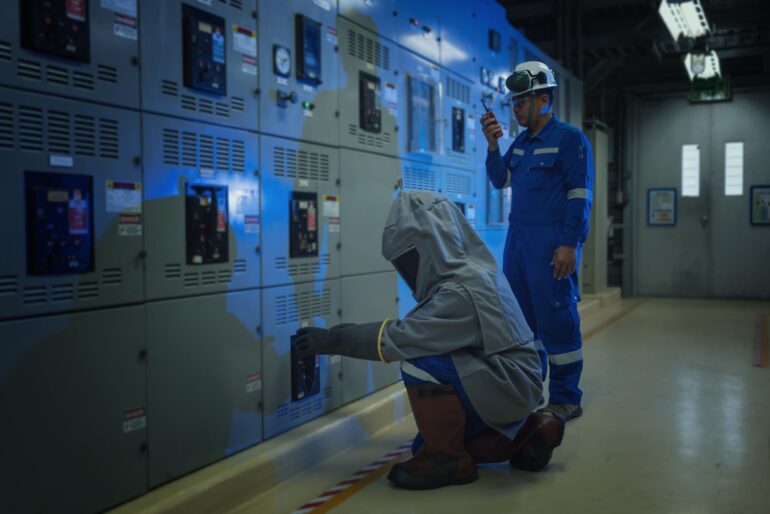 An arc flash analysis is a vital safety tool in the workplace, raising awareness of the potential hazards associated with electrical installations and operations. Moreover, it plays a crucial role in informing safety training initiatives. By providing actionable data, arc flash analysis empowers workers to mitigate risks and safeguard against potential electrocutions.
When considering the best cables for electrical installations, understand the differences between copper vs. aluminum cables and also be aware of the hazards and safety measures related to electrical arc flash.
Ensuring arc flash safety is paramount to prevent untoward incidents in shops or offices. If you require further information, you should seek assistance from a qualified professional. Taking arc flash training is vital for comprehending and implementing proper safety protocols and should always be considered.