If you're considering braces, you might be wondering what to expect during the process. While the idea of getting braces may seem daunting, understanding the steps involved can help you feel more confident and prepared. In this blog post, we'll walk you through everything you need to know about getting braces, from the initial consultation to the removal of the braces. We'll also cover the different types of braces available and what to expect in terms of discomfort and maintenance. Whether you're considering braces for yourself or a family member, read on to learn more about what to expect when you get braces.
Process
Day of Placement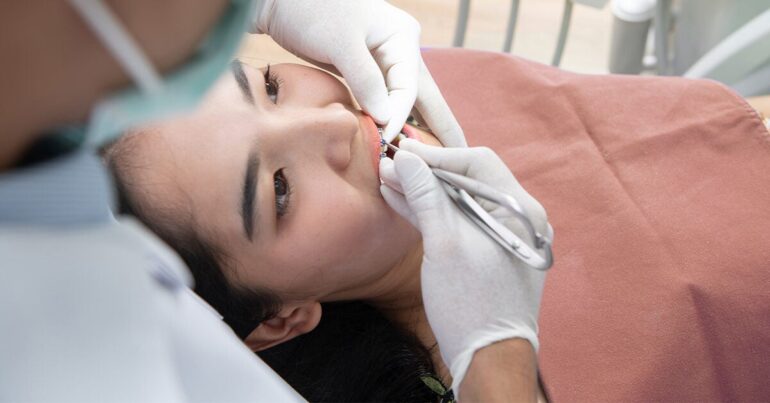 There is no reason to be scared on the day that your orthodontist will apply the braces to your teeth because placing them will not cause any pain or discomfort. Mild soreness will only be felt after the orthodontic wire has been attached to the brackets, but it won't cause much pain. Some will find eating difficult because they are still adjusting to the newly-attached braces, so it's best to stick with softer and liquid-based food.
Two or Three Days After Placement
As days progress, your teeth will feel more uncomfortable because your teeth will start to move. Your teeth will begin to gradually realign through the pressure caused by the elastic ties and archwire. Discomfort is normal, and over-the-counter medications such as Ibuprofen may be taken if you don't have any existing allergies. This can also be combined with multiple saltwater rinses to relieve mouth sores. Additionally, you may apply wax or silicone (provided by your orthodontist) over the brackets to alleviate the irritation it causes to your mouth and cheeks.
Five Days After Placement
After five days, the pain will most likely be lessened, and your teeth likely have already adjusted to the braces. Eating will be much easier at this point in time; however, you must still be careful about what you eat so that you won't break the brackets.
Monthly Orthodontic Appointment
Oral Hygiene Routine
Maintaining a diligent oral hygiene routine is vital throughout your braces treatment. Regular brushing and flossing, preferably after each meal, help prevent plaque buildup and tooth decay. Pay extra attention to cleaning around the brackets and wires, using interdental brushes or floss threaders for effective cleaning.
Adjusting to the New Norm: Life with Braces
The first few weeks are a period of adjustment, not just for your teeth but for your entire lifestyle. You'll learn new techniques for brushing and flossing, as these tasks become more intricate with braces. It's also a time to discover which foods work best for you now, as some of your old favorites might be off-limits to protect your new gear.
Moreover, getting braces means you'll become more conscious of your oral hygiene. You'll find yourself brushing more often, especially after meals, to prevent any food from getting stuck in your braces. It's not just about avoiding discomfort; it's also about maintaining the health of your teeth and gums. Your orthodontist will provide you with tips and tools, like special brushes and flossers designed for braces, to ensure you can keep up with your oral care.
Dietary Considerations
Following your orthodontist's dietary recommendations is important to protect your braces. Avoiding sticky, chewy, or hard foods minimizes the risk of damaging the braces or dislodging brackets. Opt for softer foods, cut fruits and vegetables into small pieces, and steer clear of habits like biting on pens or ice.
Regular Follow-up Appointments
Attend your scheduled follow-up appointments with your orthodontist. These visits allow for adjustments, tightening of braces, and monitoring of progress. Open communication with your orthodontist ensures that any concerns or issues can be addressed promptly.
Retention Phase
After braces removal, the retention phase begins. Your orthodontist may recommend wearing retainers to maintain the corrected position of your teeth. Consistently wearing retainers as directed is crucial to prevent relapse and ensure the long-term stability of your beautiful smile.
Every month or as advised by your orthodontist, your braces' archwires and bands must be replaced to make the necessary adjustments and monitor the orthodontic treatment progress. There will be a new alignment that your teeth have to follow, and when your teeth gradually move to the new position, you will most likely feel the pain again. After a few days, the discomfort will be gone, and it will only be back again on your next adjustment with the orthodontist. The cycle repeats until you finish the whole treatment.
How it Feels to Have Braces
It feels weird at first.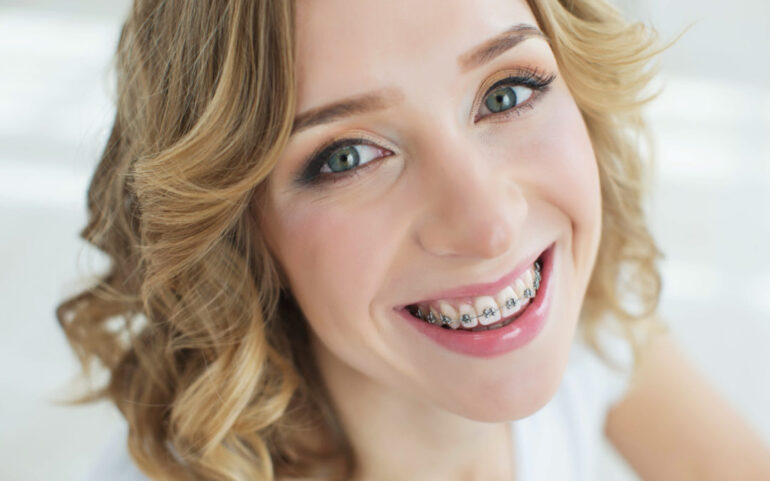 Since you have a new dental appliance attached to your teeth, it is normal to feel weird at first. You would have to adjust and relearn new things when eating, brushing, and flossing. As time passes, you'll get used to it, and you'll forget that you have braces on your teeth.
Your face and mouth might feel and look different.
Having braces might cause a unique sensation to you. That's why you think that your lips are more protruded and that your facial features have changed a bit. But, that's not true. Braces won't affect the way you look. However, you may experience irritation on the insides of your cheeks and lips. To combat the irritation, you may gargle a mixture of half a teaspoon of salt and 250ml of tap water. You may also apply a pea-sized amount of topical anesthetic (OraJel or Orabase) to a cotton bud and apply it directly to the sore.
To prevent irritation, you may cover the bracket prone to sores with orthodontic silicone or wax.
You might talk funny.
Since there is a new device on your teeth, it is normal that you talk a bit odder than usual. Having braces is something that you have to adapt to, and you'll find it easier to adjust if you talk as much as possible. You can talk to your friends and family, sing your favorite songs, or read your favorite book out loud!
You'll love to have soft foods and cold drinks.
Your teeth may become very sensitive when it touches something that you put in your mouth. To help manage this, you're better off with food that is soft such as mashed potatoes, or liquid-based such as soup. Drinking cold drinks such as smoothies and milkshakes can also numb the pain.
You'll have a lot of food particles stuck on your teeth.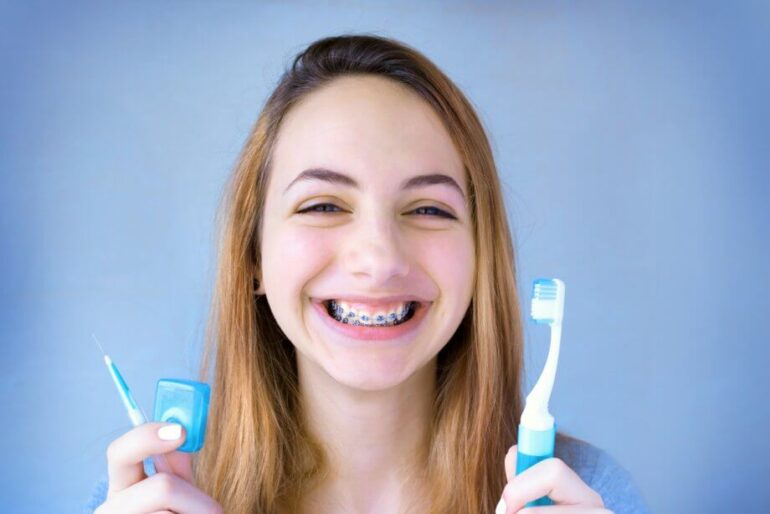 It's unavoidable to have a lot of food particles stuck on your teeth because of the number of metal brackets and wires present on your teeth. That's why it is suggested that you always bring a toothbrush, toothpaste, an interdental brush, a compact mirror, and some floss when you're out of your residence.
You'll be practicing good oral hygiene more than ever.
Oral hygiene is very important when you have braces. That means that you have to brush and floss properly after every meal and before you sleep. You have to learn how to maintain oral hygiene with braces so that you won't be prone to cavities.
Your mouth can get very dry.
You may experience a dry mouth when you have braces. This may be because of frequent eating, drinking, and chewing gum prior to treatment. Always drink water to keep hydrated and have some sugar-free hard candies if you're not used to not having anything in your mouth.
Book an Orthodontic Appointment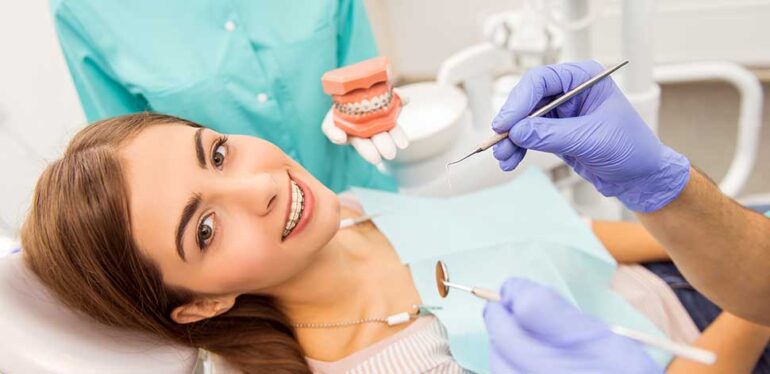 Getting braces is a significant investment in your oral health and can lead to a straighter, healthier smile. At Kumra Orthodontics, an experienced orthodontist in Washington, D.C., is committed to providing personalized care and treatment options that meet your unique needs. They offer a range of braces, from traditional metal braces to clear aligners, and their team is dedicated to ensuring that you have a comfortable and positive experience throughout your treatment. If you're ready to take the first step towards a beautiful smile, don't hesitate to schedule a consultation with Kumra Orthodontics. With their expertise and commitment to patient care, we can help you achieve the results you desire