You can find the List of Best Overclocking Software for CPU, GPU or even RAM to increase performance. We have covered 10 Free overclocking Software for Windows 10, 8 and 7 along with their features and download links.
So If you are not familiar with the concept of overclocking, and you are concerned your Windows PC is running slower than before and want to speed it up, you've struck the gold mine of articles. We are here to explain everything.
What is a CPU Overclocking Software?
Overclocking is nothing but resetting your system components in such a way that these components will run harder and faster than the manufacturer designed them to go. This results in a faster PC, but only if done right.
And this is where an overclocking software comes in. An overclocking software does the operation of overclocking for you so that you don't have to worry about it. In this article, we will be looking at 10 best and free overclocking software for Windows PC.
10 Best Overclocking Software for Windows 10
There is an abundance of free overclocking software available. Here we have shortlisted 10 best overclocking software that you can use to speed up your Windows PC's performance. Let's get started!
1. MSI Afterburner
One of the most recognized Overclocking Software, MSI Afterburner lets you have complete control over your Graphic Card. You will get a full overview of your hardware, along with benchmarking and customization of fan profiles, to say the least.
If you are not experienced with overclocking, with its easy interface, you can get MSI Afterburner. Afterburner is free and with it, you can explore overclocking and push your hardware performance to the limits. With Afterburner you also receive precision control of the core memory, plus an in-game FPS counter with complete information about your System and its performance.
Afterburner can also test the stability and thermal performance of your PC's Graphic Cards (it supports all Graphic Cards) so that you can make the best out of your PC's Graphic Cards.
You can get MSI Afterburner here.
2. EVGA Precision X
EVGA Precision X is also one of the most use CPU overclocking software you can get your hands on.

It is especially popular among gamers. It supports at most 10 user profiles. One limitation when compared to Afterburner, is that it supports only Nvidia Graphic Cards, whereas Afterburner supports all Graphic Cards.
Otherwise, it serves just like any top-notch overclocking software, with control over fan speed voltage, user profiles etc. EVGA Precision X will allow you to edit the memory clock offset and GPU clock offset of the system.
Get the EVGA Precision X here.
3. AMD Overdrive
AMD Overdrive is one of the easiest overclocking software to use, especially if you have an AMD processor. You can download it for Windows.
Speed and voltage of the CPU are adjustable, along with a real-time overview of the CPU. After overclocking, you can run a stability test to observe your PC's performance. An easy interface and simple design make it an extremely popular overclock software.
Get your hands on the AMD Overdrive here.
4. Intel Extreme Tuning Utility (Intel XTU)
The Intel XTU is extremely simple and is used by both beginners and advanced users for overclocking. If you have Intel hardware and processor, this is the best tool you can get. It has support for the next-gen Intel-Core processors.
With Intel XTU you can monitor your system very easily, put your processor to the maximum of its ability, temperature analyzing, and observe changes in your CPU with time after overclocking. Just like any Windows overclocking software, you have the freedom to change the voltage, memory, graphics, and processor according to your will, while conveniently making sure your system remains stable.
Make sure though, that when you overclock you are not compromising your system as it could cause damage. Get it here.
5. CPU-Z and GPU-Z
These applications are a must-have for anyone who wants to overclock their system, processor and Graphic Card. These tools are the best ones out there to observe your system analytics and how well your system is performing before and after overclocking.
You will receive full detailed reports about your motherboard, processor and your GPU with CPU-Z. CPU-Z provides all processor related information, including packages, cache levels, voltage etc. to say the least.
GPU-Z is focused more on your Graphics Card related information such as memory clocks and GPU clocks, temperature, size and more, everything you need to know regarding GPU and overclocking.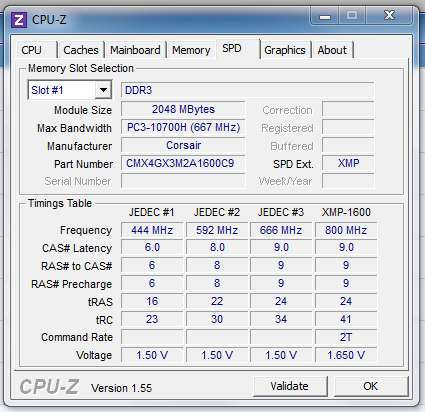 CPU-Z and GPU-Z are compatible with NVIDIA, AMD, Intel GPU, and ATI Graphic Cards. You can get these free tools over here.
6. CPU Tweaker and MemSet
These advanced tools are designed only for users who are familiar with overclocking and know what they are doing. CPU-Tweaker is limited, in a way that it is compatible only with processors having embedded memory controllers (e.g.,  AMD Phenom, Intel Core i3, i5, i7, etc). CPU Tweaker works best with such processors, but if not, you can always try MemSet which is just as advanced and powerful.
Note though, that these are not user-friendly, and to regular users might appear too complicated. However, they are one of the most advanced overclocking software in the market for free, so it is worth learning about them if you are really into overclocking your PC on your own.
Get MemSet here.
Get CPU Tweaker here.
7. SAPPHIRE TriXX Utility
This free GPU overclocking software only supports AMD Graphic Cards, but among those, it supports a huge range, from older Radeon Graphic Cards to Radeon R9 Fury series.
Like all overclocking software, this beast of software allows you to change the GPU core clock, voltage, memory clock, and more to optimize the best performance. It has real-time monitoring for your hardware to make sure your system remains stable.
It is a handy overclocking tool that you should definitely try if you have an AMD Graphic Card. You can get it here.
8. SetFSB
SetFSB is a unique tool that is set apart from other overclocking software in a way that it changes and adjusts your system's Front Side Bus (FSB). FSB Connects your CPU to main memory, so making the right adjustments is a smart way of boosting your PC's performance to its limits.
SetFSB can help you increase the speed of FSB to boost performance. Get your hands on it here.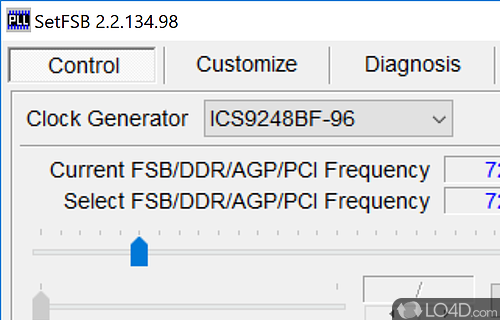 9. NVIDIA Inspector
NVIDIA Inspector is an application whose primary use is simply displaying information regarding the Graphic Card to the user. However, it is also largely used for overclocking GPU.
NVIDIA Inspector has its limitations though. It cannot monitor your system temperature or stability, so you might want to get other tools such as HWMonitor or 3DMark to do that for you. The application does have a simple user interface though, so overclocking will not be a complex task for you with the NVIDIA Inspector.
You can download it here.
10. ASUS GPU Tweak
The ASUS GPU Tweak is a relatively simple Windows software with a visually appealing and simple user interface.
You can modify the GPU core clock, voltage and memory clock of GPU, very easily. To monitor the stability and temperature of your system, it is advisable to get another tool along with it.
Try it here.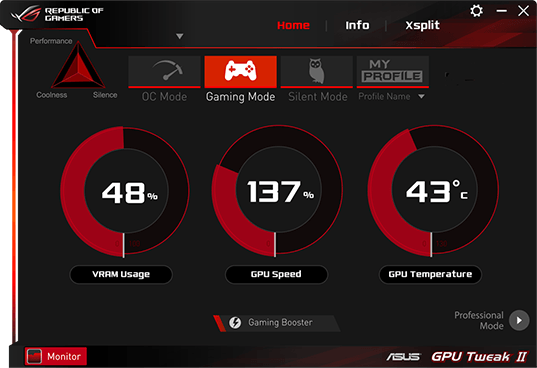 Final Verdict
We hope that by reading this article you had an introduction to overclocking and the best and free Overclocking Softwares that you can get.
We hope that using these, your PC will be able to run faster and will be pushed to its limits to give you the best experience, all with safe overclocking of your GPU and/or processor.
If you have any queries, you can drop us a comment below and we will do our best to get back to you with a relevant answer.