Windows has been the most used OS among computer enthusiasts due to its vast possibilities and special features. Several devices like keyboard, mouse, graphics card, etc function together and provide Windows the greatness that it is popular for. All the external devices that work for Windows are aided by their suitable drivers. Therefore, device drivers are an essential utility. It is remarkably important that all the device drivers are regularly updated and always function properly. To ensure this, Driver Updater software is used.
What is a Driver?
Whenever you connect new hardware (any physical device: graphics cards, printers, keyboards, etc.) to your computer, driver software installs to help the hardware function accordingly within the ecosystem of your computer. For example, every time you plug in a new USB drive, you see a quick notice that your computer is installing the driver. Once the driver is installed, you can access the information on the drive and save files to it.
Without that driver, your computer can't see the USB drive and has no way of knowing what to do with it, making it nothing more than a small piece of metal and fiber sticking out of the computer.
Why is it necessary to keep drivers updated?
Manufacturers develop driver software to ensure that their hardware runs effectively and can communicate with your computer. However, as with all types of software, there are often updates made to the drivers to help the hardware run more effectively or to keep up with the performance demands of other software. Usually, these updates are downloaded and installed automatically by your Windows Update tool, especially if you have Windows 10. But depending on your preferences and settings, some drivers can become outdated. Updates are provided to ensure the improvised functioning and security of the device from time to time.
If you don't keep the drivers updated, the device might stop working appropriately.
What is a driver updater?
Driver updater is special software to update drivers on a Windows computer from time to time. These softwares also look for outdated or corrupted drivers and inform the user about them. Later they repair or fix them, usually by updating to the latest version. Driver updater software is amazing to ensure that the device drivers are always updated properly and no issue is developing in the drivers. The best driver updater can manage all the drivers in a way that a human cannot.
8 Best Driver Updater for Windows
Here in this article, we are sharing a list of some best and useful driver update tools that allow users to update and download new drivers for Windows 10,8 and 7.
1. Tweakbit Driver Updater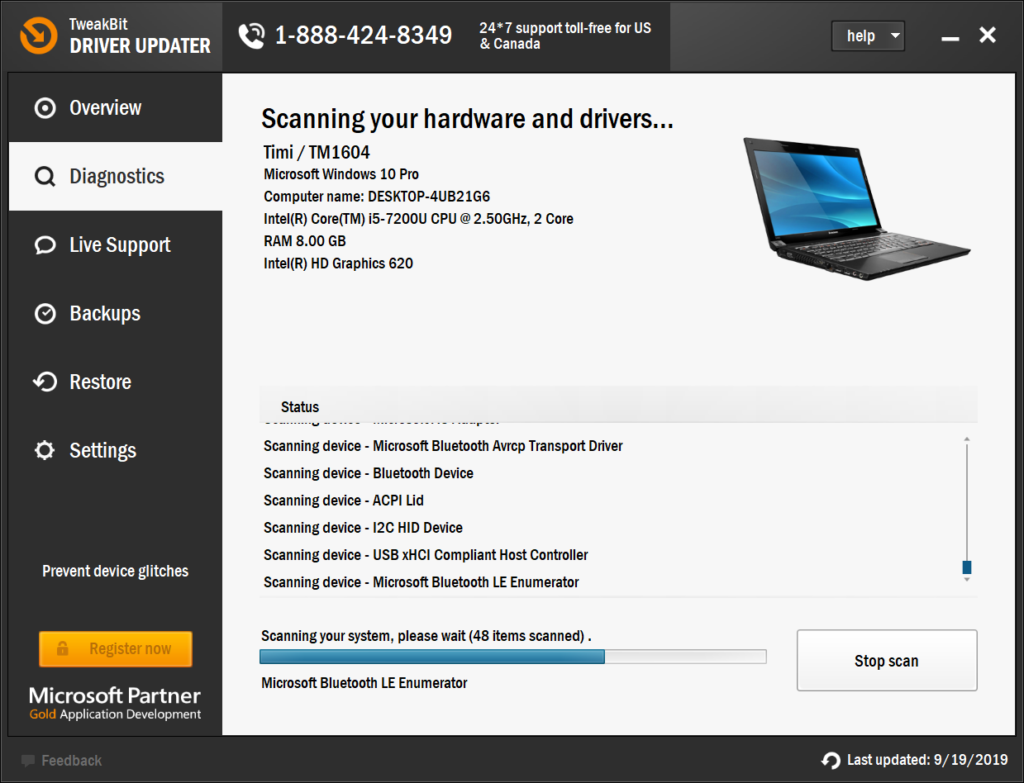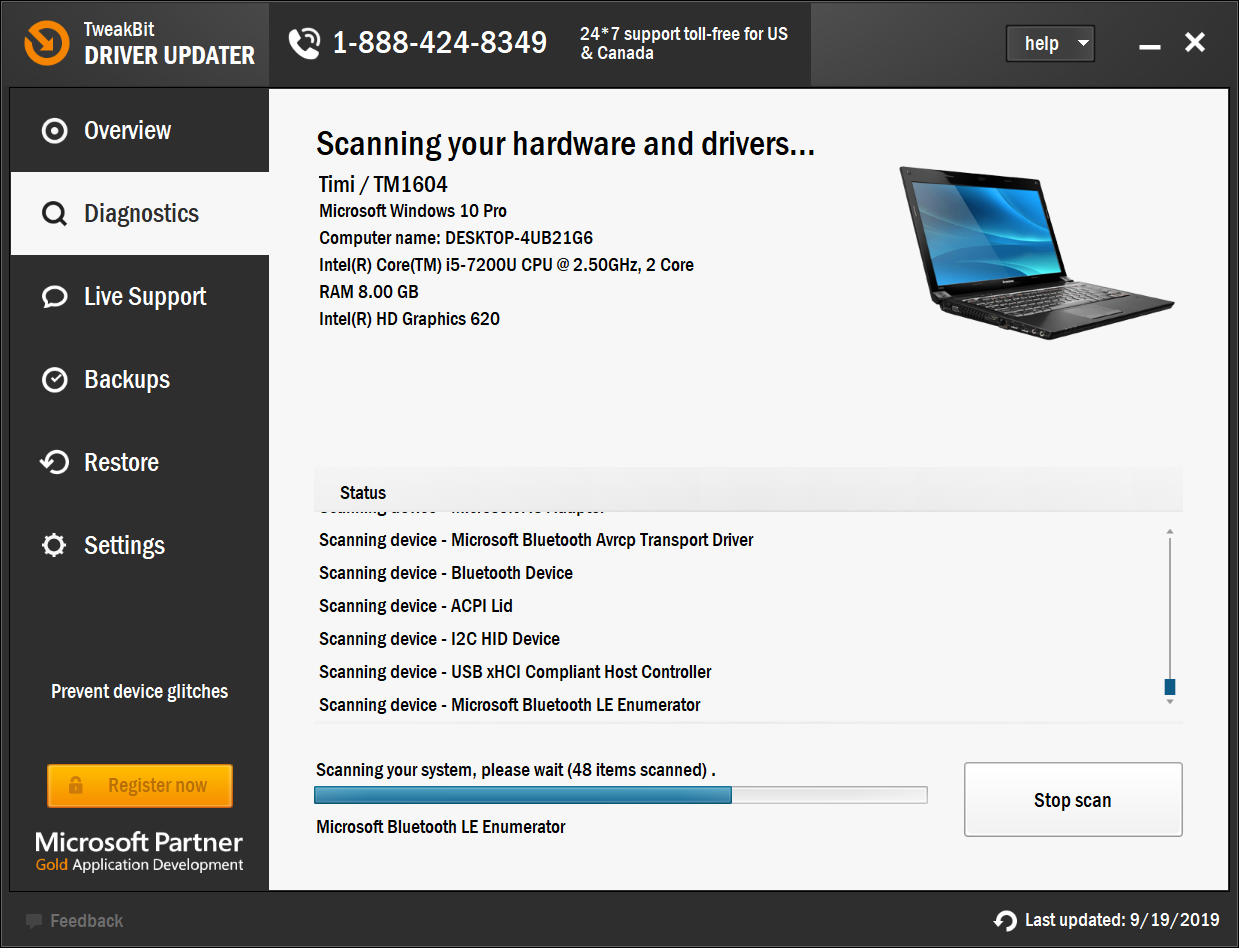 Tweakbit Driver updater by Auslogics Labs is the number 1 tool to update your Windows PC drivers. This updater supports every version of Windows and can help you update drivers of all your PC devices.
It provides drivers of;
Laptops
Netbooks
Tablets
Printers
Scanners
MFP Devices
Hard Drives
Optical Disk Drivers
Wireless Network Cards
Bluetooth
Monitors
Video Cards
Audio Cards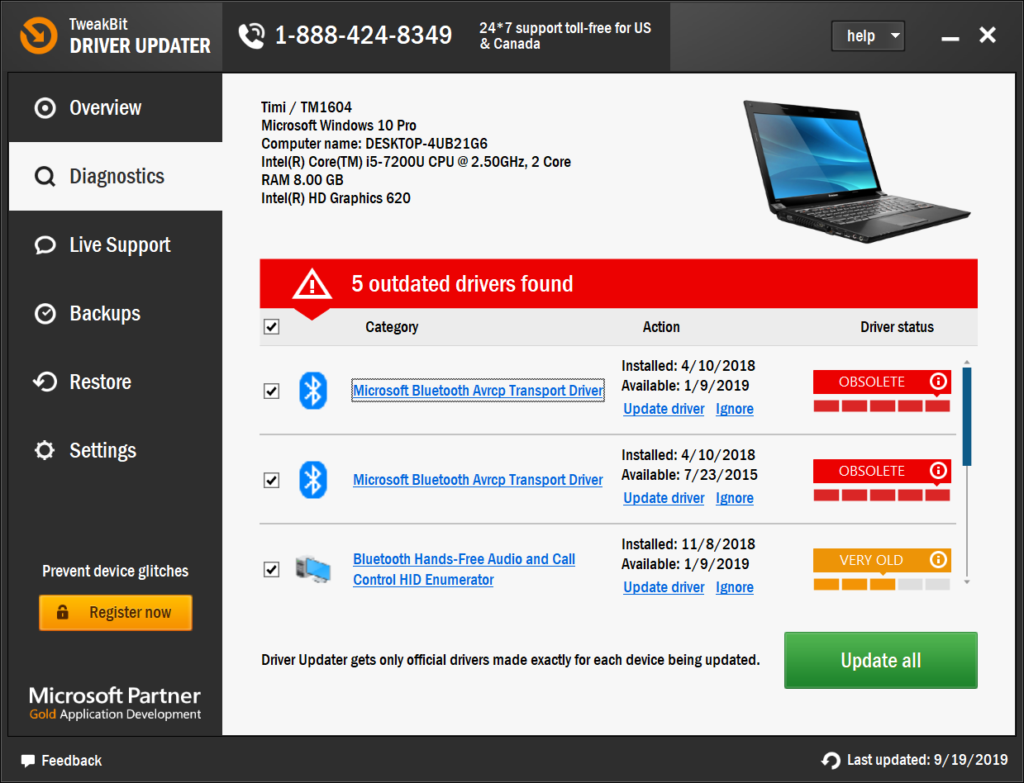 All you need to do is install the app, click a button to run a full scan of your system, look through the list of old drivers the app detects, and choose whether you want to update them all at once or one at a time.
TweakBit Driver Updater offers:
A database of 20000 drivers it gets updates from
Backups created to ensure safety – you can roll back changes if the result is different from what you expected
Completely automatic updates – you don't have to visit device manufacturer websites or go on any sites at all
Guarantee of compatibility with your device model and version
There is an option to get the most stable driver version, even if it's not the latest one, which works great to prevent potential problems that may arise with new unstable updates that may sometimes happen.
This tool makes replacing your missing/corrupted/outdated drivers with the latest and most optimized driver versions easy for PC users of any experience level. We feel confident recommending TweakBit Driver Updater as a top choice for driver maintenance.
You can download the tool from here. (Special for WindowsFish Readers)
2. Driver Booster
Driver Booster is the best free driver updater software. It's compatible with all versions of Windows and makes updating drivers really easy. Driver Booster can be scheduled to automatically find outdated drivers. The best part is when new updates are found, you can easily start downloading them from inside the Driver Booster program so you don't need to go out to an internet browser to get them.
Before you install a driver, you can see how the new driver version compares with the currently installed driver, which is helpful. I like that Driver Booster creates a restore point before installing a driver in the event something goes wrong with the installation. This is another unique feature.
There's an option in the settings to install drivers in the background, which hides installation wizards and other popup messages. This is handy so you don't have to click through so many windows when installing new drivers. All these were enough for Driver Booster to top the list of best driver updater programs.
Special Discount on Pro Version (Recommended)
3. Advanced Driver Updater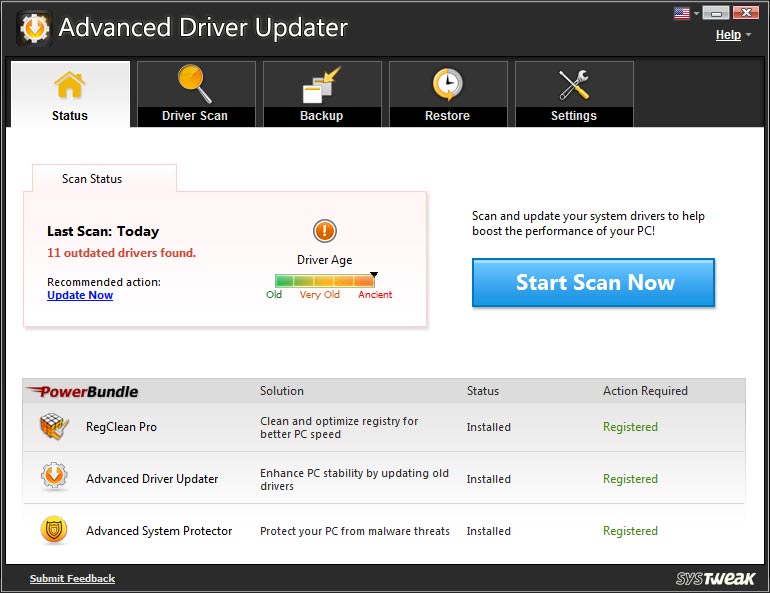 Advanced Driver Updater is developed by Systweak Software. It is a nifty software to update drivers on your system. You simply have to scan your system after installing the software. It would figure out outdated drivers and then seeks your permission to update them. In addition to this, Advanced Driver Updater allows you to take a backup of drivers on your system, which can be restored anytime in the future. Another great thing is that the software is available in multiple languages such as French, Spanish, Italian, etc. and is also compatible with Windows XP, Vista, 7, 8, 8.1, 10.
Download Advanced Driver Updater
4. Driver Talent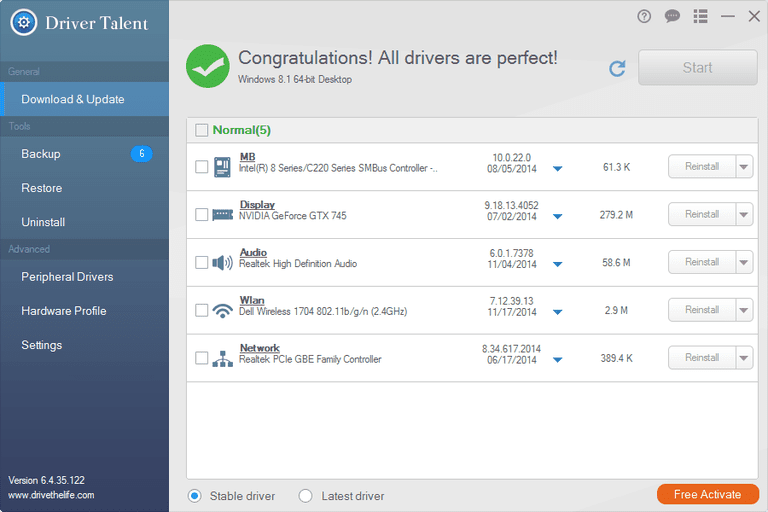 Driver Talent was earlier called DriveTheLife. It is a very simple and easy to use driver updater software that lets you download device drivers through a program so you don't have to search the internet for official download links. This program not only can update outdated and missing drivers but also fix corrupted ones and back up all your installed drivers for you. The size of a driver as well as its release date and version number are displayed for you before you download it so you can be sure you're getting what you're after.
An alternative version is available that includes network drivers and works offline, which is perfect if you need to install drivers but don't have the proper network driver installed.
5. Driver Easy
Driver Easy too scans the system and find out outdated and missing drivers in it. You can update them with a click. Along with this, you can also backup and restore drivers with Driver Easy and uninstall removed hardware drivers. The software is available for a free trial on Windows XP, Vista, 7, 8, 8.1 and 10. You can use the pro version after using the software in the trial version and testing its authenticity.
6. Free Driver Scout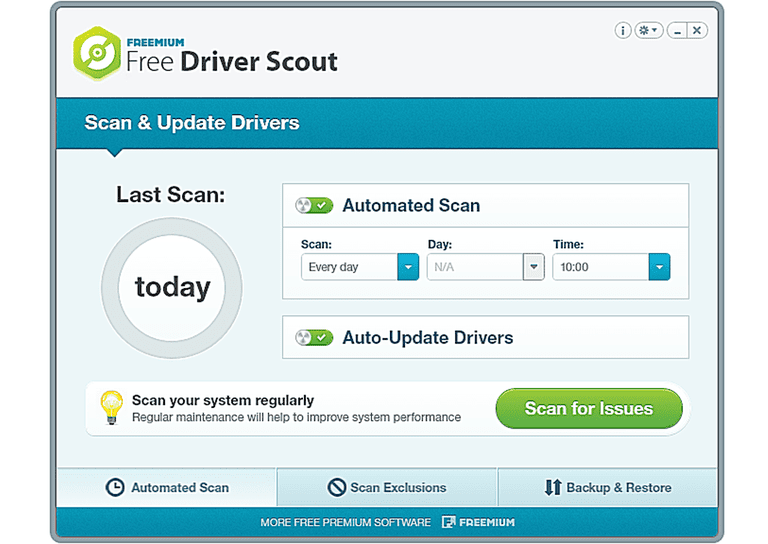 Free Driver Scout is an amazing driver updater because it automatically scans for any required updates, automatically download the updates, and then automatically install them, without requiring any input from you, which differentiates it from any other program in this list. Device drivers can be excluded from a scan with Free Driver Scout so they don't always show up as needing an update in the future. One more great feature in Free Driver Scout is the ability to back up and restore drivers. The program lets you back up some or all of your drivers and then easily restore them again if you need to.
7. Driver Reviver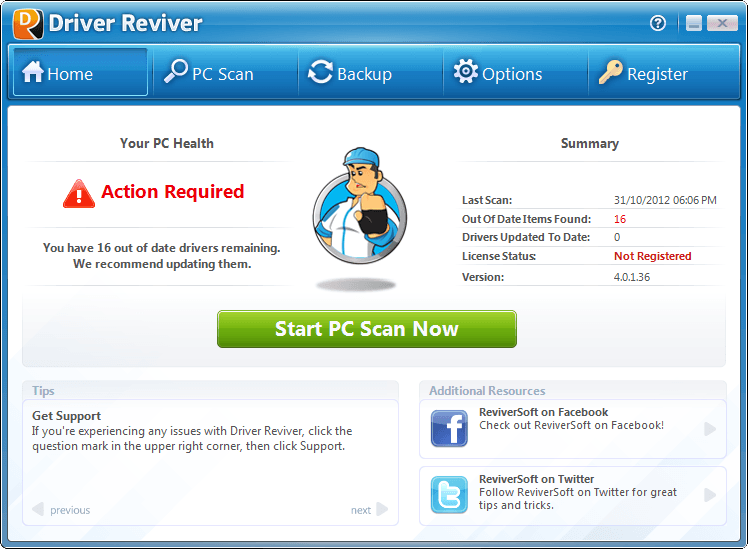 Driver Reviver is developed by ReviverSoft. It helps you to find outdated drivers on your system and allows you to update them with a click. The software eliminates the risk of downloading a faulty or infected driver. Therefore, safeguarding you from taking any wrong stuff in your system. In addition, this software is easy to use, equipped with canny features such as driver backup and restoration.
8. Driver Checker
Driver Checker makes sure your system is equipped with all essential drivers, through its advanced features. Basically, it scans, detects and fixes driver issues on your PC. Along with this, you can backup, restore, uninstall, and export drivers on your system, using Driver Checker. The tool also gives you a detailed report of its scanning with outdated drivers mentioned clearly in it. Additionally, you can search drivers for your system, using the webpage of this software. Driver Checker might come last in the list of 8 best driver updater programs, but it is definitely worth a try.
Conclusion
These were the 8 best driver updater programs for Windows PC. For any queries, suggestions, or doubts regarding the topic, comment down in the Comments section below. HopeI helped you with choosing your suitable driver updater. Have a nice day, Folks!