Confused whether to stick with Default Windows Defender or to go for a Paid version of Avast Antivirus? Here is detailed Avast vs Windows Defender Review.
Malware is common these days, and developers are coming up with stronger and stronger antivirus to fight them off. It is important to have an Antivirus in your system, as threats from the Internet and other network sources keep on increasing day by day. With such a dilemma, one might wonder which Antivirus or Protector to have in your system.
Is the default Windows Defender enough? Or should you move on to some better and premium Antivirus for your system? In this article, we will be addressing all these questions and provide you a detailed comparison between the default Windows Security Program and Avast Antivirus.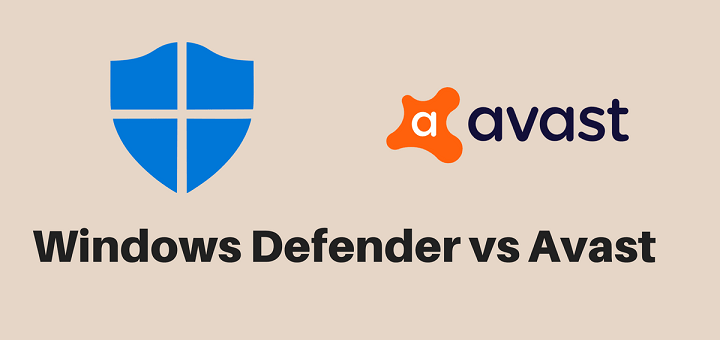 Let's begin!
Windows Defender VS Avast Comparison
Now, remember:
Windows Defender in Windows 7 is NOT an antivirus, just an anti-malware program. In Windows 8 and 10, however, Windows Defender is an anti-malware as well as an antivirus program.
Windows Defender is completely free, just as Avast. However, Avast does have a paid version that lets you add many powerful and extra features.
Keeping these in mind, let's take an in-depth analysis between Windows Defender and Avast that will help you analyze and choose between the two.
Features Provided
Let's take a look at the different features both Windows Defender and Avast have to provide. Some Key points about the two before we start:
Windows Defender is a default antivirus program that comes built-in with your copy of Windows. Which means that it provides basic antivirus protection, but doesn't have the exotic features that antivirus software is coming up these days. In other words, don't expect it to be too sophisticated.
Avast is an antivirus independent of Microsoft and does not come built-in with Windows. Being a third-party antivirus, Avast has some pretty neat features, even for the free version, that is quite useful and way ahead than Windows Defender.
  Windows Defender Features
 General Virus & Threats: Windows Defender provides an option to initiate a full scan, real-time protection, a scheduled scan, and even an offline scan. It will scan for the malware that might be present in your computer and subsequently remove them.

System Performance and overall health: Windows Defender clearly shows you your system's status, which is pretty convenient. From system updates and driver updates to Battery and storage status, Windows Defender will provide you the information regarding these. However, bear in mind that it might not detect some of the issues regarding your battery or drivers & other updates.
Firewall and Network & Parental Controls: Windows Defender boasts its very own firewall that lets you safely browse the web and protects you from web threats. You might have also come across SmartScreen, that checks for unsafe websites or third-party applications that you might be trying to install on your system. This makes sure no malware comes up on your PC. Note, however, that SmartScreen helps protect your browsing experience only in Microsoft's own Edge Browser and not third-party browsers like Chrome.
You also get the feature of Parental Controls with Windows Defender. Now, with Windows Defender, parents can set how their kids view content along with duration making every parent's job easier.
Now that we have talked about Windows Defender, let's take a look at the features provided by Avast Antivirus.
Avast Antivirus Features
Pretty much all the features that you get in Windows Defender are present in Avast and maybe even a little more. These extra features that come in Avast's free version are strong enough to compete in the market with other antiviruses offering the same features for a price.
Let's take a look at some of the best Avast Features:
Scan- Avast features a wider variety of scan modes like Smart Scan, Full Scan, boot time scan and more.
Avast also has a passive mode that lets you run other antiviruses on the same system. Pretty sweet if you want to try out your options!
Wifi Inspector: For web browsing protection, Avast provides this tool to notify you whenever you might be visiting an unsafe website and more. And no doubt, Avast does a better job at this than Windows Defender. Furthermore, Avast also has an email client protection service so that your Emails are more secure than ever.
For Windows Defender the email client protection service only works for Microsoft's very own Outlook.
Rescue Disk: This is again another cool feature that you will in the free version of Avast Antivirus. Basically, this tool will locate unnecessary files on your system and remove them to create more space. And do not worry, it will not remove any of your personal or sensitive system files!

Now that we have gone through their features, you might have a better understanding of Windows Defender and Avast Antivirus. Keeping these in mind, we will conclude this article with a brief overview of the comparison between Windows Defender and Avast Antivirus.
A Brief Comparison (Avast vs Windows Defender)
Let's a take on the overview for comparison of Avast and Windows Defender in different areas:
Features- It is pretty clear that Avast has better and more innovative features than Windows Defender, not to mention it has everything Windows Defender provides. So clearly, Avast wins this category.
Effect on System's Performance– Avast is more storage efficient will actually have less of an impact on your system's performance than Windows Defender.
Overall Protection- Avast's scanner, as well as Malware detection, is way more advanced than Windows Defender provides better overall protection.
Interface– This is one area where Avast fails. Windows Defender has a clean and simple interface which makes users who are not too tech savvy easily use an antivirus.
So that was all for Windows Defender vs Avast!
We strongly recommend you to go for AVAST only if you are a regular internet user.
Final Take
We hope that by reading this article you were able to get a sense of both Windows Defender and Avast, and were able to judge which antivirus is better for your Windows PC. If you have any further queries you can drop us a comment below and we will do our best to get back to you with a relevant answer.