Are you a fan of transferring data across multiple devices conveniently and at lightning speed? Then you must have heard of the popular Android application SHAREit that has become extremely famous in recent years. SHAREit's sophisticated UI and high transfer speed make it ideal to transfer pretty much anything over devices, instead of using the old era slow Bluetooth Transfer.
In this Article, we will be discussing how you can download and Install SHAREit for PC and how you can use it one step further for file transfer to and from your PC.
Let's get started!
SHAREit For PC
Is SHAREit available for Windows PC?
Thankfully, yes. The SHAREit application can be downloaded for your PC and used in a similar manner as you use it across mobile devices. It is convenient, easy to use and allows fast transfer of files between your PC and other devices. Not to mention, it is completely free of cost.
How to Download SHAREit for Windows 10/8?
There are two primary methods with which you can use SHAREit on your PC. These methods have been outlined below:
1. Windows Store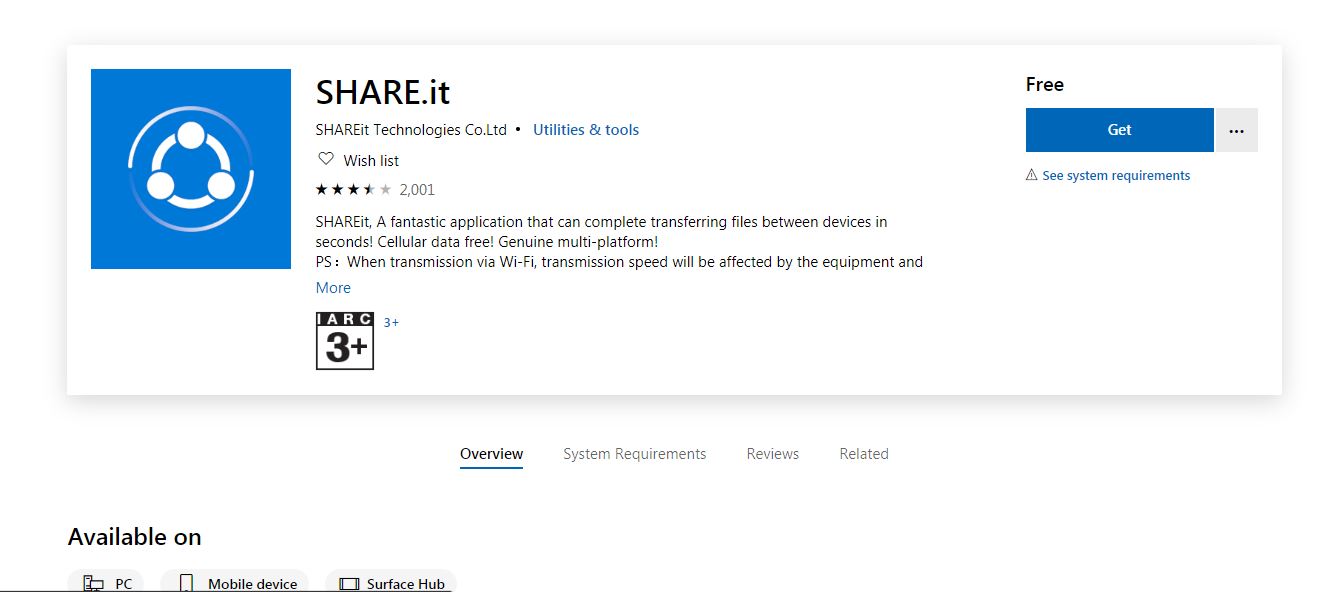 Conveniently enough, the SHAREit application for PC is available on the Windows Store, which makes things extremely simple for you. To get the app:
Run the Windows Store
Search SHAREit in the search bar
Once the application comes, click on it to open the App Page on the Store
Click on Get and start downloading
Now, your application will download and once it is downloaded, you can start using it.
2. Desktop Software
You can use the SHAREit desktop application without getting it from Windows Store. It is a little different than the application you will download from the Windows Store, but it is verified and in some aspects might be easier to use than the Store-downloaded software.
You can get SHAREit for PC from here.
How to Use SHAREit on Windows PC?
Let us now look at how we can use SHAREit for the PC. We will discuss how to transfer files from Device to PC, as well as your PC to Device. Let us first have a look at how to connect your PC and device on SHAREit.
How to Connect your Device and PC using SHAREit
Before this, make sure you have the working SHAREit app both on your Device and PC. To connect your Device and PC using SHAREit, follow the steps below: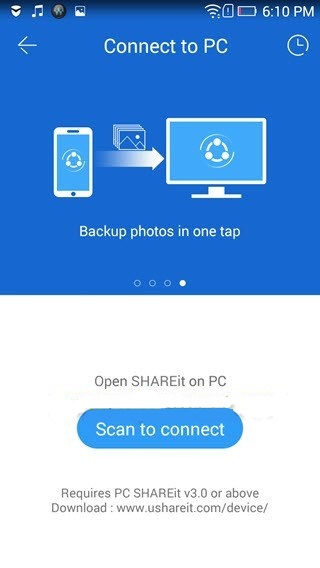 Connect your PC and Device to the same WiFi Network
On your PC, run the SHAREit application
Find the QR Code on your Windows Application and keep it open
Now, run SHAREit on your Device, tap Open Main Menu
Select Connect to PC
Scan the QR Code
Your PC and Device will now be connected without any problems.
Use SHAREit to Send Files From PC to Device
To transfer files from PC to Device, you need to first connect your PC and device, as demonstrated previously.
On your PC application, you will see icons to select Pictures and Files from your PC which you can then easily send over to your Device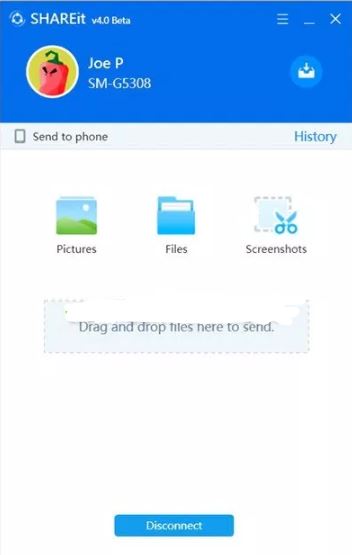 Use SHAREit to Send Files From Device to PC
To transfer files from your Device to the PC, just like before you need to make sure that the device and PC are connected. Steps for this have been described in a previous section. Then:
Find the SHAREit screen on your Device once it is connected
You will various icons such as Photos, Files, PPT Control, etc.
Select any file or photo and simply send.
That's it! Now you can transfer your files from PC to Device at super speed.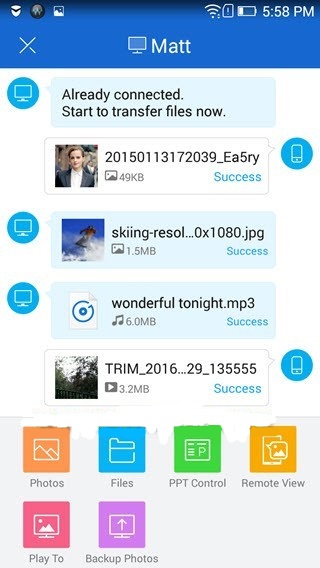 Final Take
We hope that by reading this article you were able to understand SHAREit and how to download, connect and use to transfer files between your PC and Mobile Device. If you have any further questions regarding the information or methods present in this article, you can drop us a comment below and we will do our best to get back to you with a relevant answer.
That will be all for today's article about SHAREit for PC and Everything You Need to Know
Keep reading more interesting articles on our website.