From Youtube to the silver screen, video editors create digital masterpieces that have the power to entertain millions of people. But how do they do it? What tools do they use? Across the industry, there are some standard products that all professional video editors invest in for their art.
Whether you're trying to take your first stab at editing, or if you're just trying to step up your game, here's a list of all the essentials you'll need to climb the Hollywood hierarchy.
6 Products Every Professional Video Editor Must Use
A Top-Notch Computer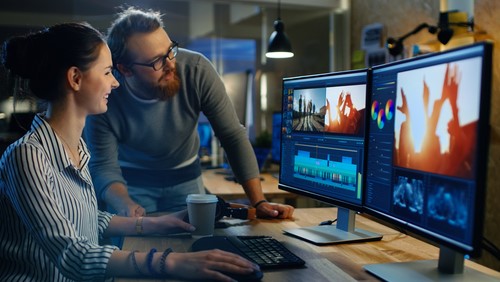 The majority of video editors use a powerhouse PC to run their editing programs, and they rely on external monitors to provide the visual display. Standard editing software, such as Avid or Adobe Premiere, require hefty amounts of RAM, processing power, and graphics capabilities to handle the large amount of data being worked on.
Apart from the basic components, a thunderbolt port is ideal for editing professionals who want to hookup high resolution monitors. This nifty peripheral cable/port pairing allows you to send and receive information at lightning fast speeds, making it perfect for the complex adjustments made to digital files during the editing process.
An Editing Keyboard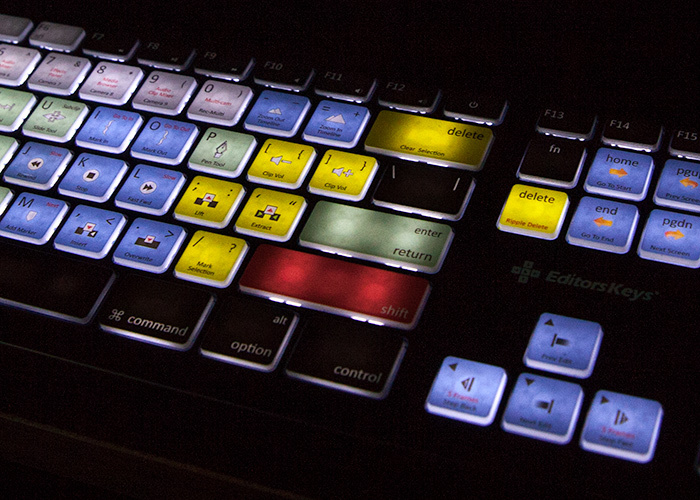 In addition to a powerful computer, an editing keyboard will help take your skills from amateur to pro.
These specialized keypads use color groups and symbols to help you find the standard shortcuts on editing software so you can cut videos without wasting any precious time. Specialized boards can even be made for sound editing software so you can switch out your tools depending on what stage you're in on the editing process. Speed up your process so you can churn out more work in less time.
Wireless Headphones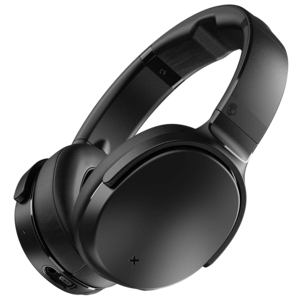 What sets apart a good editor from an extraordinary editor is their ability to manipulate audio so that it immerses in you in the film. Bad audio disrupts the entire viewing experience, which is why it's critical for serious editors to invest in quality headphones.
Ditch the dinky earbuds in favor of heavy-duty wireless headphones that don't tie you to the desk with a restricted cable. Walk around the room, turn your back on the screen, and move your head freely without worrying about having your headphones yanked off your head. Editors will sit behind computers for hours at a time, so it's important to make sure you're completely comfortable and have the best possible audio experience.
An Ergonomic Chair
As mentioned, editors live at their desks. That's why an ergonomic chair is essential for anyone looking to dive head-first into the industry. Look for an office chair that has proper lumbar support so you don't end up with back issues later on down the road.
Armrests are also incredibly useful when you want to sit back and watch the work you've created. Headrests can also help take pressure off your spine so you aren't sore at the end of a long session. And make sure the chair you choose has wheels so you can move around the room with ease!
Black-Out Office Curtains
If your editing space has windows, you're going to want to invest in blackout curtains. Glares can completely kill an editing session by messing up your perception of colors when you're trying to do precise color correction work.
Also, constantly squinting to see past the glare is terrible for your eyes. Blackout curtains are also useful if you have clients coming over to view your progress on a project. Create a rich, cinematic experience by darkening the room like a movie theater. Whether you work from home or from a Hollywood backlot, you'll be grateful for this sun-blocking essential.
External Hard Drives
After taking on more and more projects, you're going to have a lot of files and footage that simply won't fit on your computer's storage space. That's where external hard drives come in. Because you're working with large amounts of data, you're going to want to invest in hard drives that hold several terabytes of information.
Make sure to label them and keep your drives organized so you can easily grab old projects when you need them! Hard drives are also a great way to store your movie collection—just burn DVDs to digital files!
Final Words
With these items crossed off your shopping list, you'll have the green light to start editing like a pro. Happy editing!