If you're on this page, your last search was most definitely "Odin Download", wasn't it? Or atleast something very closely related to Odin. Well you've found the right shelter.
Throughout this piece, we'd be getting you Odin direct download links, as well as covering some basic answers to questions like:
What is Odin?
How to Download and Install Odin on PC?
How to Use Odin on Windows?
What are the Best Odin Alternatives?
 What is Odin?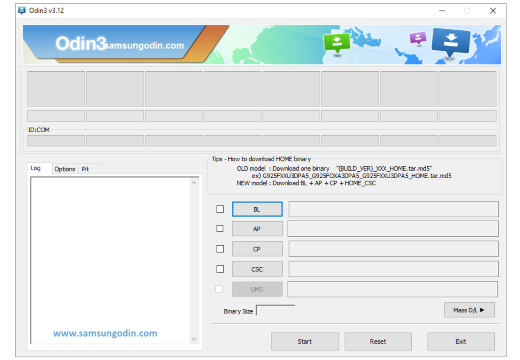 Even though you wish to download Odin, you may not have the full picture of what Odin actually is. It's a tool which lets you install Samsung Stock as well as custom ROMs on a Samsung Device. Some other uses may be Rooting a device, flashing custom recovery, flashing Kernal etc.
Odin was developed by Samsung itself and hence using it is neither a security risk, nor illegal. Although it's available only for Windows platform.
Worry not, we've listed Odin alternatives for Windows, as well as for other operating systems such as Linux and MacOS in the later sections as well.
Download Odin for PC [Working Links]
Before doing anything else, you'd need to download Odin. Here are the download links to various versions of the app:
Pre-Requisites to Install and Use Odin
Odin isn't a very demanding application, yet it has some basic requirements which should be met before the software can be used to its full potential.
Back your Data up so in case of a mishap, you don't lose it.
Samsung latest drivers.
USB Cable.
Windows OS.
Administrator privileges on the system.
The firmware you wish to install on your device.
How to Install Odin on PC?
Installing Odin is no harder than installing any other software on your system. Infact it's much simpler. That's because Odin is Portable.
What this means is, you don't have to "install" Odin, it can be run directly from the downloaded executable file without the traditional installation.
Upon extraction, you should see two files named "Odin 3.ini" and "Odin 3_version.exe" (the "version" would be replaced by the exact version of your Odin file).

Run the .exe file as Administrator (right click > "run as Administrator").

Done! Odin will now launch directly.
How to Use Odin?
Note that Odin is a multi-faceted tool. Meaning it can be used for a number of reasons and hence there's no one way to use Odin.
Although I'll walk you through the basics of understanding Odin, these will help you get most of the other things done.
The first step you need to do is, get to your Device's (mobile's) "Download mode". That can be done by first turning off the phone, and then holding the following buttons simultaneously:  power + volume down + home.
Then there'll be a vibration buzz, when that happens release the power button. The screen will now display a yellow triangular mark, when that's shown press the volume up key. You should now see "Downloading, Do not turn off Target" message.
Launch Odin and now connect your Smartphone to your computer using a USB cable. Here's what the Odin screen looks like: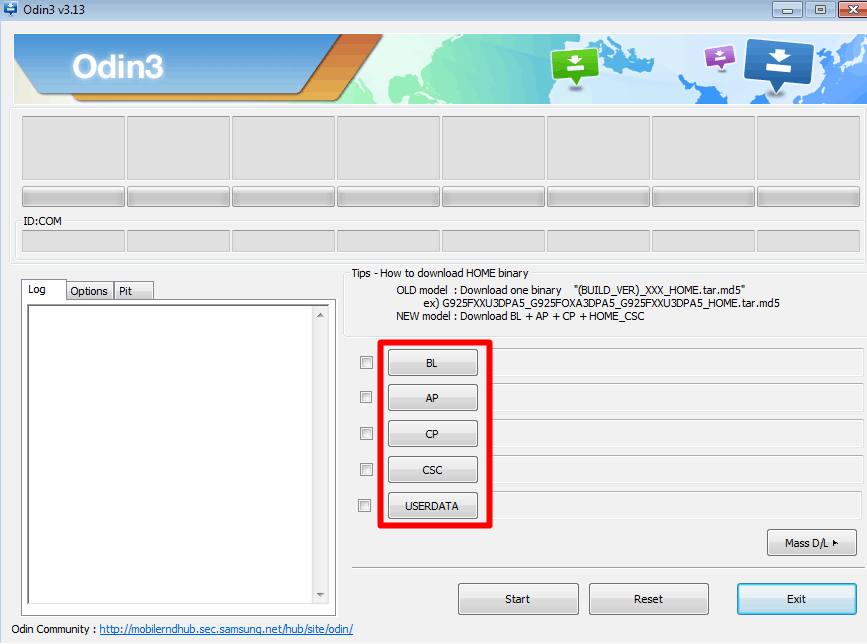 The 4 primary options it provides are:
BL : Bootloader – When you wish to install Bootloader on your device.
AP: Earlier known as PDA- Lets you install official Samsung firmware.
CP : Core Processor – When you wish to flash individual hardware components of the device.
CSC: Consumer Software Customization – Lets you install country-specific software.
Now you should click on one of the above options depending on what you want to flash. AP is the most used option, anyway clicking on either of them will bring up a file-selection box.
Select the firmware which you wish to install on your Samsung device and click Open.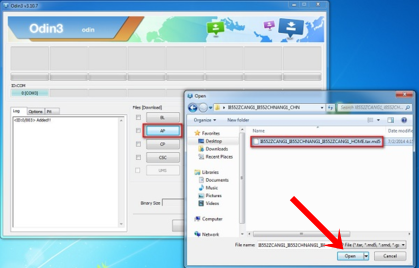 The firmware will get loaded onto Odin. Now you should click on the Start button on Odin.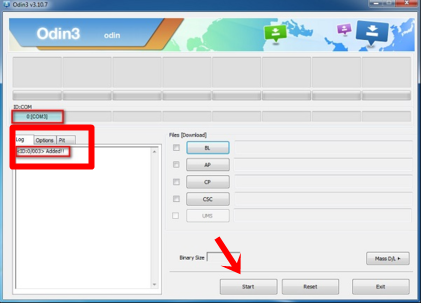 Done. There's a progress-notification on top which would show you the status of the process, wait till it turns green and displays "Pass". That's what indicates the successful completion of the process.

Once done, your device would reboot automatically. Done.
What are the Best Odin Alternatives?
Here are 5 Best Odin alternatives you can use in case Odin isn't working out for you.
Conclusion
So that's me signing off as far as this piece on Odin download goes folks. Using Odin isn't all that hard, not if you go through the tutorial provided above.
Also the plethora of links should facilitate a suitable download for you regardless of which version you want. Just make sure whatever change you're making to your device, you have good knowledge/tutorial for it.
That's simply because if something goes wrong, your device has a chance of being permanently bricked and it'll be rendered useless. Anyway, do drop your two cents on this Odin download article and let us know if you've got questions.
Copyright Notice: No copyrights intended for any images, all rights rest with their respective owners (if any).