The last trimester of pregnancy can be an exciting and challenging time for expecting mothers. As the due date approaches, there are many necessary steps that women can take to ensure the health and well-being of both themselves and their babies.
However, some common mistakes expecting mothers make during this time can negatively impact their pregnancy experience and ultimately harm their baby. This article explores eight common mistakes most mothers make during their last trimester and provides tips and advice for a healthier and more comfortable pregnancy experience.
Excessive Traveling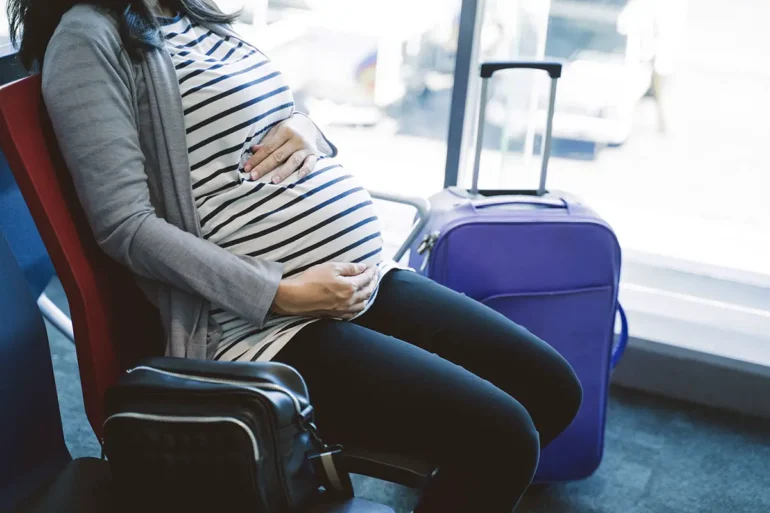 Excessive traveling during the last trimester of pregnancy can be risky and may increase the likelihood of preterm labor and other complications. Pregnant women need to discuss any such travel plans with their healthcare provider and follow their recommendations. In some cases, travel may be safe with certain precautions, such as wearing compression stockings and taking frequent breaks to stretch and move around.
Nevertheless, to avoid any complications, such as preterm labor or injuries, it is best to avoid traveling.
Mothers-to-be should also know, however, that if a birth injury occurs due to the failure of a healthcare organization to provide appropriate medical care during delivery, families can take legal action. Organizations like the Birth Injury Justice Center can provide legal support and guidance for families seeking compensation for injuries caused by medical malpractice or negligence.
Skipping Prenatal Appointments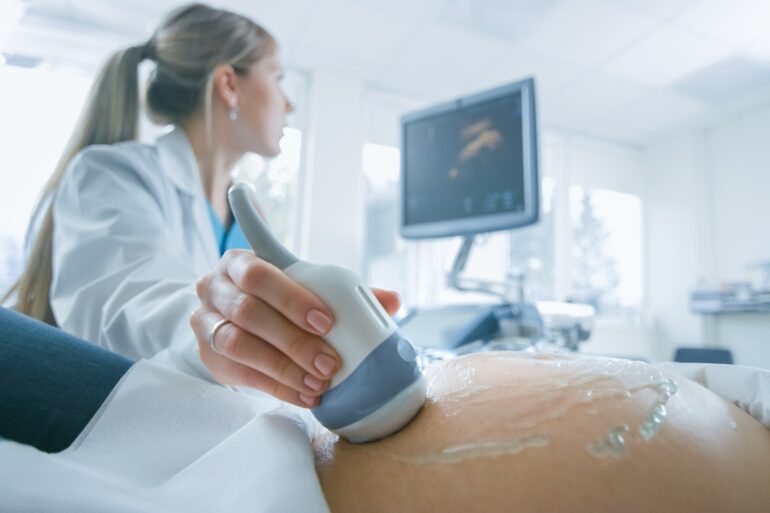 Skipping prenatal appointments can also be a common mistake moms-to-be make during the last trimester. Prenatal appointments are essential to ensure the health and well-being of both the mother and the baby. These appointments provide healthcare providers with an opportunity to monitor the progress of the pregnancy, identify any potential complications, and offer guidance on how to manage any issues that may arise.
To avoid future complications, it is imperative for expecting mothers to attend all scheduled prenatal appointments and communicate openly with healthcare providers.
Googling for Medical Assistance
Many of us are guilty of turning to Google for medical advice, whether experiencing a minor symptom or a more serious concern. While the internet can be an excellent source of information, relying on it as a substitute for professional medical advice is not recommended, especially during pregnancy.
It is important to consult with a healthcare provider for any questions or concerns about yourself or your baby's health.
Medical professionals have the knowledge and expertise to provide individualized advice and guidance based on your medical history and current condition and may conduct necessary tests or procedures to monitor your health and your baby's condition throughout the pregnancy.
Using Google as a doctor during pregnancy can lead to unnecessary worry and anxiety. Searching for medical information online can often result in conflicting or inaccurate information, which can be confusing and overwhelming. It can cause unnecessary stress and impact both the mother and the baby.
Neglecting Exercise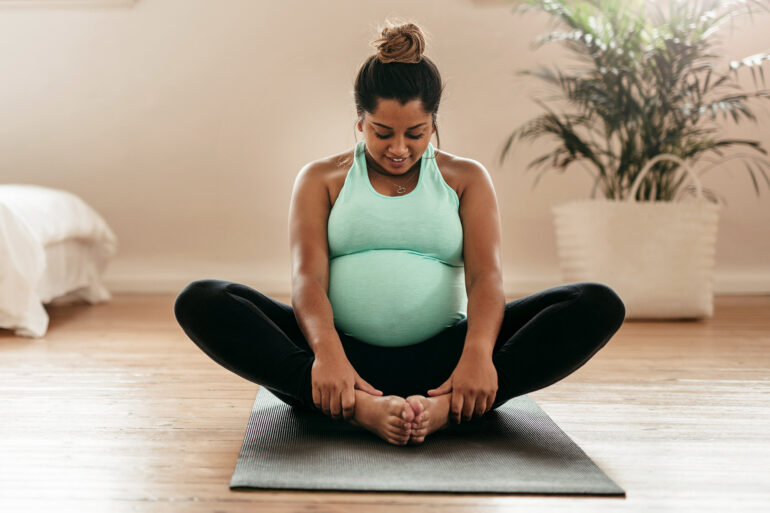 Neglecting exercise during the last trimester of pregnancy can be a frequent mistake moms-to-be make. While it is understandable that women may feel increasingly tired and uncomfortable as their pregnancy progresses, staying active can have numerous benefits.
Regular exercise during pregnancy can help improve sleep quality, reduce stress and anxiety, and promote overall physical and mental well-being. However, pregnant women must avoid high-impact activities or exercises that may increase the risk of falls or injury. Low-impact activities like walking, swimming, and prenatal yoga are encouraged during pregnancy. However, moms-to-be should discuss their exercise routine with their healthcare provider and follow their recommendations before implementing such tips.
Wrong Sleeping Posture
During the last trimester of pregnancy, many women may experience difficulty finding a comfortable sleeping position. However, it is crucial to avoid sleeping on the back as it can increase the risk of stillbirth.
A comfortable sleeping position can be achieved by using a body or wedge pillow to support the belly and back. Pregnant women can also try sleeping with a pillow between their knees to help reduce hip and back pain. Additionally, expecting mothers should stay hydrated and avoid consuming large meals or drinks before bedtime to help prevent discomfort and heartburn.
Overeating During Pregnancy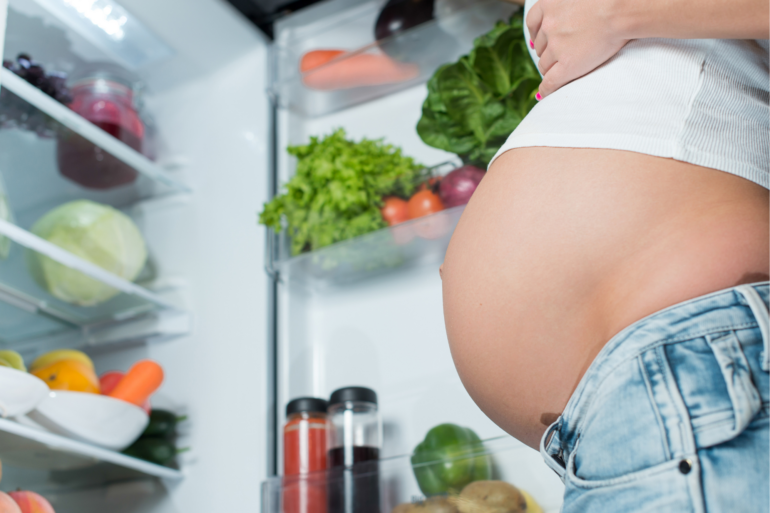 While it is true that pregnancy can cause increased appetite and cravings, maintaining a healthy and balanced diet is essential to ensure the well-being of both the mother and the baby.
Overeating can lead to excessive weight gain resulting in health risks and pregnancy complications. In addition, it can also make it tricky to lose weight after delivery.
It is crucial to listen to the body's hunger and fullness cues and to consume nutrient-dense foods that can provide essential vitamins and minerals. Eating smaller, frequent meals throughout the day can help maintain energy levels and prevent overeating.
Ignoring a Doctor's Advice
Ignoring a doctor's recommendation is not a road you might want to take in your last trimester. It is important to remember that healthcare providers have the expertise and experience to provide the best guidance and care for the mother and the baby.
Ignoring a doctor's advice can lead to crucial complications affecting the baby's health.
Hence, it is vital to establish open communication with healthcare providers and ask any questions or concerns that may arise. Healthcare providers can provide essential information about nutrition, exercise, prenatal care, and other important factors that can help promote a healthy pregnancy.
Getting Insufficient Sleep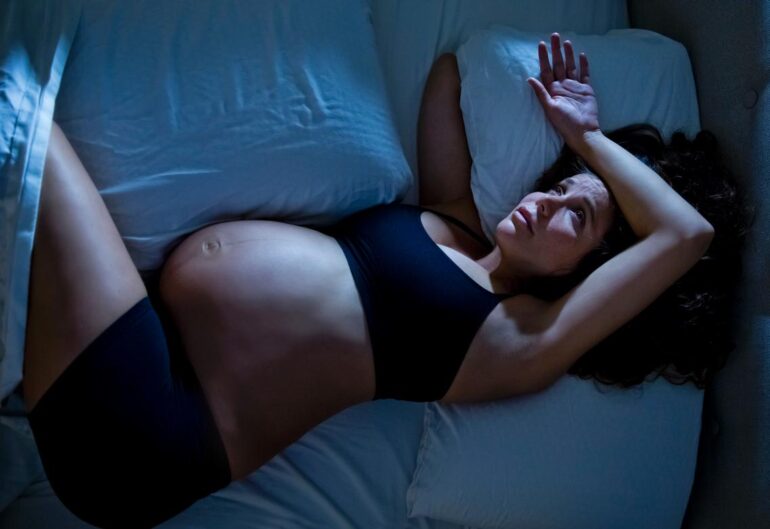 Not getting enough sleep is a common problem for pregnant women. Nevertheless, adequate sleep is imperative for the mother's and baby's overall health and well-being. During pregnancy, hormonal changes and physical discomfort can make it increasingly challenging to get adequate sleep.
Therefore, moms-to-be should establish a regular sleep routine and create a sleep-conducive environment. This may include avoiding stimulating activities before bedtime, such as watching TV or using electronic devices and creating a relaxing atmosphere in the bedroom.
Conclusion:
In conclusion, the last trimester of pregnancy is a critical time for the health and well-being of both the mother and the baby. It is essential to prioritize healthy habits during this time and seek guidance from healthcare providers. By establishing open communication with healthcare providers and making informed decisions, moms-to-be can ensure a healthy and safer delivery.