Windows 10 is a sure shot to leave a mark on anyone's mind when he uses it. Its great user-experience is the key factor for this. However, sometimes users also encounter a bitter-sweet experience on the same Windows 10 Operating System. This happens due to the arising of errors and bugs. In this post, we will discuss one such error. The error which many Windows users faced when they upgraded their system to the latest version, especially the gamers. We will discuss NVIDIA Installer Failed issue.
We will provide relevant information about the topic along with the Top Solutions to fix the error.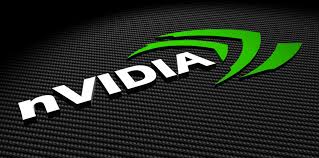 What is NVIDIA Installer Failed error?
NVIDIA Installer Failed is a common Windows error that especially the gaming users experience while trying the setup of NVIDIA. This error can generally occur on any version of Windows, be it Windows 7, 8 or 10. Though after updating to the latest version, a lot of users came across this problem is. The major problem that arises when you encounter this error on Windows 10 is that you cannot simply update your Windows to fix the error. As, when you are using Windows 7, you can resolve the issue by upgrading to SP2 and on Windows 8, you can upgrade to Windows 8.1 to solve the problem. However, on Windows 10 you are already on an updated system, so you need to fix this error yourself.
You don't have to worry much as I've compiled a list of Top Solutions to get rid of this error. Before moving on to the solutions, let's take a quick look at the causes of this error.
What causes NVIDIA Installer Failed error?
After you upgrade your system to Windows 10, Windows Update will attempt to download and install GPU drivers in the background. This can sometimes consume up to 5-10 minutes. If you try to install NVIDIA driver during this time, you would probably get the installation failed error. Also, certain malware or viruses can cause this error. There are some other but rare reasons too, but you don't have to worry about them here. You can now quickly hop to the Solutions and use them to resolve the issue. However, don't skip the next section as you can simply solve the problem only by fixing the shortcomings without having to use the solutions.
Things to check before using the solutions
There are several conditions that may lead to the NVIDIA Installer failed issue. So, you can simply correct them and get rid of the trouble. These are the things you need to check before actually trying the solutions: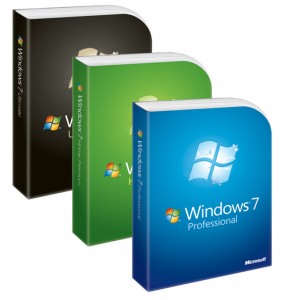 As I mentioned earlier, make sure Windows is running on the latest Service Pack. This means if you are on Windows 7, use SP2. Or, if you are on Windows 8, upgrade to 8.1.
Check if your motherboard BIOS is running the latest firmware.
Make sure the Hard Drive is not too full. There were many cases when NIVIDA setup could not extract the packet into the Temp folder because the target drive didn't have enough space.
Check if the onboard graphics chipset is deactivated and BIOS is set to use current discrete video card as main.
Antivirus program or Firewall should not give any issue but still, give it a check. Disable it just in case. Don't forget to enable it the next time you browse the Internet.
Try your video card in a different slot or a different computer to see whether the same issue occurs. You may discover a way to rule out the possibility that the motherboard or the video card is defective.
If everything is fine and none of these is the culprit in your PC, scroll down and try the Solutions mentioned.
How to fix NVIDIA Installer Failed error?
There are Top 2 Solutions available to fix the NVIDIA Installer failed error. Both of them are very easy and doesn't differentiate between a rookie and a pro. Just follow the step-wise tutorial present with each method.
1. Update NVIDIA Drivers
You can update the NVIDIA Graphics drivers either automatically or manually. I will demonstrate both the ways step-by-step. Follow the steps properly in order to resolve the issue.
(i) Update drivers automatically
Step-1: Click and go to this Page in order to update the driver automatically. As soon as you visit this page, the website will start scanning automatically like shown in the below image.
Step-2: After the scanning is completed, the website will suggest you to download and install the drivers. Follow their instructions.
(ii) Update drivers manually
Step-1: Press the Windows + X key and select Device Manager.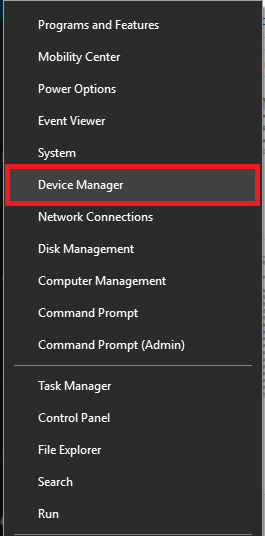 Step-2: In the Device Manager, find and expand Display Adapters.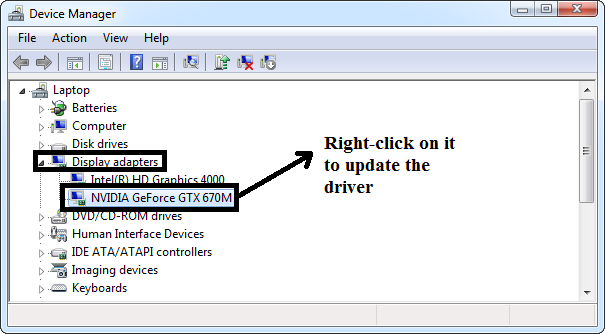 Step-3: Now right-click on Nvidia Geforce Drivers and choose Update driver software.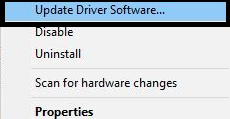 Step-4: Next, select "Search automatically for updated driver software."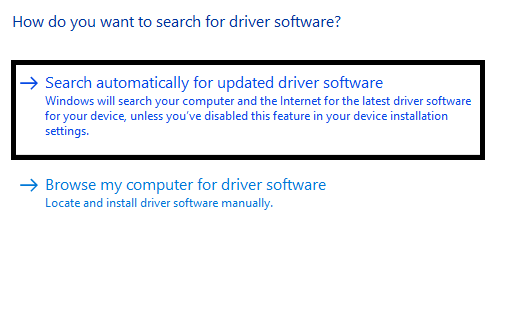 Step-5: Then Windows will search online for the available updates. Make sure you have a running internet connection. If an update is available, download and install it.

If no new update is available, you will see something like this:

Skip to the next method if you are still in trouble.
Also Read: How to Fix Unable to Connect to NVIDIA Error
2. Kill and Remove NVIDIA Processes and Redundant Files respectively
You can kill all NVIDIA processes and remove the redundant files to fix the NVIDIA Installer failed error. Follow these steps in order to resolve the issue:
Step-1: Press Ctrl+shift+Esc keys together to start the "Task Manager".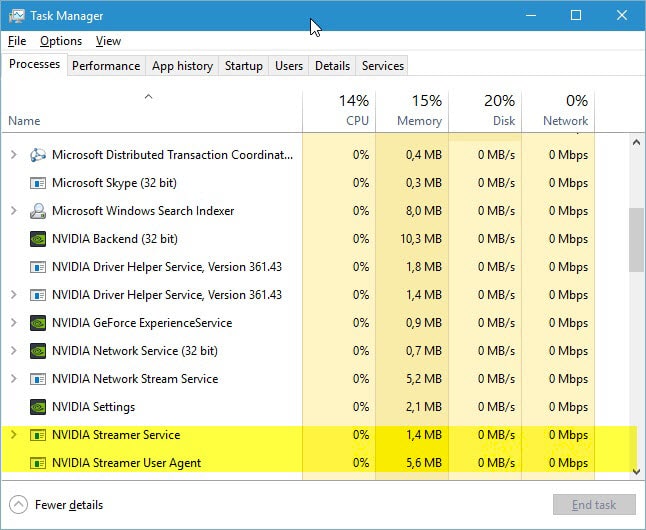 Step-2: Switch to the Processes tab, in the task manager and select every process related to Nvidia, right-click on it and select End task to close the process.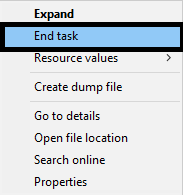 Step-3: Navigate to and remove the files in the C:\ drive :
C:\windows\system32\DRiverStore\FileRepository\nvdsp.inf file
C:\windows\system32\DRiverStore\FileRepository\nv_lh file
C:\windows\system32\DRiverStore\FileRepository\nvoclock file
C:\Program Files\NVIDIA Corporation\
C:\Program Files(x86)\NVIDIA Corporation\
Step-4: Restart your computer.
Step-5: Try re-installing the NVIDIA driver and make sure you install as custom install.
Summary
NVIDIA Installer failed is a common issue that Windows users, especially the gamers experience. These were the Top 2 Methods to fix the error. Another way to get rid of this error is to perform a clean installation of  NVIDIA Installer. You can do a quick Google search to know how or ask me in the Comments section below. Also, do visit the Comments sections if you have any query or doubt related to this topic. For further help, you can also visit GeForce Forum related to this problem. Hope I helped you. Have a nice day, Folks!