Windows license issues are something that all users face once in a lifetime. You bought the official OS from the Microsoft store of Windows 10,8.1 or 7 and on a very random date this message pops up – "Your Windows License will Expire Soon; you need to activate Windows in PC settings." and the expiration date is far beyond the day.
The PC starts misbehaving as if it reboots in every 2 hours. This sign towards that the activation is necessary but why?? Since we updated the Windows right from the licensed scratch of Windows 8 or 8.1 or 7 thus the update to Windows 10 should be free.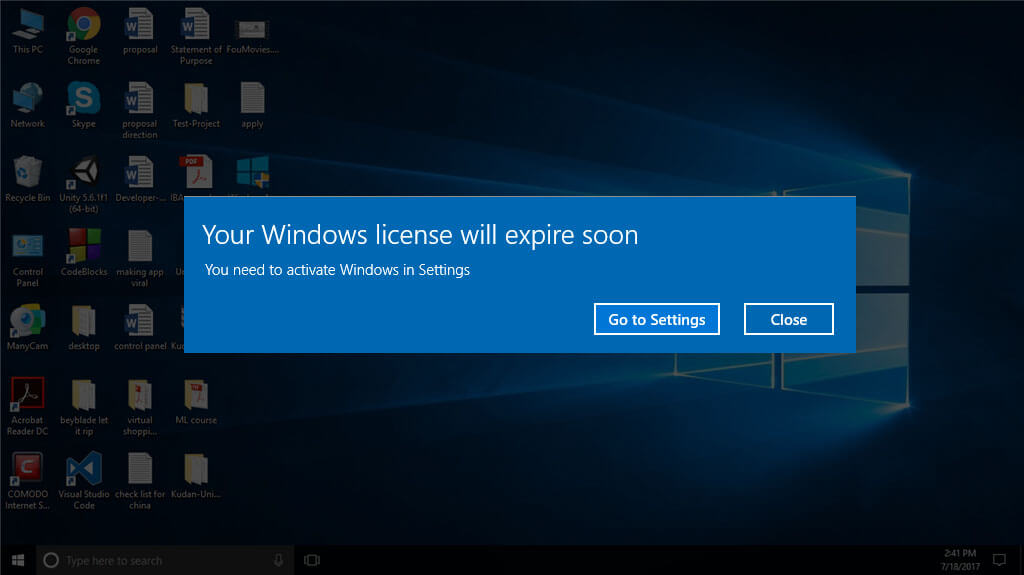 Once you decide to break into the Settings>Update and Security>Activation Tab  you might find the same error message in highlighting red warning color as:
"Your Windows license expires on _(the date)_. Contact your system administrator to get a product key. Error code 0xc004f074"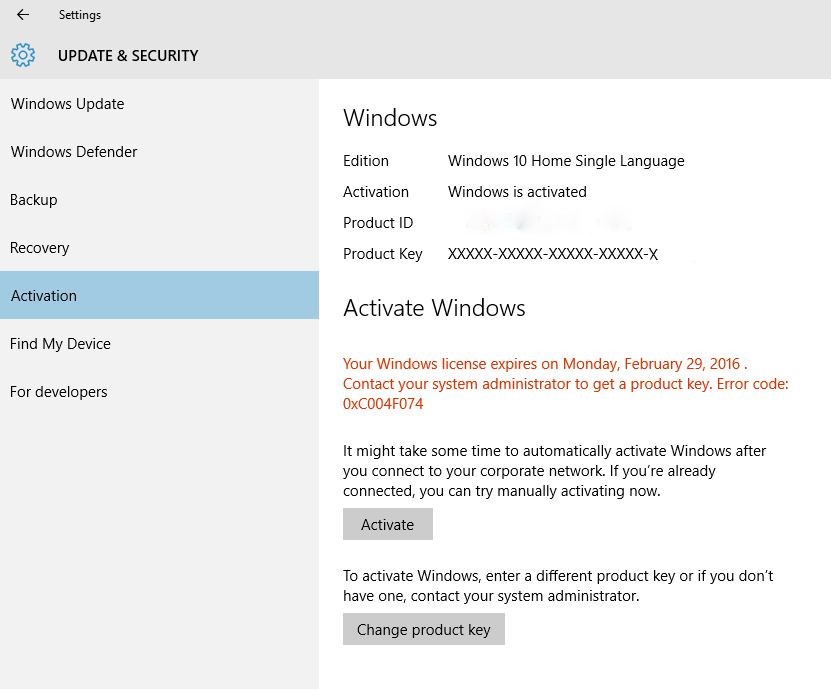 But don't worry we are still here so that your money does not go into vain and you can reactivate your windows without buying a new license key.
Let us see how to address the error code 0xc004f074 along with "Your Windows License will Expire Soon" error.
Note that this error is common in Windows 10 and Windows 8 users.
How to Fix "Your Windows License will Expire Soon"
If you recently bought a machine with a pre-installed licensed Windows 10 on it and you are getting the"Your Windows License will Expire Soon" message, it is better to contact the dealer or manufacturer and convey this issue so as to get an official help. This is because the license key is embedded in the system's BIOS and as a non-professional, we strongly recommend that you do not handle the BIOS on your own.
If you updated your Windows and still getting the license expiry messages then continue reading. We have multiple ways to fix your windows license will expire soon error message.
Most of these methods will help extend the trial duration which essentially will help you get rid of the annoying 0xc004f074 error message.  
1. Use a Command line
The slmgr command is pretty useful for the activation purposes.
It can be used to look up activation key, delete the product key and even change it. but in this case, we are using it as a trial extender.
It seems like the Windows is treating you as a trial user which only has a validity of 3 months. In order to extend it up to a year, follow the steps below:
Press Windows Key and in the Cortana search type in "Command prompt".
Right click over it and chose Run as Administrator from the options. This will launch the "Command Prompt Admin".
In the black console, type in the following command:

slmgr -rearm
Restart Windows and you will get a trial extension of 30-days so in that period you won't receive any Activation error messages such as "Your Windows License will Expire Soon error code:  0xc004f074".
2. Edit Windows registry to extend the trial period
This can be repeated only 3 times so you won't be able to rely on this always.
So the very next step is to edit the Registry so as to get a trial extension of over 360 days that is to avail the same option 8 times.
From the "Cortana Search" Open Run and type in "regedit" to tap into the registry editor Window. 
In the Registry Editor Window Navigate to the path below:

HKEY_LOCAL_MACHINE\SOFTWARE\Microsoft\Windows NT\Currentversion\SL

Find the SkipRearm key and right-click over it and choose the Modify option to change the integer to 1.
Now follow the above procedure again of executing a slmgr command again and you will get the extended 8 times usage of the same process.
Hope this Solution resolved error code:  0xc004f074.
3. Remodel your Group Policy
This solution is one of the best fixes to address the license issue.
The group policy contains the Windows components which can enable users to manipulate the Windows update settings so as to fix the activation issue. In order to perform this:
Press the Windows key and launch Run application.
In the text-field, type-in "gpedit.msc" and hit Enter. This will launch the Local Group Policy Editor.
In the left pane of the Local Group Policy Editor Window, find Computer Configuration and expand it to get into Administrative Templates and then to Windows Components > Windows Update. 
In the right pane of the Window, Find and double-tap on No auto-restart with logged on users for scheduled automatic updates installations.
A new Window with the same name will pop open. And in the very left corner of that Windows, you will find three options. Toggle it to Enabled and click on Apply and OK to save changes.
Congratulations!! "Your Windows License will Expire Soon" activation issue has been resolved successfully. This doesn't even require a restart.
You can check if the issue still persists by navigating to Settings>Update and Security>Activation Tab.
4. Use Windows 10 Activation Troubleshooter
The activation troubleshooter might help you to get rid of the repeated flashing of "Your Windows License will Expire Soon" licensing problem error message. 
Windows inbuilt resolving algorithm will automatically detect the potential errors and apply the fixes accordingly. To make this happen:
In the Cortana Search, type-in "Update & security". Tap on the first search result.
Furthermore, navigate to  Activation tab in the left pane menu. This window enlists several activation issues preventing your PC to activate.
Tap over the Troubleshoot button to start the Activation troubleshooter. 
This will automatically detect the possible issues and resolve them accordingly.
After the completion of troubleshooting, exit the troubleshooter.
Hope Windows troubleshooter worked out properly towards addressing the Activation error- "Your Windows License will Expire Soon". If you are still facing trouble, continue to the next solution.
5. Disable a few Windows update/activation services
This fixing method will resolve repeatedly appearing error message saying "Your Windows License will Expire Soon". Disabling few Services will prevent this error to pop -up on the screen and even prevent PC from shutting down frequently.
Push-down Windows + R keys together to launch the Run app.
In the text field, type in "services.msc" and hit Enter or tap OK to launch Windows Services Window.
Consequently, in the Services window, goto Windows License Manager Service and right-click and select properties from the options menu.
In Properties section, for the Startup type select the Disable Radio button.
Furthermore, for the running status of the service, click the Stop button to discontinue it. and finally, tap Apply and Hit Enter to save changes.
For this Step, find Windows Update service and tap into its properties as before or simply double-click the component.
Again, hit the Stop button to Halt the service and reset its Startup type to Disabled>Apply>OK.
After performing the above procedure properly, you won't see the error message: "Your Windows 10 License will Expire Soon" ever again.
Also Read: Fix "This Copy of Windows is Not Genuine" Error
Last Words
If you ever encounter any issue again or if you still have some issues related to the same problem of activation, you can drop us a comment and we promise to revert you back. Happy fixing!!