As the temperatures drop and the days get shorter, there's nothing quite like wrapping yourself in a warm and cozy blanket to fend off the winter chill. While there are many materials to choose from, 100% cotton blankets have always been a popular choice due to their softness, breathability, and durability. In this blog, we'll take a closer look at some of the best 100% cotton blankets available in the market, designed to keep you warm and comfortable during the winter months.
Why Choose 100 Cotton Blankets?
Choosing 100% cotton blankets offers a natural, breathable, and hypoallergenic bedding solution that ensures comfort and durability. Their softness, easy maintenance, and versatility make them an ideal choice for staying warm during winter. In contrast, their sustainable and eco-friendly properties make them a responsible and cozy addition to your home.
Top 100% Cotton Blankets for Winter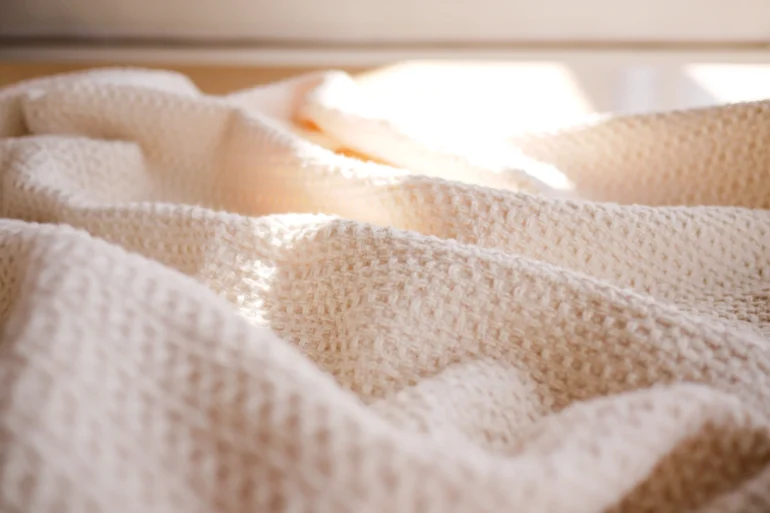 Here are our top picks for this winter, ranging from the luxury splurges to the everyday essentials, and remembering the eco-conscious choices.
California Design Den 100% Cotton Blankets
Wrap yourself in one of California Design Den's quality 100 cotton blankets and get therapeutic sleep. These blankets are crafted with the finest cotton, ensuring comfort and care for your sleep needs. What sets these blankets apart is their commitment to ethical sourcing and eco-conscious manufacturing. They are hypoallergenic and breathable, making them ideal for year-round use. Plus, they're easy to care for as they are machine washable.
Utopia Bedding Premium Cotton Blanket
The Utopia Bedding Premium Cotton Blanket is a top choice for those seeking a classic and affordable cotton blanket. It's made from 100% pure cotton, which ensures a soft and breathable feel. This blanket comes in various sizes, making it suitable for your bed, couch, or as a throw. It's machine washable and easy to maintain, making it a practical addition to your home.
Pinzon by Amazon Cotton Waffle Weave Blanket
For a touch of luxury and texture, the Pinzon by Amazon Cotton Waffle Weave Blanket is an excellent choice. This blanket is made from high-quality cotton and features a waffle weave pattern that not only adds visual appeal but also enhances its breathability. The fabric is pre-washed, making it incredibly soft right out of the package. Available in multiple sizes and colors, it's perfect for adding style to your bedroom.
Bedsure 100% Cotton Thermal Blanket
If you're searching for a versatile and lightweight cotton blanket, the Bedsure 100% Cotton Thermal Blanket is worth considering. This blanket is designed with a thermal weave that traps heat while remaining breathable. It's suitable for all seasons and comes in various colors to match your decor. The blanket is easy to care for and gets softer with each wash, ensuring long-lasting comfort.
Eddie Bauer Herringbone Cotton Blanket
Eddie Bauer is known for its quality outdoor gear, and their Herringbone Cotton Blanket is no exception. Made from 100% cotton, this blanket features a herringbone weave pattern that adds elegance to your space. It's available in various colors and sizes, making it suitable for any room. The blanket is machine washable and built to last, ensuring you'll enjoy its warmth and comfort for years.
Are Cotton Blankets Warm?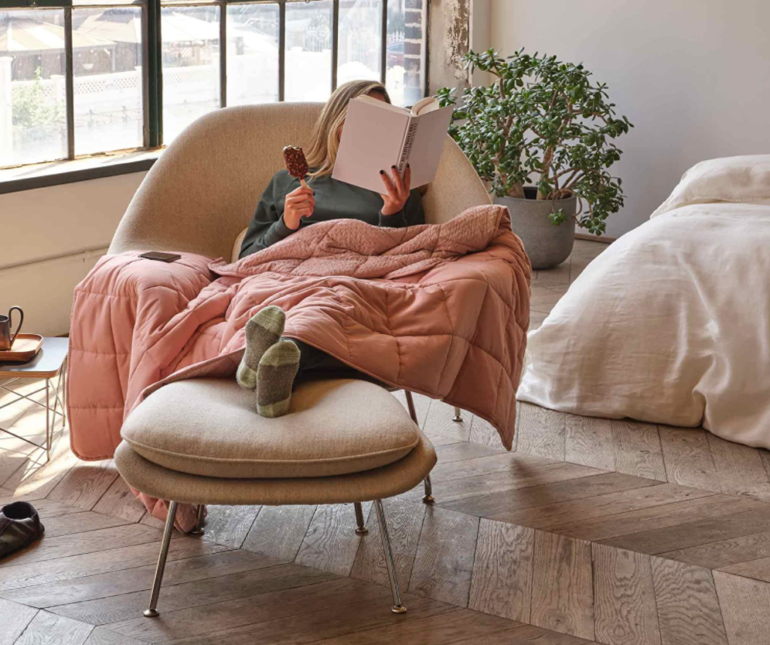 Cotton blankets can be warm, but their warmth depends on several factors, including the type of cotton, the weave, and the thickness of the blanket. Here are some considerations:
Type of Cotton
Not all cotton blankets are the same. Some cotton blankets are made from thicker and heavier cotton, which can provide warmth. In comparison, others are made from lighter cotton, suitable for spring or summer use. Look for terms like "thermal," "waffle weave," or "quilted" to indicate a warmer cotton blanket.
Weave
The weave of the cotton blanket can also affect its warmth. Blankets with tighter weaves or quilted patterns trap heat better and are generally warmer than those with looser weaves.
Layering
You can enhance the warmth of a cotton blanket by layering it with other blankets or comforters. For example, in colder weather, you can use a cotton blanket as an additional layer over a thicker, warmer blanket.
Room Temperature
The warmth of a blanket also depends on the ambient room temperature. In a well-heated room, a cotton blanket can provide adequate warmth. Still, in extremely cold conditions, you may need a thicker and heavier blanket or an additional layer.
How Often Should Blankets Be Washed?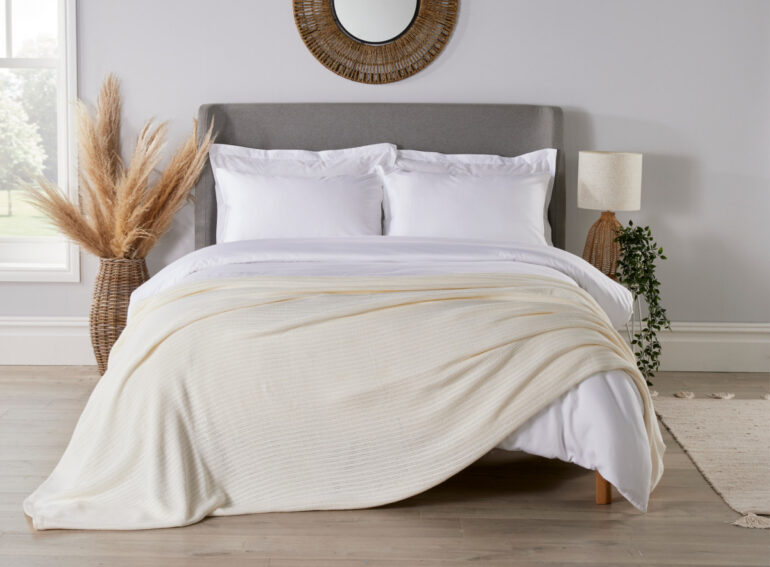 The frequency with which blankets should be washed depends on several factors, including how often they are used, personal preferences, and specific circumstances. Here are some general guidelines to help you determine how often to wash your blankets:
Regular Use (Bedding)
Suppose you use a blanket regularly on your bed, such as a top sheet or an additional layer. In that case, wash it every few weeks to once a month. This routine helps remove accumulated dust, sweat, body oils, and allergens, keeping your bedding fresh and clean.
Occasional Use (Guest or Decorative Blankets)
Blankets used less frequently, such as guest blankets or decorative throws, can be washed less often. You can typically wash these blankets once or twice a season or when they appear visibly soiled or have an odor.
Pet Owners
If you have pets that share your blankets, you may need to wash them more frequently. Pet hair, dander, and odors can accumulate quickly, so washing every few weeks may be necessary to maintain a clean and fresh blanket.
Allergy or Health Concerns
Individuals with allergies or specific health concerns may want to wash their blankets more often to minimize allergens and maintain a clean sleeping environment. This might mean washing your blankets every two weeks or as needed to manage allergy symptoms.
Seasonal Considerations
In some regions, the frequency of blanket washing may vary with the seasons. You might wash your blankets more frequently during the warmer months when you sweat more and less frequently during the winter when you use additional layers of bedding.
Takeaway
When staying warm and comfortable in winter, 100% cotton blankets are a top choice. Their natural breathability, softness, and durability make them a beloved addition to any bedding collection. Whether you prefer a classic herringbone pattern, a stylish waffle weave, or a cozy quilted throw, there's a 100% cotton blanket for every taste and need. So, this winter, snuggle up with one of these fantastic blankets and enjoy the warmth and comfort they provide.