Employees are the face of the business. Establishing a strong employee identity can benefit businesses in multiple ways. In today's fast-paced, dynamic corporate world, the level of competition has increased significantly. Customers could find it difficult to tell one employee from another if they enter your business. Employee name tags are a revolutionary way to increase the identity of your workforce.
These simple identification strategies have the power to completely alter how your company runs and prospers. Make sure to customize employee name tags for your business to build a unique identity of your business. The benefits of encouraging employee name tags inside company groups will be illustrated in this article.
Advantages Of Investing In Employee Name Tags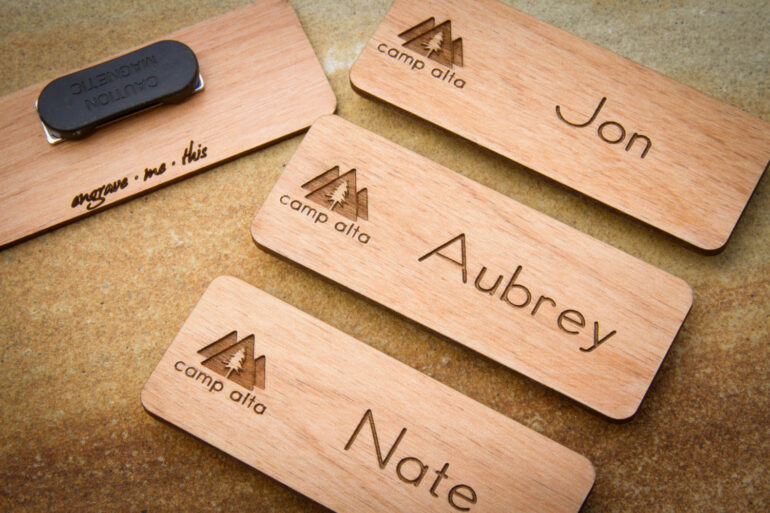 Investing in identification badges can significantly benefit your company, from developing personalized customer experiences to cultivating a sense of belonging among your team. Here are a few benefits of using name tags for employees.
1. Building Trust And Customer Confidence
Employee name tags are essential in projecting a credible and professional image since first impressions count. Customers feel more at ease interacting with personnel who are identified by name tags.
Name tags provide an individualised and personable atmosphere that encourages fruitful client encounters and trust-building. Customers are more likely to recall an employee by name, which increases client satisfaction and encourages repeat business.
2. Strengthening Security And Safety Measures
Security and safety are top priorities in any organisation. Employee name tags act as a visible identifier, making it simple to recognize authorized individuals. Businesses can restrict access to restricted areas and ensure that only authorised staff are allowed entry by adopting name tags.
This promotes general worker safety and assists in preventing security breaches. Additionally, name tags make it possible for staff members and security professionals to immediately recognize persons, fostering a safe and secure atmosphere.
3. Fostering Employee Accountability And Responsibility
An employee name tag facilitates a sense of duty and accountability among the employees. Since name tags are required for employment, employees are more conscious of how they present themselves and behave.
Employees are inspired to represent the firm well by wearing name tags because they give them a sense of ownership and pride. Name tags also make it possible for managers to keep track of and monitor worker performance, which makes it easier to evaluate worker performance and recognize exceptional work.
4. Facilitating Effective Communication And Collaboration
Collaboration and effective communication are critical for company success. The simplicity with which co-workers can address one another by name thanks to name tags lowers communication barriers. As a result, in a welcoming and warm environment, cooperation and teamwork are promoted.
When workers can immediately identify and interact with one another, collaboration is more successful and results in increased output.
5. Enhancing Brand Recognition And Marketing
Employee name tags help with brand recognition and marketing. Name tags boost brand visibility and exposure by including the firm logo and branding features. Employees effectively promote the brand when they interact with customers or attend public events.
Customers who have positive interactions with personnel who wear name tags are more likely to identify that positive interaction with the brand as a whole. Name tags are thus a simple yet efficient marketing technique that reinforces the company's brand image.
6. Improving Efficiency And Productivity
Streamlining workflow and reducing misunderstanding is critical for ensuring business efficiency and productivity. Employee name tags play an important part in meeting these objectives.
When staff wear name tags, it is easier for clients and co-workers to recognise them, which saves time on introductions and enquiries. This shortened procedure allows personnel to concentrate on their responsibilities, resulting in greater efficiency and better customer service.
7. Considerations For Choosing Employee Name Tags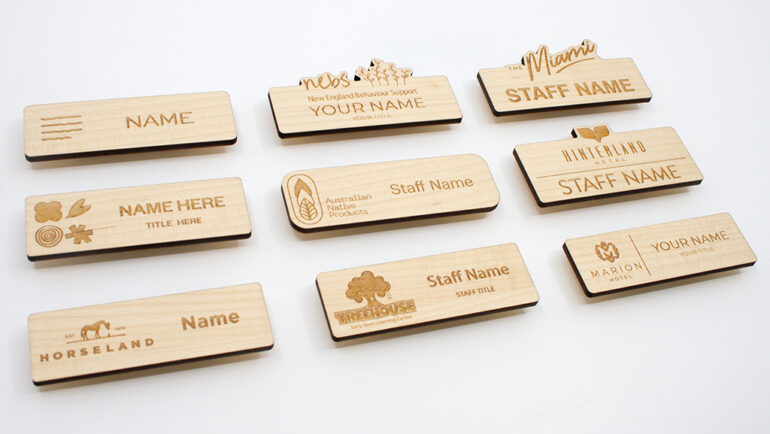 Businesses must take into account a number of variables when choosing staff name tags. According to the company's branding criteria, the material, design, and customisation possibilities should be compatible. Selecting strong materials that can resist normal wear and tear is crucial.
The design should also be easy to read and understand to facilitate identification. The name tags may be made more unique and professional by adding customization choices like employee names and work titles.
8. Implementing Employee Name Tags Successfully
Businesses should have clear regulations and procedures in order to properly utilise employee name tags. Name tags should be explained to employees along with any dress code regulations, as well as their use and advantages.
Programmes for training staff members can assist in allaying worries and guarantee that they know how to use name tags correctly. A seamless transition also depends on developing avenues for feedback and handling any problems that crop up.
9. Overcoming Potential Business  Challenges
Employee name tags have several advantages, but implementing them may present some difficulties. While wearing name tags, employees could raise privacy or discomfort worries. Businesses should engage in open dialogue with staff members, outlining the rationale for implementation and addressing any concerns, in order to address these issues.
Companies may overcome reluctance and guarantee a smooth transition by incorporating employees in the decision-making process and listening to their comments.
10. The Future Of Employee Identification
Alternative approaches to employee identification may become available as technology develops. For instance, wearable technology and biometric systems are becoming more popular in several businesses.
However, for the majority of organisations, using staff name badges is still an affordable and useful option. In the future, name tag technology might evolve to include smart functionality or embedded digital data. Businesses need to remain on top of the most recent trends and look for creative ways to improve employee identification.
Final Thoughts
Businesses get a major advantage by investing in staff name tags. Name tags play a significant role in strengthening several elements of operations, from fostering responsibility and increasing efficiency to developing trust and customer confidence.
Companies can benefit from increased communication, more robust security measures, and improved brand awareness by properly choosing and applying name tags. For companies looking for long-term success in today's competitive environment, embracing the identity advantage that employee name tags can be valuable for the business.