Forget the likes of Paris or Venice when it comes to romance, as Las Vegas is sure to check every box. Regarded as the marriage capital of the world, the city is practically built for love. After all, it is home to famous wedding chapels, unforgettable dining experiences, mesmerizing shows, and luxurious accommodation options.
If you want to inject fun and glamor into your trip, you'd be foolish to rule out this atmospheric city. Get started by choosing from the best hotels and resorts on or near The Strip. Here's where to stay for a romantic anniversary getaway in Las Vegas.
Westgate Las Vegas Resort & Casino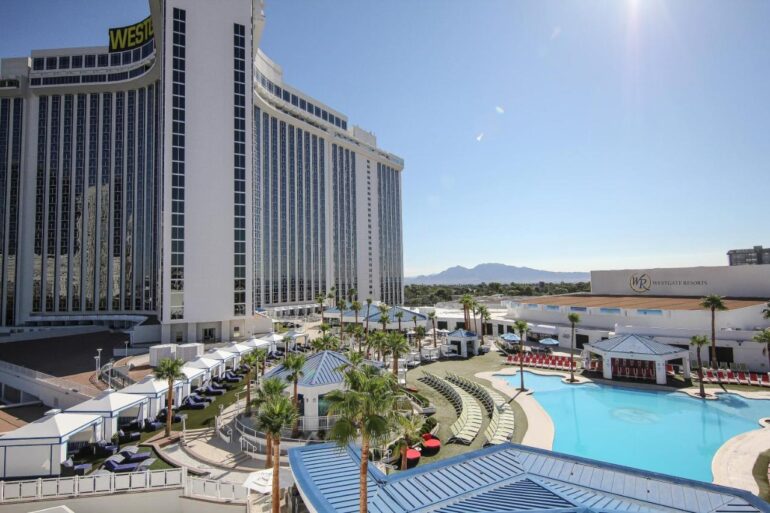 Wow your other half on your anniversary by checking in to Westgate Las Vegas Resort & Casino. Offering restorative spa treatments, an electric casino, and exceptional entertainment and dining experiences, it will ensure you both remember the anniversary for many decades to come.
Make memories to last a lifetime at Westgate Las Vegas Resort & Casino. You and your partner can choose from many exquisite rooms, suites, and villas to match your taste and needs, from a 600-foot Vegas View Suite to the Four Bedroom Presidential Suite. It's a high-end way to celebrate the landmark event together or with many of your loved ones.
After exploring the elegant, comfortable Westgate Resorts accommodation, you could spend your spare time playing classic or modern slots and card games at the 95,000 square foot casino or raise a glass to many years together at one of the resort's stunning restaurants, such as Fresco Italiano or Edge Steakhouse.
The Venetian Resort Las Vegas
Romance is on the cards at The Venetian Resort Las Vegas, which is home to 3,016 stylish suites. Go for a journey on a gondola ride, have fun at two modern casinos, or enjoy dinner at one of the many restaurants from popular celebrity chefs.
Yours and your partner's jaws will drop when checking in to The Venetian Resort Las Vegas. Inspired by the romantic city of Venice, you'll feel a world away from your everyday life throughout your stay.
The all-suite resort features a sophisticated and spacious interior to ensure you and your other half feel relaxed and comfortable from the moment you step inside. Also, you can toast a romantic anniversary with a glass of champagne in a Roman bathtub.
Between the romance and relaxation, you can play slots or card games until your heart's content at the resort's two state-of-the-art casinos. After all the fun, enjoy dinner together or with loved ones at one of the many fantastic on-site restaurants, such as Thomas Keller's Bouchon, Wolfgang Puck's Cut, or Buddy Valastro's Ristorante.
Waldorf Astoria Las Vegas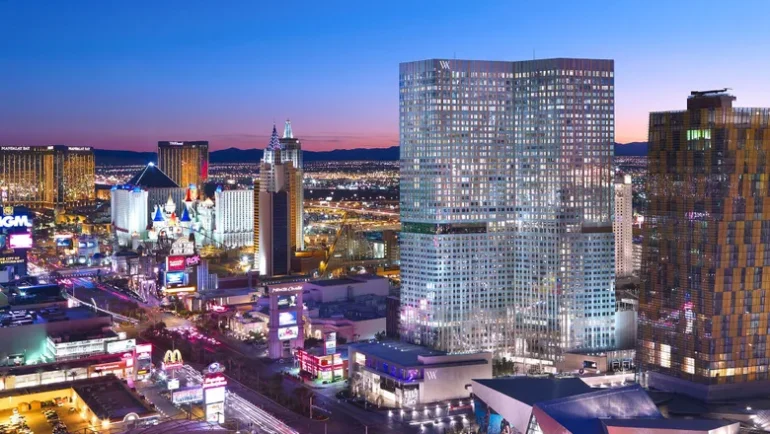 Relax, refresh, and make memories at Waldorf Astoria Las Vegas. The elegant and comfortable resort will provide a romantic backdrop during your anniversary, offering sophisticated rooms and suites, rejuvenating spa treatments, and unique dining experiences.
Add a splash of opulence to your anniversary by becoming guests at Waldorf Astoria Las Vegas. The casino-free resort is in the heart of Sin City and offers stunning views at every turn. Each room and suite is exceptionally designed, ensuring you and your spouse feel like VIPs throughout your stay.
Choose from many exceptional dining experiences from critically acclaimed chefs. For example, you'll never forget the seasonal American cuisine flavors served at Zen Kitchen. Also, luxurious pampering experiences will provide you and your partner with a tranquil stay, as you can select from many treatments at the resort's award-winning spa.
Four Seasons Hotel Las Vegas
Strengthen your connection with your partner during a romantic getaway at Four Seasons Hotel Las Vegas. Offering private, sophisticated rooms, superb restaurants and bars, and a tranquil spa, you'll want to spend every anniversary at this non-gaming hotel.
Located on the Las Vegas Strip, Four Seasons Hotel Las Vegas has everything you could want for a stylish anniversary stay. The five-star non-gaming hotel has well-appointed, sophisticated guest rooms, providing you and your partner with a private and comfortable retreat away from the buzzing casinos and entertainment venues.
The dining experiences are just as impressive as the hotel's accommodations, as you can enjoy dinner at a handful of restaurants and bars during your stay. For instance, sample modern American dishes at Veranda or relax by the fire with a craft cocktail at Press.
Following many days of exploring Las Vegas, you and your partner can feel more at ease by enjoying a restorative treatment at the hotel's spa, which offers a choice of massages, facials, and skin therapy treatments, to name a few options.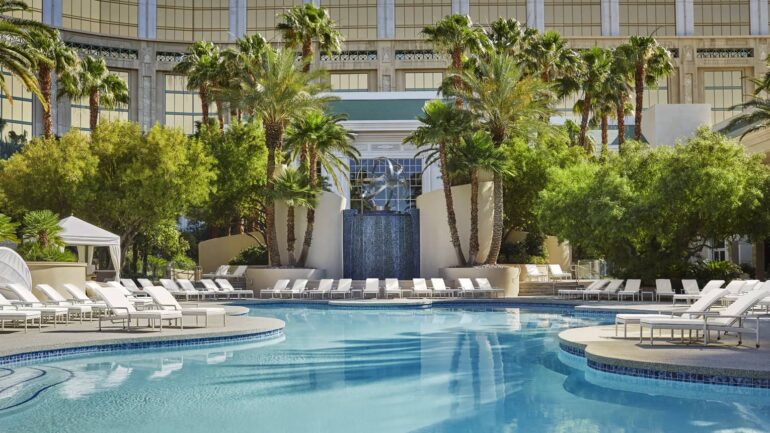 The Bellagio
Treat yourself and your partner to a romantic stay at the iconic Bellagio in the heart of the Las Vegas Strip. It offers world-famous fountains, European-inspired rooms, unique shows, and excellent dining experiences.
You and your partner will fall more in love than ever during a stay at The Bellagio, which is one of the most iconic resorts in Las Vegas and inspired by European villages. Top of your list should be its recently remodeled Premier King room, which offers soft, reflective tones designed to resemble the sun rising over Italy's Lake Como. Also, you can almost guarantee you and your spouse will enjoy a good night's sleep thanks to the handmade Sterns & Foster mattress.
Of course, few hotels can compare to the view from The Bellagio, as you will have a VIP spot to watch its dancing fountains in all their glory each evening. Once you can pull yourself away from the show, enjoy dinner at one of many critically acclaimed restaurants, such as Wolfgang Puck's Spago, Jean-Georges Vongerichten's PRIME Steakhouse, or Michael Mina, to name a few venues.
Also, you cannot stay at The Bellagio and not catch a show, which might be an ideal way to celebrate your anniversary. For example, you can buy tickets to "O" by Cirque du Soleil, which will ensure you never forget the milestone with your other half.