You have finally put your hands on the AMD Graphics Card that you have been so patiently waiting for. Bring it home, installation goes smooth. You open up your favorite Call of Duty series, and hey! An error message pops up saying "No AMD Graphics Driver is Installed" No worries, we have the fix!
So no matter which Laptop or PC you own, the following article will help you fix No AMD Graphics Driver is Installed error on Windows 10, 8 and 7.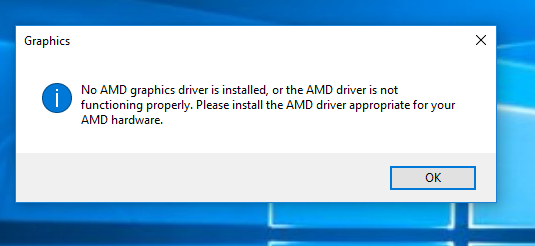 AMD Graphics Card Driver
As the name goes, AMD Graphics Card driver simply is the software that allows windows to recognize the onboard card and utilize it. This goes without saying that if Windows itself is unable to recognize the driver, then the driver itself is of no use.
AMD has done a great job at identifying and fixing the problem. AMD website provides a nice little tool. This will help you identify your display card.
Download AMD Graphics Drivers here.
What causes "No AMD Graphics Driver is Installed" error
There can be multiple reasons why you might be facing this issue. The most common cause for No AMD Graphics Driver is Installed is an error in the installation or incomplete installation.
User incompetence can also result in an incompatible version of the installed driver.
The third reason for such an error might be a beta version being installed instead of a stable version.
How to Fix No AMD Graphics Driver is Installed Error
Whatever the reason might be, there is a fix. We take an in-depth look at how to troubleshoot these problems.
1. Check driver version
Driver/software version incompatibility is a primary reason for your No AMD Graphics Driver is Installed error. Click here to heck your compatible driver for the AMD Display card on board.
This AMD software will allow automatically recognize your system.
If you see that the version installed in your system does not match with the version suggested by AMD, try installing the suggested version.
2. Update Driver
AMD constantly strives to disable bugs and error that might be plaguing user systems. As a result, regular driver update is necessary to keep both your Windows and Display card happy. You can use any Driver Updater Software to automatically update AMD Graphic drivers.
After updating, you should stop getting the No AMD graphics driver installed error.
3. Uninstall and Reinstall driver in Safe Mode
If the AMD Driver not installed message still pops up you can uninstall the current drivers and install them again manually.
Here's how you can do that.
Enter safe mode

Press Windows Key + C(if on Windows 8/8.1). For Windows 10, access settings from the start menu.
Press down shift, and restart your computer, from power options
Windows Recovery Environment will open up. Click on Troubleshoot. 
Select Advanced Options
Click on Startup Settings 
Click on restart


Use 5 from the keyboard to enter Safe mode with networking.

Uninstall drivers

Press Windows logo key +R to access the run window.
Enter control in the run dialog box and hit enter
Go to Device Manager 
Expand the category: Display-adapters. AMD Graphics Driver will be shown with a yellow symbol.
Right click and select uninstall.
Windows will prompt you to confirm the choice, Select the Delete driver software for this device checkbox and hit OK.
Restart your computer.

Install AMD Graphics Driver

Click here to visit AMD website
Follow the on-screen instructions.
4. Disable Windows Updates
Laptop user faces a greater threat of No AMD Graphics Driver is Installed error than pc users due to the motherboard supporting both the onboard graphics and dedicated video card. Windows Update has a feature to override manufacturer updates and install its own.
Open Control Panel
Press F3 on your keyboard, and search for Windows Update Settings
Click on Choose how updates get installed.
Select Check for updates but let me choose whether to download and install them


Click Apply. It is advised to use manufacture provided update rather than Windows Update for laptops. The .mfg files can be overridden by windows, causing your functions or devices to fail. This fix usually resolves the No AMD Graphics Driver is Installed error.
5. Microsoft Visual C++ 2005 SP1 Redistributable patch Install
No AMD Graphics Driver is Installed error can occur due to a particular Visual C++ version install. This file might block your AMD driver from accessing the onboard AMD display adapter.
Open Control panel as previously stated.
Go to Programs and Features.

Locate Microsoft Visual C++ 2005 and double-click on it to uninstall.
Download Microsoft Visual C++ 2005 redistributable from the link below. If your system is running a 64-bit Operating System, click here. If your system is running a 32bit Operating System, click here.
Follow the on-screen instructions to install
Reboot your computer for changes to take effect.
6. GPU Virtualisation
This is seen frequently in lenovo, Dell, HP, Toshiba laptop users. If your motherboard has an onboard GPU, error occur due to logical interference. Try these steps:
Open VirtuMVP Control Panel from your desktop
In the Main tab of the control panel, find GPU Virtualization and turn it off.

This should fix the No AMD Graphics Driver is Installed error.
Game On!
AMD has taken great strides to improve customer experience in the recent years. Not only has this made them a strong competitor to Nvidia, but has also helped them earn a fair share in the graphics market. No AMD Graphics Driver is Installed might not be a major issue. This problem, however, is seen frequently. Mostly as a result of users preferring downloads from specific hardware websites than system manufacturers. Laptop users are advised to use manufacturer provided drivers than download individual files. This ensures your drivers are optimized for your set of hardware.
Graphics intensive software are becoming extremely popular. Higher emphasis is put on user experience over ease of coding. With this walkthrough, we hope your issue has resolved. Please drop in a comment if this issue persists.