There are situations that arise when an extra bed is needed to accommodate a guest. To prepare your home for the frequent or occasional guests spending the night, you need the right sofa/sleeper combination. There are several to choose from, so let's get started narrowing down your options.
Sleeper sofas resemble a traditional couch and have an internal mattress. The mattress folds out, and the sofa's arms and back become the headboard. They are the right choice if the bed is used long-term or frequently. Sleeper sofas come in a wide variety of styles, materials, and colors. They also take up a lot of space, so if the room it's going in is small, you may want to consider other styles.
Elderly family members and small children may have a hard time pulling out the mattress. So, if the sofa sleeper is for them, here are some other options to choose from.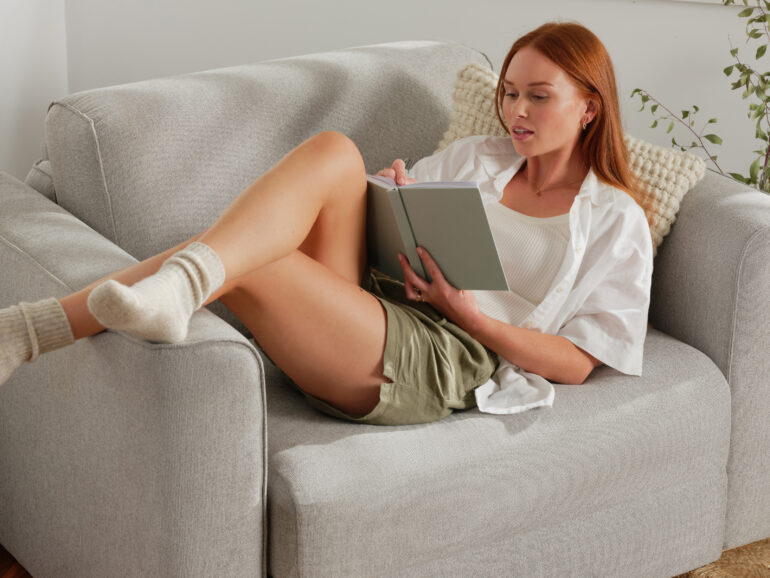 Sofa beds have backs that fold down to create a flat surface to turn the sofa into a bed. The ease with which you can transform the unit makes it a better choice for children and the elderly. They also work well in small spaces as they don't have the bulky design of a traditional couch. These aren't comfortable enough for long-term use, but they are just right for a night or two. Locating sheets for this non-standard-sized sofa bed is challenging.
Futons are another design option that is easily transformed. The mattress is typically separated from the frame, and the entire piece is very lightweight. If you need to rearrange the room, you can move this piece with very little effort. The mattress is covered and can be removed for cleaning or replacing. They don't come in many different styles and are best for short-term use.
The daybed is a sleeper/sofa combination that is perfect for small spaces since there is no mattress to pull out. These come in a variety of styles and can look similar to a standard sofa. They come in full and queen sizes, but unlike the twin-sized daybed, the other sizes aren't suited for using it as a couch. While the daybed only sleeps one person, you can get one with a trundle and add another mattress for extra guests.
Pop-up sleeper sofas are newer designs that are great for long-term use. These are usually three-seaters with a chaise lounge extended on one end. It looks like the standard L-shaped sofa, but under the two-seat section is another extension that pops up to meet the sofa and edge of the chaise. Simply pull it out and up, and you have a bed to use. Just like the modern sofa bed, it may be difficult to find fitted sheets for this bed as the measurements aren't standard.
For a sofa with sleeper bed combination click here: https://www.1stopbedrooms.com/living/living-room-furniture/sleeper-sofas
Now that you know all the style options on the market, it's time to make a few other considerations. How will the sleeper function in your home? Do you regularly have guests but no guest room? If you do have a guest room, is it small? Answering these questions will help you choose the sofa bed best for your lifestyle.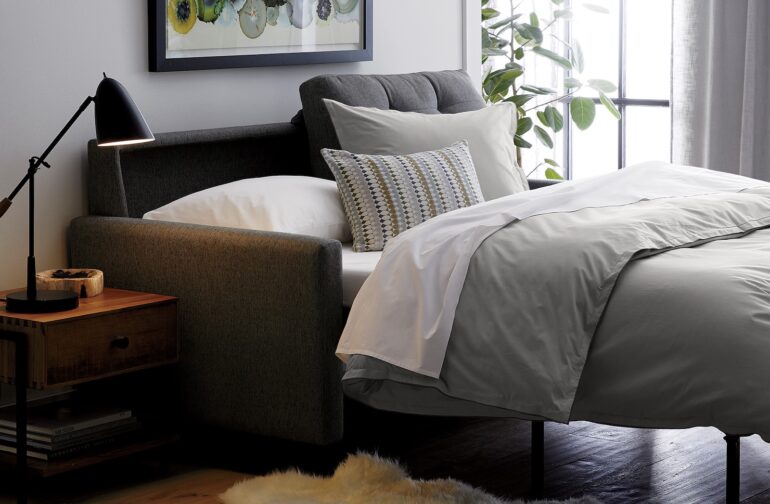 If you have guests over frequently, you need a comfortable sofa bed for long-term use. A daybed would be a great sofa/sleeper combo for small guest bedrooms.
Where will you place it, and do you like to rearrange rooms often? If you aren't regularly switching up your surroundings, a heavier piece can go in the room. A lightweight sofa bed is best for those who like to add new pieces and reorganize the space. For beds that extend or transform in their space, you need to ensure ample room for the bed to extend and not obstruct the walking path.
The fabric you choose should also work for your lifestyle. For busy households, a performance fabric makes cleaning spills a cinch. Leather is a durable fabric and will survive the wear-and-tear children and pets inflict. It's hypoallergenic, so dust, mites, and dander won't have a place to live and upset those suffering from allergies.
Linen is good for low-traffic areas. A guest bedroom that doesn't get much use is the perfect place for this piece. It requires professional cleaning to maintain its look as it stains easily. It also wrinkles when used frequently, so it will have to be steamed as well.
There are several mattresses to choose from for fold-out beds. There's the traditional innerspring, where coils and padding are used in the mattress construction. These are extremely affordable options that aren't comfortable for adults to use long-term. Small children can sleep comfortably on an innerspring because they're lighter and don't compress the mattress as much.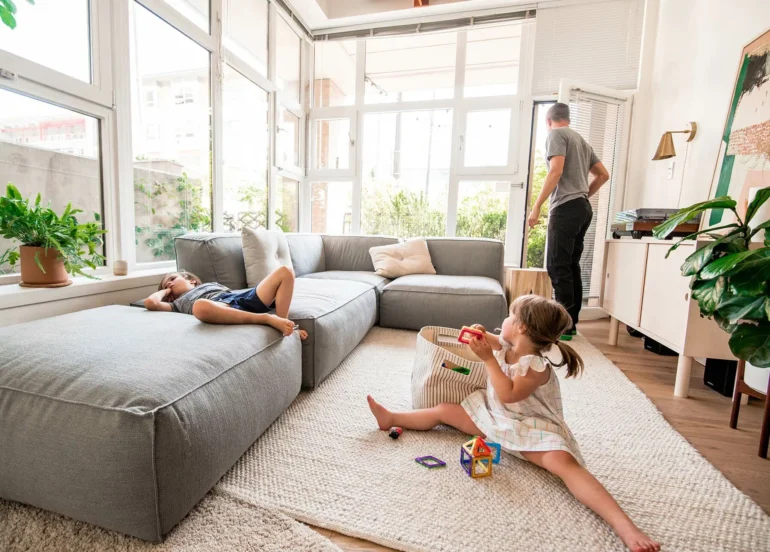 For those who like a firm, hard mattress, choose latex. Gel memory foam is firm but has a cushiony feel. They have a cooling effect that keeps you from overheating during sleep. Gel memory foam mattresses are also good for long-term use. Traditional memory foam alleviates pain felt at pressure points, but it sleeps warmer than its gel counterpart.
Polyurethane foam is very dense, so you won't feel the mechanism digging into your back or shoulder as you drift off to sleep. Air mattresses, or hybrids, have to be maintained with an air pump. With an air bladder sitting atop coils, you'll rest well.
Color is an important factor when it comes to the vibe you want in the space. How do you want your family and friends to feel as they enter the room? Pink gives off a fun and lively feel. Use reds if you want an intimate and daring atmosphere. Blue is relaxing and meditative, while greens promote feelings of tranquility and vigor. Yellow sets a welcoming and sunny mood. Orange is stimulating and evokes warmth, coziness, and creativity. Or you can keep it calm and stick with your basic neutrals while adding pops of color with pillows and throw blankets.