In today's technologically advanced age, printers remain integral both in professional settings and at home. When one starts exploring the vast domain of printers, they unearth a fascinating blend of intricate mechanisms and refined artistry. At the heart of this expansive arena are two titans: inkjet and laser printers. Each boasting unique strengths and potential drawbacks.
Inkjet Printers Explained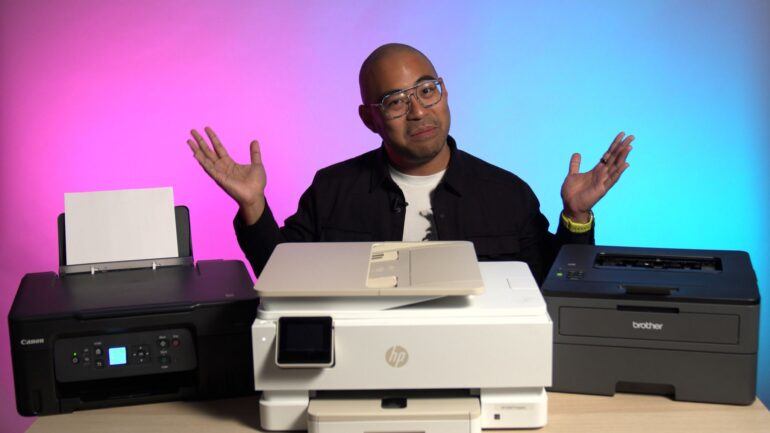 Inkjet printers, in their simplicity and elegance, utilise a method of splattering minute droplets of ink onto paper to create images and text. Delve a little deeper, and you'll discover an array of nozzles, meticulously arranged, that eject these tiny ink droplets with pinpoint accuracy.
Depending on the nature of the print, these droplets merge in various patterns, culminating in the final image. The type of ink plays a pivotal role in the outcome. Dye-based inks provide images with depth and vibrancy, making them especially suited for photographs. Meanwhile, pigment-based inks, though perhaps slightly less vibrant, offer longevity with their smudge-resistant and fade-resistant properties.
Laser Printers Demystified
Venturing into the realm of laser printers is akin to stepping into a futuristic world. Here, light and magnetism harmonise to produce crisp prints. At the heart of a colour laser printer is a laser beam that sketches patterns onto a drum. This drum, charged with static electricity, attracts the powdered toner from its reservoir. The paper then rolls past this drum, receiving the patterned toner which is subsequently melted onto it, rendering the final print. Traditionally favoured for monochrome, or black-and-white document printing, laser printers have, over time, ventured confidently into the colour printing domain.
Print Quality Comparison
When attempting to discern the print quality differences between inkjet and laser printers, one might find themselves in a conundrum. Both offer qualities that appeal to different user needs. Inkjets have long been the darling of photographers and design enthusiasts, thanks to their unparalleled ability to produce photo-realistic prints.
Their smooth colour transitions and wide colour gamut can make images come alive. Laser printers, though perhaps not always as adept at capturing the nuances of a sunset or the vibrancy of a spring meadow, stand unmatched in delivering ultra-sharp text and clear, unblemished lines. They're the undisputed champions for document printing. DPI (dots per inch) is a commonly cited metric when discussing print quality.
Printing Speed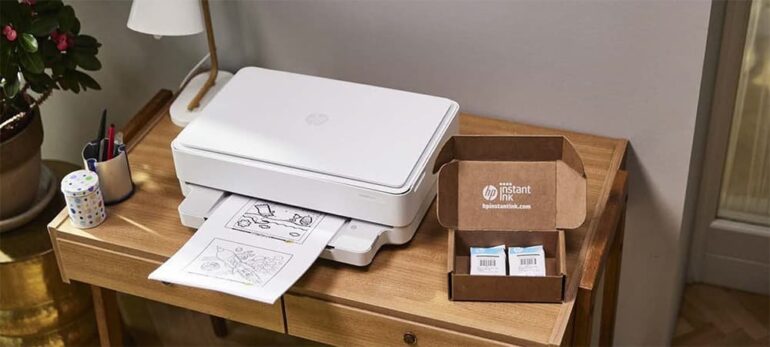 In the race for speed, laser printers are often the frontrunners. Designed with busy office environments in mind, they're engineered to handle bulk printing tasks with ease, churning out pages with remarkable swiftness. However, it's essential to understand that not all printing jobs are races against time.
Enter the inkjet printers. While they might take a more leisurely approach, modern inkjets have significantly narrowed the speed gap. Several high-end models now offer rapid printing without compromising on quality. The speed can, of course, be influenced by a multitude of factors: the complexity of the document, print settings, and even the model and brand of the printer.
Cost of Printing
Navigating the financial waters of printer ownership can sometimes feel like a tightrope walk. The allure of inkjet printers often lies in their affordable upfront cost. But before one gets too comfortable, the recurring expense of ink replacement can quickly tip the scales, especially for heavy-duty users. Laser printers, on the other hand, demand a heftier initial investment.
Yet, their toner cartridges, often boasting higher yield rates, can lead to a more economical cost-per-page in the long run. It's a classic case of immediate gratification vs long-term gain. Factor in the longevity of your prints, and the equation becomes even more intricate.
Printer Size and Design
The space we work in often reflects our mindset, and printers play a significant role in this setting. Inkjet printers, with their compact frames and minimalist designs, seamlessly blend into tight spaces, making them ideal for home offices or areas where space is at a premium. Their adaptability to various settings is often a boon for those looking to maintain a specific aesthetic.
Laser printers, meanwhile, are the behemoths of the printing world. Their bulkier size, especially the colour models, results from the intricate components housed within. But with this size comes a promise of durability and efficiency.
Print Volume and Duty Cycle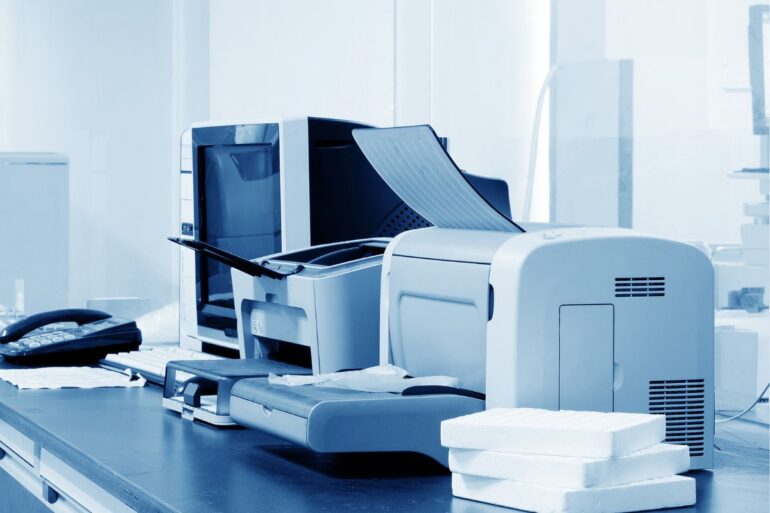 'Duty cycle' is a term that might sound like technical jargon, but it's fundamental when evaluating a printer's potential. In layman's terms, it denotes the number of pages a printer can comfortably produce in a month without compromising its lifespan.
Here, laser printers flex their muscles, effortlessly handling massive workloads and thereby making them indispensable in bustling corporate settings. Conversely, inkjets, with their gentler mechanisms, cater to environments with moderate printing needs.
Colour Printing Capability
For those chasing the rainbow or the perfect shade of a hue, the journey becomes a tad more intricate. Inkjets, with their artist's palette of inks, shine in replicating the myriad shades of life. Their prowess in blending colours results in prints that almost mirror real-life scenes, making them a favourite among photographers, artists, and design professionals.
Laser printers, while efficient in colour printing, might sometimes fall short of capturing the subtle nuances and depths, especially in complex graphics or vibrant photographs. However, for everyday graphics or presentations, they can more than hold their own.
Maintenance and Lifespan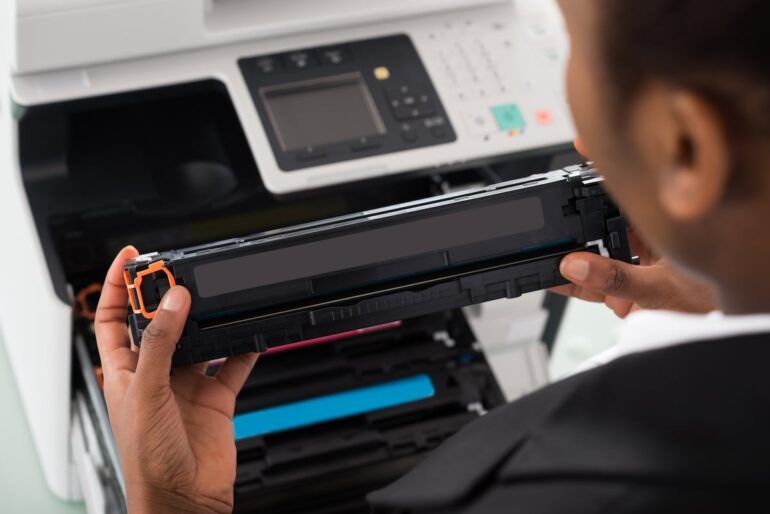 Ownership extends beyond just the act of purchasing. Like all machinery, printers demand their share of care. Inkjets, with their liquid inks, necessitate regular usage. Neglect them for too long, and you risk the ink drying out, leading to potential blockages. Regular maintenance, however, can ensure they remain in top form. Lasers, with their powdered toners and sturdier build, generally promise a longer, hassle-free lifespan.
Use Cases and Recommendations
With so much information at hand, the question often boils down to: "Which one is right for me?" Businesses swamped with document printing tasks might find a faithful ally in laser printers, while creative studios or homes might resonate more with the versatility of inkjets. However, there's no one-size-fits-all answer. It's a dance of requirements, budget, and future prospects.
Conclusion
The grand tapestry of printing technologies is intricate, woven with threads of innovation, user needs, and evolving capabilities. Both inkjet and laser printers offer realms of possibilities. Your journey, whether it's for business, art, or personal needs, should be guided by understanding and aligning with what resonates best with your requirements. With knowledge as your compass, may you find the perfect printing partner.