If you are looking out for discounts on Windows 10 keys or any games, chances are you've heard of Kinguin. As a matter of fact at the time of writing this article, you can get Windows 10 Pro keys at 15-40% of its original price. And the same thing goes for a lot of games on this website. It does look too good to be true (and legitimate) doesn't it? In this article we are gonna be answering some questions. Is Kinguin safe? What exactly is Kinguin? Is it better than other sites like G2A? And last but certainly not the least: is it on the right side of the law?
To be perfectly honest, the answers to some of these questions isn't cut and dried like we want it to be. So we are going to present you with all the facts available. After that you can decide if Kinguin is safe enough for you. Let's get started.
What is Kinguin?
Kinguin is a platform where people from all around the world can meet up and trade software keys. You can access the Kinguin website by visiting https://www.kinguin.net and be mesmerized at the cheap prices of almost every gaming platforms.
It is a company based in Hong Kong. The website was launched 6 years ago and quickly became one of the most popular alternatives to mainstream marketplaces like Steam, Origin and battle.net. Currently, it has a user base of over 4 million people and is doing quite well for itself.
Keep in mind that if you are below 16 years of age, Kinguin won't allow you to log in.
Is Kinguin Safe?
Kinguin is a secondary marketplace. It only provides other users to sell their keys for a lower price. Basically, they are just the middlemen. You can search for any game on the site. Just type it in the search bar and you would be good to go. You'd be shown a long list of sellers and their corresponding ratings.You can also see if the product is usable in your country. Make it a point to do some snooping around on these sellers and make sure that he/she is legit. If the seller turns out to be legit, buy your favorite video game and enjoy. If the sellers seems sketchy, ignore and start looking for a new seller. Sounds pretty great and Kinguin seems safe right?
Well, not go celebrating just yet. The problem with Kinguin is you can't always be a 100 % sure whether your key is fake or not. Kinguin never lets you buy the actual game and only gives you the key to the game you got on other platforms. The frustrating part is Kinguin doesn't really know whether the keys are going to work. The important thing is to make sure the seller is a nice person who is not looking to scam you. And to be perfectly fair, there are a lot of legitimate sellers on the platform. But as the following comments will tell you, it's not always a fun ride.
https://www.reddit.com/r/Steam/comments/4lfmty/warning_dont_buy_anything_from_kinguin_details/
https://forums.tomshardware.com/threads/kinguin-windows-10-key-wtf.3084029/
These are just two of the angry customers. You can find similar cases all over internet. This is the problem with every gray market. You get video games for a much, MUCH lower price but there will always be an uncertainty to whether the key would work.
What About Kinguin Buyer Protection?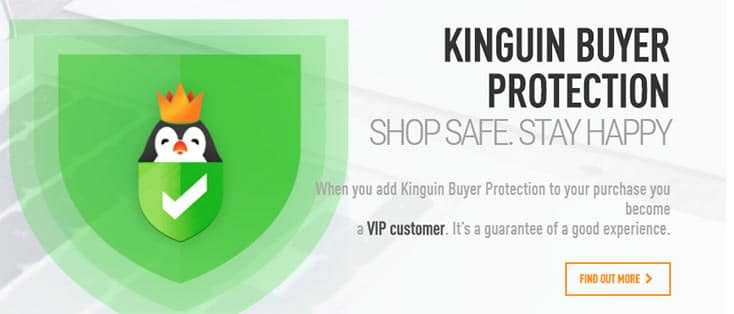 The website claims that the Kinguin Buyer Protection will protect the users from scammers. It is an add-on that you can purchase for every order. The price really depends on the product that you are buying. But it has gotten negative reviews from a lot of people. Kinguin does everything from their side to give you a refund for already used or fake keys. But this is still not a guarantee to get your money back.
Is Kinguin Legal?

Well like we mentioned, Kinguin is a secondary marketplace. The company itself is definitely legal. It's just that some of the sellers are shady and the products on this platform are of questionable legality.
If you buy from Kinguin, you shouldn't care about things like ethics. There are a ton of ways that the sellers can acquire these products and not all of them are in ways that would make a mom proud. Some sellers actually buy their keys during sales so that they can sell them at lower prices than the MSRP. Some buy them at a wholesale for a lower price per key directly from the developer. But there was one incident that came to light when Ubisoft revoked some of the keys because they were brought originally through a stolen credit card.
This is an issue that plagues all gray markets. If you see a product for a dirt cheap price, the way it was acquired is probably sketchy. Game developers even encourage pirating over sites like Kinguin. Even though Kinguin has a strict application process for sellers, the fact that they mention that their product may not be legal in the Terms and Conditions is kind of shady.
Is It Safe To Purchase From Kinguin?
Will Kinguin ensure that your key is definitely not fake? No. But will purchasing from them result in your card details being stolen? Absolutely not. Kinguin never sees your card details or stores them. When you are paying them, you will only have to deal with the payment services.
Also Read: Is Softonic Safe?
Final Take
Do we think you should buy something for a fraction of the price from the site? The answer to that is no. As enticing the prices are, we simply think that it isn't worth the risk. But ultimately it is your choice. Do you think the risks outweigh the rewards? Tell us about that in the comment section. If you have any other doubts, drop a comment and we will try to solve that as soon as possible.