Star Wars: The Old Republic abbreviated as S.W.T.O.R. is a massively multiplayer online role-playing game (MMORPG) loosely based on the star wars plot. It was released a way earlier in 2011 by EA but is loved and played till now. Furthermore, the stardom of this game remains the same but so are problems while playing this. Imagine hearing from a friend about this cool game and downloading this 25 GB game as soon as you reach home by using up all your costly data. Finally the game downloads, you are too excited, you logged in and hit play but suddenly an error pops up in a dialogue box which says "SWTOR Launcher has stopped working." and so does the swtor won't launch.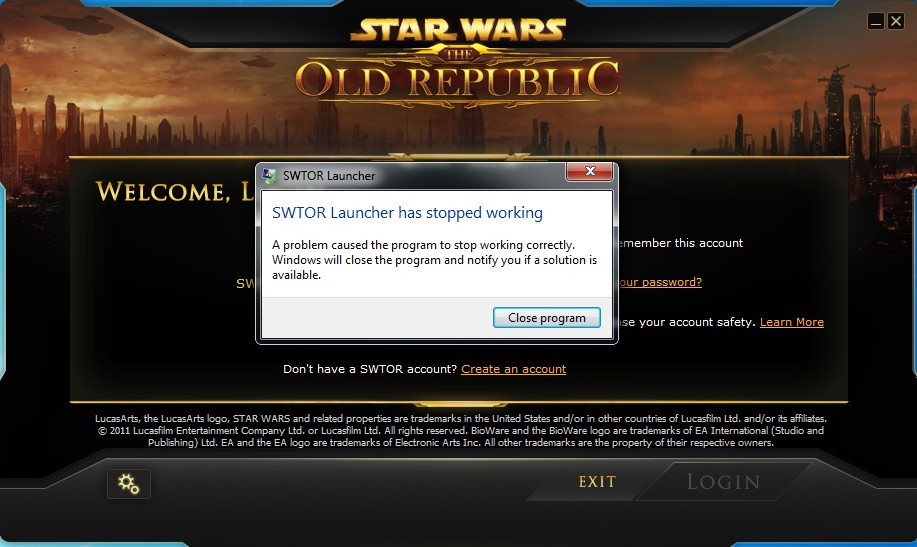 An unexpected error after sacrificing 25 GB of data and storage. That's one of the cruelest things that can happen to a gamer. But don't worry because this error can be fixed. As a result, you can redeem back your time and money by successfully playing this game. Hence we are going to solve this error in no time. Just follow the page guidelines and you will get through this error.
Common error statements
"SWTOR Launcher has stopped working."
"Error downloading patch data. Retrying…"
"An error has occurred. Retrying…" 
"Please run with Administrator Privileges."
"An error has occurred. Please exit and restart the SWTOR Launcher."
"An error has occurred. Please contact customer support with this error number. [#]"
"Network Error. Check your internet connection."
"An error occurred updating. Repair"
Reasons for SWTOR won't launch
These errors can occur on any windows versions like windows10/windows8.1/8 and windows 7 as well. There are many reasons due to which SWTOR won't launch:
The system doesn't fulfill the minimum requirements to run the game.
Network issues like no slow internet connection.
An issue in client setting contents.
Corrupt or infected files.
Drivers are not updated.
dll files missing.
How to fix "SWTOR won't launch" problem?
For the above reasons, there are corresponding solutions to fix SWTOR won't launch issue. So its a list of all possible solutions that can fetch you out of this issue and let you keep playing and enjoying the game.
Solution #1: Try reinstalling the program to fix SWTOR
Reinstalling the program is the best bet to play because all the important files required to run the game get restored in the original form as they were. Therefore, it's the first and foremost step of troubleshooting. See if it launches this time.
Solution #2: Try running the launcher as an Admin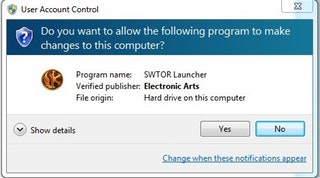 Most noteworthy, try running the launcher as an admin. The administrator account has access to all permissions and maybe some dll file can't be accessed when you are using as a guest due to security reasons. In addition, to run any program as an admin simply right click on that and select run as administrator from the list.
Solution #2: Restore missing dll files
First of all, dll files are very important and are needed to run programs and games. If these files go missing, the game is likely to fail during launch. Therefore, try downloading the missing dll files and place them in the program specified folder.
Note: Solution #1 can also solve the issue of missing dll files try the first one before trying this one.
Solution #3: Run a full system scan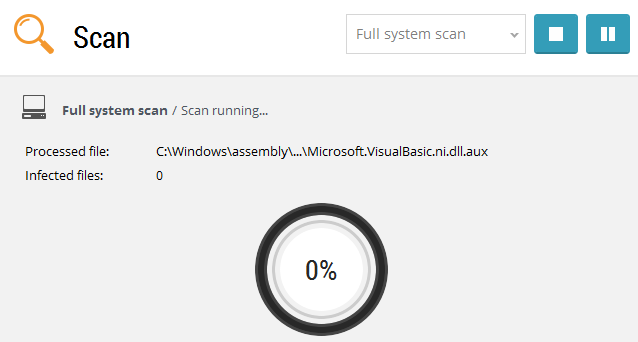 Maybe the files of the program/game got infected or corrupted. If that being the reason, try using your antivirus to perform a system scan to repair these infected files and the environment.
Check if the error is gone.
Solution #4: Try disabling the antivirus
WARNING: Try this solution at your own risk because disabling virus protection may compromise your security.
Sometimes Windows firewall and anti-virus protection act like an inhibitor. These are likely to block\delete the infected important file required by the system to run swtor instead of repairing it. Disabling firewall and virus protection turn out to be great sometimes while dealing with games.
Check if you are able to troubleshoot the error.
Solution #5: Update your drivers
The most important thing required by a game to run are drivers as they mainly correlate to graphics hardware. Therefore try downloading latest drivers for your graphics engine and install them. This might eradicate the problem.
Solution #6: Some other solutions
If you were able to play this game last night, and after updating the windows next day you are unable to play it, then updating windows might have caused some changes in the files. There are a number of solutions pertaining to this issue:
Sub-solution #1: Change client settings content
The pretty best and the priority solution I was able to find out was to make some changes in client settings by following these steps:
First of all, goto path C:\Users\[USERNAME]\AppData\Local\SWTOR\betatest\settings.




NOTE

: The AppData folder may be hidden. If so, make it visible.

In this folder, find a file named as client_settings.ini and open it using notepad.


The contents of the file may appear to be like this:
 Add a line to this file which says:
"Fullscreen = false"
NOTE: if this doesn't work add two more lines:
"AntiAliasingLevel = 4 Debug
AdvEnviroLighting = true".
Save the changes you made this file.
Finally, Restart your PC.
Consequently, Run the game now and hit play.
Hope this time you were able to succeed and launch the game.
Sub-solution #2: Change Launcher settings/Try to disable bitraider
The second solution involves the same kind of manipulation. Here we are trying to disable the bitraider to reestablish patching.
First of all, Goto C:\Program Files (x86)\Electronic Arts\BioWare\Star Wars – The Old Republic.
Find "Launcher.settings" file in this folder and open it using notepad.
On 13th line or so you will find a text saying "disable bitraider = False".
Change this assignment to true so it says "disable bitraider = True".
Save changes.
Restart your PC.
Finally, Launch the game.
You won't be seeing any error message after this and will be able to launch the game pretty successfully.
Sub-solution #3: Try some more manipulations
There is a need to use the files provided in the game folder to fix this launch issue because they were aware that this issue has taken a lot more peace of mind. Start following these steps:
First of all, Goto C:\Program Files (x86)\Electronic Arts\BioWare\Star Wars – The Old Republic.
Delete the Patch folder.
Restart your PC.
Now run the FixLauncher.exe
Again restart your PC.
Finally, Run Launcher.exe
Hope you have shot this enemy down and playing the game seamlessly this time.
NOTE: In addition, you can perform the same sub-solution as independent solutions as well, that is for other types of errors as well.
Conclusion
Hopefully by now, after using all these methods carefully you probably have solved the issue. If not so, please try general troubleshooting before hands like checking internet connection and system requirements, system restore, startup repair etc.
You can always go to community form and create a post detailing the issue, they are most likely to revert you.
Visit the community page by clicking on this. You can also reach SWTOR customer support at [email protected].